Get Well Soon Pure Essential Oil Gift Set with Ginger, Peppermint, and Eucalyptus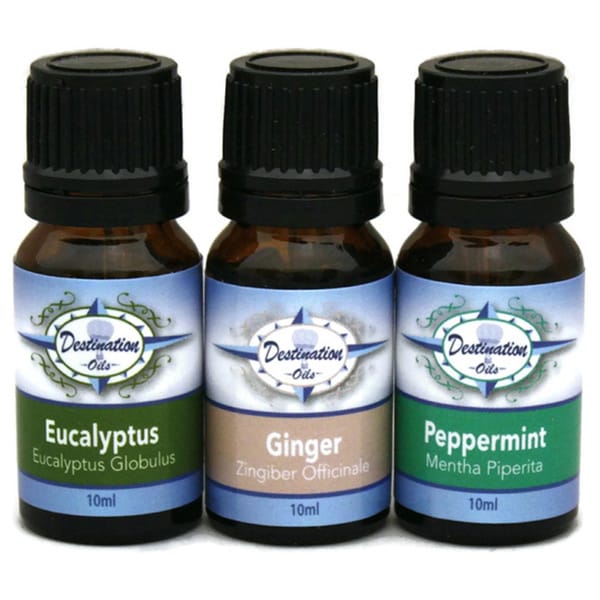 10 ml bottle of each Peppermint (Mentha Pipperita), Ginger (Zingiber Officinale), and Eucalyptus (Eucalyptus Globulus) Improve your symptoms with this great essential oil kit. Ginger works great for stomach issues. Peppermint can be diluted and put on sore muscles or temples for head pain. Diffuse eucalyptus for clear respiratory passages. This is a great set to keep in your medicine cabinet. All Destination Oils are 100-percent pure, therapeutic grade essential oils. The best quality for a great price. Essential oils are incredibly concentrated and powerful so ensure safe use by properly diluting with a carrier oil. Always test for ...
Buy Now
£19.36

Related Products
$10.19
USDA Certified OrganicContains super critical CO2 extracts of Arnica Montana and Black Pepper, traditional joint soothers that exhibit anti-inflammatory properties. Cayenne extract gently warms as it stimulates circulation in achy joints. It has a fabulous fragrance & is good for your skin. Hardworking, Hardplaying, Sore & Achy Joint Relief. When formulating our Sore Joint Rub, we started with our original Sore Muscle Rub, and more than doubled the Cayenne extract to give extra warmth and circulatory support. Sore Joint Rub contains powerful CO2 Extracts of Arnica Montana and Black Pepper, traditional joint soothers that exhibit anti-inflammatory properties. The Arnica flower is well known for aiding muscles and joints in recovery from injury. Cayenne and Black Pepper Oils are a circulatory stimulant and can help soothe the discomfort associated with poor circulation, general stiffness, sprains, and sciatica. As with all of our Sore Muscle Rub blends, it leaves your skin soft with a natural fragrance that is sublime. Directions for use: Apply directly to shoulders, knees, elbows, back, or anywhere you;re sore. Use to soothe the everyday aches & pains from exercise and hard work. Caution: contains Cayenne - please avoid contact with eyes, nose, mouth, and other sensitive areasIngredients: *Olea Europaea (Extra Virgin Olive) Oil, *Capsicum Frutescens (Cayenne) Extract, *Cera Alba (Beeswax), *Ricinus Communis (Castor) Oil, CO2 Extracts of *Piper Nigrum (Black Pepper), *Zingiber Officinale (Ginger), *Arnica Montana (Arnica), *Rosa Canina (Rosehip), and Essential Oils of *Elettaria Cardamomum (Cardamom), *Cymbopogon Schoenanthus (Lemongrass), *Rosmarinus Officinalis (Rosemary), *Thymus Mastichina (Wild Marjoram) and *Salvia Officinalis (Sage)* = Certified Organic
$12.99
Be Careful of Cheap Low Quality Peppermint oil! Are you feeling lethargic, tired, stressed and generally unwell? Are you wanting to feel better in 2015? Your search has brought you to this page for a reason! Introducing Essential Oil Labs 100% Pure and Natural Peppermint Oil - The Purest, most effective peppermint oil on the market. Our oil is made with love and produced in small batches to ensure the highest of quality. Keep Your Medicine in your Medicine Cabinet The Benefits of our Peppermint Oil are numerous. In fact it is one of the most sought after products in the Winter months which is why it fly's off the shelf. Dr. Oz himself has featured Peppermint Oil on many of his shows. * Reduces stomach aches, bloating, nausea, acid reflux and aids with digestion * Relieves headaches and migraines while improving focus, concentration and mental acuity * Freshens breath, treats gum diseases and tooth decay * Boosts energy levels just by smelling the oil * Soothes Muscle aches and pain * Natural, revitalizing air freshener * Chemical free and non-toxic pest repellent Why Choose Essential Oil Labs Peppermint Oil? We stand by our products 100% and will do what ever it takes for you to be a happy and healthy customer. We have the best customer service on Amazon. We value your business and WE ALWAYS look after our customers. Every family should not be without this amazing peppermint oil. Buy Two or More Bottles and get Free Shipping, while quantities last. You will love our oil!
$11.95
Characteristics: This Rapid Relief blend is a combination of oils to help reduce aches by creating heat and increasing circulation.* Usage: This Synergy Blend is 100% Pure Essential Oils. We recommend a 3 to 5% dilution for topical body applications. Apply directly to the point of pain. * Cautions: It is possible that this blend may cause sensitivities; users are recommended to use this blend only in dilution and not as a replacement for traditional medicine. Blend of: Peppermint, Clove Bud, Laurel Leaf, Black Pepper, Cinnamon, Ginger Root, Roman Chamomile, Juniper and Thyme.