Get Well Soon Pure Essential Oil Gift Set with Ginger, Peppermint, and Eucalyptus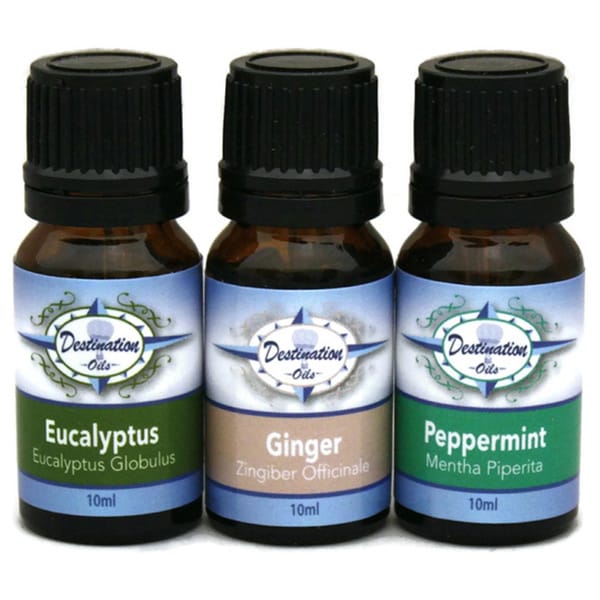 10 ml bottle of each Peppermint (Mentha Pipperita), Ginger (Zingiber Officinale), and Eucalyptus (Eucalyptus Globulus) Improve your symptoms with this great essential oil kit. Ginger works great for stomach issues. Peppermint can be diluted and put on sore muscles or temples for head pain. Diffuse eucalyptus for clear respiratory passages. This is a great set to keep in your medicine cabinet. All Destination Oils are 100-percent pure, therapeutic grade essential oils. The best quality for a great price. Essential oils are incredibly concentrated and powerful so ensure safe use by properly diluting with a carrier oil. Always test for ...
Buy Now
£16.32

Related Products
$24.95
A FAST ACTING SORE MUSCLE AND JOINT PAIN RELIEF SERUM. Recover works by Massaging the Sport Essential Oil Firmly into Sore Muscle Groups and Problem Areas where General Pain is Experienced. Recover (Muscle Soreness and Pain Relief Serum) is an amazing alternative to the "sports creams" on shelves today. With no bitter smell or eye watering chemicals, this blend of essential oils is a great way to help you combat daily aches and pains in muscles or joints. Recover contains a proprietary carrier oil blend of Coconut Oil, Avocado Oil, Flax Seed Oil, and Kenaf Seed Oil that is mixed with our proprietary Essential Oil Blend of Wintergreen Oil, Copaiba Oil, Juniper Berry Oil, Chamomile Oil, Helichrysum Oil, and Spearmint Oil known for their pain relieving properties. Recover separates itself from all other pain relief products on the market by way of effectiveness. This all natural alternative goes to work immediately so you can get back to living life without the constraints of aches and pains.Recover's Signature Carrier Oil Blend, Carrier Supreme, Separates Komega6 from all others. Our Carrier Supreme Blend has a unique Ratio of Carrier Oils Formulated to Allow for the Rapid Absorption of our Essential Oil Blend into the Skin. Not only does it Contain Coconut Oil, Avocado Oil, and Flax Seed Oil, we also have added a New Carrier Oil Exclusive to Komega6, Kenaf Seed Oil. Kenaf is a Key Ingredient that allows for Maximum Absorption into the skin preventing left over oil residue after application of Recover to the Body.
$79.65
Delightful, tangy, citrus aroma. Lime oil applied to the skin, may, in the presence of sunlight, cause a skin reaction. Aromatherapy benefits: refreshing, cheering. The therapeutic properties of Lime oil are: anti-scorbutic, antiseptic, antiviral, aperitif, bactericidal, febrifuge, restorative and tonic. Lime oil is useful to cool fevers associated with colds, sore throats and flu and aids the immune system. It eases coughs, bronchitis and sinusitis, as well as asthma. Lime oil can stimulate and refresh a tired mind and helps with depression. It can be helpful for arthritis, rheumatism and poor circulation, and in cases of obesity and cellulite. Lime has an astringent and toning action to clear oily skin and acne, as well as helps with herpes, insect bites and cuts. Lime oil can be beneficial to the immune system, it eases infection in the respiratory tract and relieves pain in muscles and joints. In vapor therapy Lime oil can be used for: depression and a tired mind. Lime oil can be used as a massage oil or diluted in the bath for: painful muscles and joints, respiratory problems and cellulite. Lime oil blends particularly well with: Neroli, Lavender, Clary sage and Ylang ylang. Essential and resin oils are volatile, fragrant materials extracted from the root, bark, wood, seed, fruit, leaf or flower of a single plant. Essential oils contain the odor, taste and medicinal properties of the plant itself, but in very concentrated form, with no base oil, alcohol, water or dilutants added. Steam distillation and cold pressing are used to extract the essential oil from the plant. Starwest Essential Oils are guaranteed to be 100% pure and undiluted. The distillation process occurs either at the site where the plants are grown or at a distillery. Each oil is tested for purity and strength using the gas chromatography method. Packaged in glass amber bottles to preserve the oils, the 1/3 ounce size has a fitted dropper insert and a tamper-evident, child-proof lid. The larger items are in amber glass or PET gallon containers, depending on the product. Starwest's pure essential oils are suitable for use in aromatherapy, cosmetic preparation, healing and body care, potpourris and more. Essential oils are very potent and should always be used sparingly and in conjunction with a reliable reference.
$7.95
This synergy was created to help ease the tension and soreness in your muscles after a good work out. You can massage on your muscles before and after you work out. This synergy can also be great for any muscle tension. * Massage this blend directly into the sore muscles and feel the tension drain away. * This pre-diluted roll on contains the 100% pure therapeutic grade essential oils of: Wintergreen, Camphor and Pine blended into a base of fractionated coconut oil.