Get Well Soon Pure Essential Oil Gift Set with Ginger, Peppermint, and Eucalyptus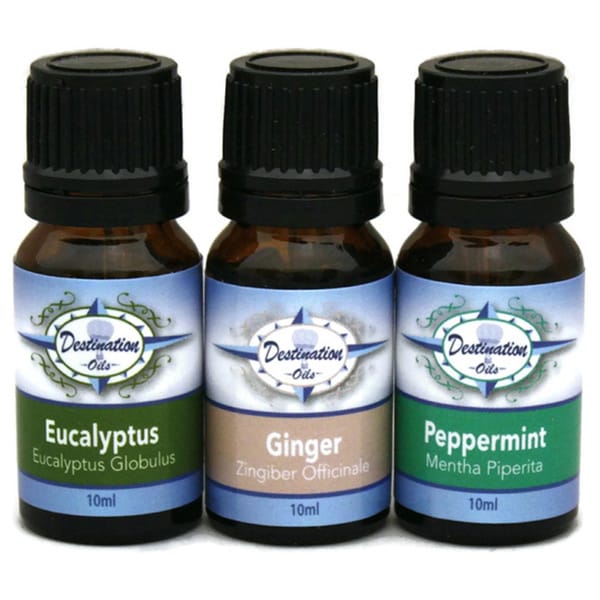 10 ml bottle of each Peppermint (Mentha Pipperita), Ginger (Zingiber Officinale), and Eucalyptus (Eucalyptus Globulus) Improve your symptoms with this great essential oil kit. Ginger works great for stomach issues. Peppermint can be diluted and put on sore muscles or temples for head pain. Diffuse eucalyptus for clear respiratory passages. This is a great set to keep in your medicine cabinet. All Destination Oils are 100-percent pure, therapeutic grade essential oils. The best quality for a great price. Essential oils are incredibly concentrated and powerful so ensure safe use by properly diluting with a carrier oil. Always test for ...
Buy Now
$23.99

Related Products
$12.94
Gardencense Pain Relief Cream. The perfect blend of all natural ingredients including 5 essential oils made for relieving pain in joints and muscles. This unique pain relief cream is formulated to relieve arthritis pain, joint pain, upper and lower back pain, and neck pain. It also cures discomfort when experiencing pain with shingles, muscles, hemorrhoids, and sciatic nerve pain. ALL NATURAL INGREDIENTS To Include: Aero Vera Gel, Menthol Crystals, and 5 amazing essential oils! Our return policy grants a 60 day money back guarantee if the product does not help cure your pain when applied. Your purchase today is risk free. Manufactured in the USA
$8.49
Muscle Relief Blend combines powerful analgesic oils which has anti-inflammatory, anti-spasmodic and anti-inflammatory properties that will relieve muscle pain, spasms, stiffness, backache and joint pain. So you can get back to your normal life fast and enjoy. It effects are deep, cool, penetrating and long lasting. It will open up blood vessels close to the skin surface which will increase blood flow and alleviate the minor aches, pain and sore muscles. Some of the uses of Muscle Relief Blend are : 1. Gently rub on affected area to alleviate the minor aches, pain and sore muscles, Dilute with a carrier oil for sensitive skin 2. Lower Back Pain: dilute several drops in coconut oil or another carrier oil and apply to lower back to soothe away pain 3. Massage: dilute several drops in coconut oil or another carrier oil and massage muscles . 4. First Aid Kit: keep in your first aid kit alongside bandages to soothe swelling, pain, and inflammation 5. Growing Pains: dilute heavily and massage into children's legs to help alleviate growing pains 6. Home spa: add several drops to your epsom salt as you take a hot bath to relax your muscles The above statements have not been evaluated by the FDA. This information is for educational purposes only, it is not intended to treat, cure, prevent or, diagnose any disease or condition. Nor is it intended to prescribe in any way. Safety precautions : All products are for external use only. Consult a professional reference for correct dilution ratios prior to application. Avoid in pregnancy and lactation. Keep away from eye area. Keep out of reach of children.
$19.95
Characteristics: This Rapid Relief blend is a combination of oils to help reduce aches by creating heat and increasing circulation.* Usage: This Synergy Blend is 100% Pure Essential Oils. We recommend a 3 to 5% dilution for topical body applications. Apply directly to the point of pain. * Cautions: It is possible that this blend may cause sensitivities; users are recommended to use this blend only in dilution and not as a replacement for traditional medicine. Blend of: Peppermint, Clove Bud, Laurel Leaf, Black Pepper, Cinnamon, Ginger Root, Roman Chamomile, Juniper and Thyme.