Silky Scents EO89-10ML Sandalwood Essential Oil 100 Percent Pure Therapeutic Grade - 10 ml.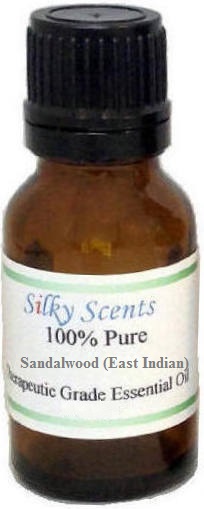 Aromatic Description: You will find this oil provides a woody sweet and exotic aroma. Sandalwood Essential Oil is Rich sweet fragrant yet delicate and floral. Perfumery Note: Base. Aromatherapy Properties: (Uses) Antiseptic antispasmodic relief astringent expectorant and . Its lingering aroma often persists in clothing after washing. Alleviates cystitis (massage in the kidney region where it has a purifying and anti-inflammatory action). Its relief properties can relieve fragrance problems such as frigidity and impotence. Its antispasmodic action on the body should encourage relaxation. Could be useful in promoting secretions and helps with pelvic congestion. This oil has a pronounced action ...
Buy Now
$104.92

Related Products
$38.12
Arnica Muscle Soak helps soothe body and mind while your muscles relax with a soak in this aromatic bath milk made with only natural ingredients. Organic arnica and birch extracts help relieve feelings of fatigue and tiredness while lavender and rosemary essential oils provide an uplifting natural fragrance. Arnica Muscle Soak is ideal after a workout to ease sore muscles or anytime you need a calming restorative bath. FeaturesYeast Free SpecificationsSize: 6.8 oz Country of Origin: United Kingdom Dimension: 6.54 H x 2.83 W x 1.69 L
$26.79
Himalayan salt baths have been known to improve the texture tone and appearance of your skin combat water retention promote sinus health prevent muscle cramping and soreness regulate sleep and even decrease stress. Himalayan Bath Salt Coarse Grind with Eucalyptus Essential Oil - Eucalyptus essential oil is known for treating a number of respiratory problems including cold cough running nose sore throat asthma nasal congestion bronchitis and sinusitis; and is also very helpful for muscular aches and pains. SpecificationsFlavor: Eucalyptus Volume: 26 oz Dimension: 4.25 H x 3.5 W x 3.5 D Weight: 1.18 lbs
$11.95
Characteristics: This Rapid Relief blend is a combination of oils to help reduce aches by creating heat and increasing circulation.* Usage: This Synergy Blend is 100% Pure Essential Oils. We recommend a 3 to 5% dilution for topical body applications. Apply directly to the point of pain. * Cautions: It is possible that this blend may cause sensitivities; users are recommended to use this blend only in dilution and not as a replacement for traditional medicine. Blend of: Peppermint, Clove Bud, Laurel Leaf, Black Pepper, Cinnamon, Ginger Root, Roman Chamomile, Juniper and Thyme.