Silky Scents EO89-15ML Sandalwood Essential Oil 100 Percent Pure Therapeutic Grade - 15 ml.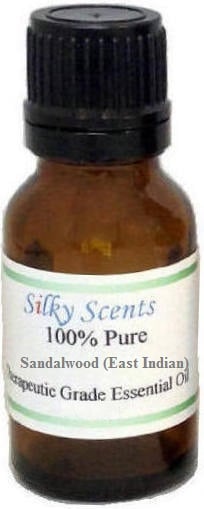 Aromatic Description: You will find this oil provides a woody sweet and exotic aroma. Sandalwood Essential Oil is Rich sweet fragrant yet delicate and floral. Perfumery Note: Base. Aromatherapy Properties: (Uses) Antiseptic antispasmodic relief astringent expectorant and . Its lingering aroma often persists in clothing after washing. Alleviates cystitis (massage in the kidney region where it has a purifying and anti-inflammatory action). Its relief properties can relieve fragrance problems such as frigidity and impotence. Its antispasmodic action on the body should encourage relaxation. Could be useful in promoting secretions and helps with pelvic congestion. This oil has a pronounced action ...
Buy Now
$179.09

Related Products
$32.20
Arnica Muscle Soak helps soothe body and mind while your muscles relax with a soak in this aromatic bath milk made with only natural ingredients. Organic arnica and birch extracts help relieve feelings of fatigue and tiredness while lavender and rosemary essential oils provide an uplifting natural fragrance. Arnica Muscle Soak is ideal after a workout to ease sore muscles or anytime you need a calming restorative bath. FeaturesYeast Free SpecificationsSize: 6.8 oz Country of Origin: United Kingdom Dimension: 6.54 H x 2.83 W x 1.69 L
$18.85
Reduce arthritis & back pain and muscle pain so you can stay more mobile and avoid struggling with an aching body! When you are suffering from painful arthritis, sports injuries, or general muscle soreness, it can be difficult to go about your day without feeling consistent discomfort. That is why you need a proper pain relief cream that treats your ailments right down to the muscles and tendons that surround your aching bones. Kerah Lane has created the best pain relief and anti-inflammatory cream available today because we use all-natural based ingredients to help you attack pain where it bothers you most - your back, knees, elbows, feet and hands. And whether you are an athlete suffering from golfers elbow or tennis elbow, a gardener with rheumatoid arthritis, or just pulled a muscle while taking on a CrossFit challenge, our premium formula can help you find relief, fast. Non-greasy and fast absorbing, you will not find a better cream to help you feel better, or your money back. Key benefits of Kerah Lane Pain Relief Cream:All Natural, Organic Formula Works Quickly, Lasts Longer Penetrates Sore Muscles and Joints Provides Arthritis Relief Great for Knees, Back, Hands, and other Joints Click Add to Cart above and start alleviating painful arthritis in your hands, back, knees and joints.
$7.95
This synergy was created to help ease the tension and soreness in your muscles after a good work out. You can massage on your muscles before and after you work out. This synergy can also be great for any muscle tension. * Massage this blend directly into the sore muscles and feel the tension drain away. * This pre-diluted roll on contains the 100% pure therapeutic grade essential oils of: Wintergreen, Camphor and Pine blended into a base of fractionated coconut oil.