Weleda 1736156 6.8 oz Arnica Muscle Soak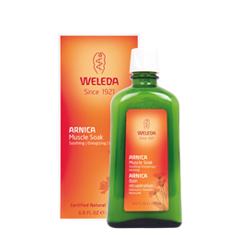 Arnica Muscle Soak helps soothe body and mind while your muscles relax with a soak in this aromatic bath milk made with only natural ingredients. Organic arnica and birch extracts help relieve feelings of fatigue and tiredness while lavender and rosemary essential oils provide an uplifting natural fragrance. Arnica Muscle Soak is ideal after a workout to ease sore muscles or anytime you need a calming restorative bath. FeaturesYeast Free SpecificationsSize: 6.8 oz Country of Origin: United Kingdom Dimension: 6.54 H x 2.83 W x 1.69 ...
Buy Now
$32.20

Related Products
$24.95
GET FAST NEUROPATHY RELIEF AND LIVE A PAIN FREE LIFE MyoMed P.R.O. Neuropathy Pain Relief Formula provides fast, safe and effective relief from your neuropathy pain with it's all natural, potent blend of homeopathic, powerful essential oils. These same essential oils have been used for centuries around the world to provide fast, safe and effective pain relief. NATURAL HOMEOPATHIC INGREDIENTS THAT GIVE YOU FAST PAIN RELIEF We never use synthetic chemicals, dyes, parabens, or fragrances in our products. When you purchase MyoMed P.R.O. Neuropathy Pain Relief formula today, you're getting a natural blend of potent, homeopathic, essential oil ingredients! You get the fast relief you need for your neuropathy symptoms without the chemicals that can clog your pores and irritate your skin. Plus we NEVER test our products on animals. You can feel good about using MyoMed P.R.O. products. PERFECT FOR NEUROPATHY PAIN You want fast, safe and effective relief... but don't want to take a lot of time out of your day to get it. With MyoMed P.R.O. Neuropathy Relief formula, getting relief is easy. Just apply the cream when your pain starts to appear. It goes to work FAST and lets you live life pain free. No mess, no fuss. A NAME YOU CAN TRUST AND A PRODUCT YOU WILL LOVE MyoMed P.R.O. products are made in the USA. Don't Take Our Word for It - Try MyoMed P.R.O. Neuropathy Relief Formula Yourself! We're confident that you'll love your relief that it provides for your painful neuropathy symptoms.
$24.89
A warming blend of organic pure essential oils to relax and soothe muscles. Elementa Essential Oil Muscle Ease re-energises tired muscles after a workout, run or just a tiring day. Suitable for busy moms, fitness instructors, athletes and anyone suffering from sports injuries, arthritis, rheumatism, sore muscles and pain. Muscular pains can affect any part of the body and it can happen to anyone carrying tension in their necks and shoulders, which causes the muscles to become tight and painful. Struggling with sore muscles? Elementa Essential Oil Muscle Ease can reduce pain and has anti-spasmodic, anti-inflammatory and anti-rheumatic properties. It soothes muscle discomfort after exercise especially when used in combination with massage and gives and invigorating yet warming feeling. Apply to legs, arms, neck and back and muscles after exercise. Ingredients: Wintergreen Leaf (Gaultheria procumbens), Peppermint Leaf (Mentha piperita), Camphor (Cinnamomum camphora), Tansy Flower (Tanacetum vulgare), Elemi resin (Canarium luzonicum), Fractionated Coconut Oil, German Chamomile Flower (Chamomilla recutita), Immortelle Flower (Helichrysum italicum), Osmanthus Flower (Osmanthus fragrans) 100% MONEY-BACK GUARANTEE- Elementa Essential Oils are backed with a 100% quality guarantee and we take returns NO QUESTIONS
$21.95
*Comparable to Young Living's PanAway blend! You don't have to run a triathlon to know what sore muscles feel like. Sometimes we strain our backs, legs, or necks during periods of stress or sleepless nights. Other times, we push our bodies too hard and end up feeling tweaked. With a minty and powerful aroma, Muscle Relief can loosen tight muscles and soothe away pain. It has a cooling effect on the body and can help decrease inflammation and swelling. Rubbing Muscle Relief into a knot or tight spot on your body can release tension so you can regain your strength. Muscle Relief is a restorative blend of Clove, Helichrysum, Peppermint and Wintergreen. Made with care from our top quality oils and, as always, Edens Garden essential oils are never diluted or mixed with additives. CONTAINS: Clove, Helichrysum, Peppermint and Wintergreen BE INSPIRED: Place 5 drops of Muscle Relief on a cold compress and place on the tired or strained muscle. Breathe deeply and let your muscles relax.