Weleda 1736156 6.8 oz Arnica Muscle Soak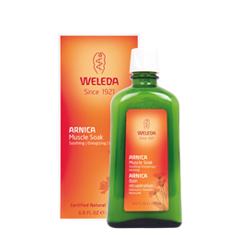 Arnica Muscle Soak helps soothe body and mind while your muscles relax with a soak in this aromatic bath milk made with only natural ingredients. Organic arnica and birch extracts help relieve feelings of fatigue and tiredness while lavender and rosemary essential oils provide an uplifting natural fragrance. Arnica Muscle Soak is ideal after a workout to ease sore muscles or anytime you need a calming restorative bath. FeaturesYeast Free SpecificationsSize: 6.8 oz Country of Origin: United Kingdom Dimension: 6.54 H x 2.83 W x 1.69 ...
Buy Now
$33.87

Related Products
$8.95
This blend helps reduce pain by creating heat and increasing circulation. It also contains oils that may help with inflammation. * For best results apply it directly to the source of pain. * This pre-diluted roll on contains the 100% pure, therapeutic grade essential oils of: bay or laurel, black pepper, cinnamon, clove bud, chamomile, ginger, juniper, peppermint, and thyme blended into a base of fractionated coconut oil.
$12.99
Be Careful of Cheap Low Quality Peppermint oil! Are you feeling lethargic, tired, stressed and generally unwell? Are you wanting to feel better in 2015? Your search has brought you to this page for a reason! Introducing Essential Oil Labs 100% Pure and Natural Peppermint Oil - The Purest, most effective peppermint oil on the market. Our oil is made with love and produced in small batches to ensure the highest of quality. Keep Your Medicine in your Medicine Cabinet The Benefits of our Peppermint Oil are numerous. In fact it is one of the most sought after products in the Winter months which is why it fly's off the shelf. Dr. Oz himself has featured Peppermint Oil on many of his shows. * Reduces stomach aches, bloating, nausea, acid reflux and aids with digestion * Relieves headaches and migraines while improving focus, concentration and mental acuity * Freshens breath, treats gum diseases and tooth decay * Boosts energy levels just by smelling the oil * Soothes Muscle aches and pain * Natural, revitalizing air freshener * Chemical free and non-toxic pest repellent Why Choose Essential Oil Labs Peppermint Oil? We stand by our products 100% and will do what ever it takes for you to be a happy and healthy customer. We have the best customer service on Amazon. We value your business and WE ALWAYS look after our customers. Every family should not be without this amazing peppermint oil. Buy Two or More Bottles and get Free Shipping, while quantities last. You will love our oil!
$19.95
Our Muscle Relief Essential Oil Blend combines powerful analgesic oils designed to mitigate pain and discomfort. Not only does this blend have an amazing scent, it also has a unique blueish green color. USE A CARRIER OIL OR LOTION WITH THIS BLEND. This blend should be used with a carrier oil as it contains a variety of minty oils, known as "hot oils," and can irritate the skin when applied directly. Some good carrier oils are: olive, coconut, jojoba, etc. You don't need anything fancy, just use what you already have available at home. Directions: Dilute 5 drops of Muscle Relief with each Tbsp of carrier oil or lotion. Use more/less drops to get the desired strength. INGREDIENTS: A blend of 100% pure essential oils: Peppermint (Mentha piperita), Wintergreen (Gaultheria procumbens), Eucalyptus (Eucalyptus globulus), Camphor (Cinnamomum camphora) and German Chamomile (Matricaria chamomilla). DISCLAIMER: The above statements have not been evaluated by the FDA. This information is for educational purposes only, it is not intended to treat, cure, prevent or, diagnose any disease or condition. Nor is it intended to prescribe in any way. This information is for educational purposes only and may not be complete, nor may its data be accurate. SAFETY PRECAUTIONS: All products are for external use only. Consult a professional reference for correct dilution ratios prior to application. Avoid in pregnancy and lactation. Keep away from eye area. Keep out of reach of children.