Botanic Spa 100% Pure Essential Oil Exotic, Patchouli, 1 Fl Oz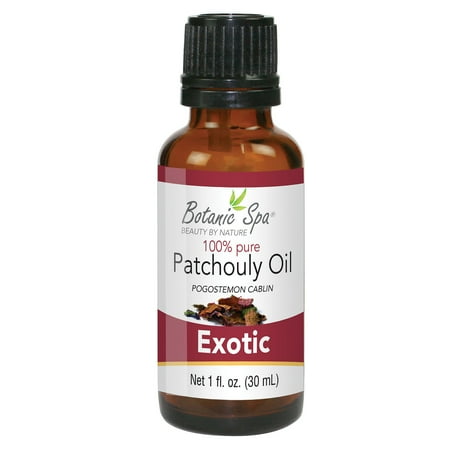 Botanic Spa Patchouli Essential Oil, 1 ...
Buy Now
$12.99

Related Products
$20.33
Nature's Alchemy Essential Oil, Patchouli 0.5 oz
$29.51
Aromatherapy Properties: (Uses) Patchouli is recognized by aromatherapists as being effective for combating nervous disorders helping with dandruff sores skin irritations and acne. The specific properties include use as an antidepressant anti-inflammatory anti-emetic antimicrobal antiphlogistic antiseptic antitoxic antiviral aphrodisiac astringent bactericidal carminative deodorant digestive diuretic febrifuge fungicidal nerving prophylactic stimulating and tonic agent. In the perfumery industry it is interesting to note that Patchouli improves with age and that the aged product is what is preferred over freshly harvested. In aromatherapy Patchouli is an excellent fixative that can help extend other more expensive oils. Blends well with: Black Pepper Clary Sage Frankincense Geranium Lavender 40/42 Sandalwood East Indian Bergamot Cedarwood Atlas Rose Otto (Bulgarian) Orange Sweet Cassia Opoponax Wild Crafted and Myrrh (India). History: For centuries patchouli oil has been used in the East to scent clothes and linen. In China Japan and Malaysia the oil was used to treat colds headaches nausea diarrhea and abdominal pain. In the 1960s patchouli became popular as an aphrodisiac. Features100% Pure Essential Oil Raw Material - Patchouli Light Botanical Name - Pogostemon Cablin Therapeutic Grade Capacity - 15 ml.
$7.40
A scent of the 60s, Patchouli is a musty, sweet, spicy, heavy scent. It is relaxing, uplifting, soothing and is believed to be an aphrodisiac. Patchouli oil has a beneficial effect on the skin, helping with infections and insect bites, and with stress related problems and addictions. It is great for acne, inflamed, cracked or mature skin. Patchouli aids in treatment of oily skin, hair, scalp disorders, eczema, and wrinkles.