Natures Alchemy 0221853 100 Percent Pure Essential Oil Patchouli - 0.5 fl oz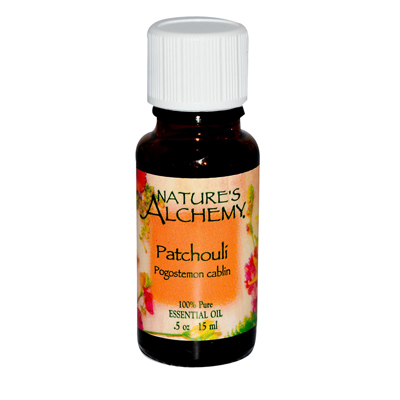 100% Pure. These 100% natural essential oils are meticulously extracted from plants by cold pressing or steam distillation using the same techniques developed by the medieval Persian physician Avicenna. All Nature's Alchemy high-quality botanical oils are scientifically tested for purity and contain no chemical solvents, added alcohol or other extenders. We feature high quality pure oils at competitive prices. Nature's Alchemy Oils are all aromatherapy grade. Please note that we cannot recommend use of any oils internally. Follow the guidance of your alternative health care practitioner in utilizing these fragrances. Supplement Facts: 100% pure natural essential oil. ...
Buy Now
$28.41

Related Products
$15.89
Botanical Name: Pogostemon Cablin * Plant Part: Leaves * Extraction Method: Steam Distilled * Origin: Indonesia * Description: Patchouli is a very fragrant herb with soft oval leaves and square stems. It grows from 2 to 3 feet in height and provides an unusual odor that is nonetheless characteristic of patchouli when the leaves are rubbed. The color of the patchouli oil is affected by the distillation machine. If distillation is done in a stainless steel vessel the color of the oil will be light, but if done in an iron vessel the color will be darker. * Color: Golden orange to dark reddish brown viscous liquid. * Common Uses: Patchouli is recognized by aromatherapists as being effective for combating nervous disorders, helping with dandruff, sores, skin irritations and acne. The specific properties include use as an antidepressant, anti-inflammatory, anti-emetic, antimicrobal, antiphlogistic, antiseptic, antitoxic, antiviral, aphrodisiac, astringent, bactericidal, carminative, deodorant, digestive, diuretic, febrifuge, fungicidal, nerving, prophylactic, stimulating and tonic agent. In the perfumery industry, it is interesting to note that Patchouli improves with age, and that the aged product is what is preferred over freshly harvested. In aromatherapy, Patchouli is an excellent fixative that can help extend other, more expensive oils. * Consistency: Thick * Note: Base * Strength of Aroma: Medium * Blends well with: Sandalwood, Bergamot, Cedarwood, Rose, Orange,Cassia, Myrrh and Opoponax * Aromatic Scent: Patchouli has a warm, earthy aroma with fresh fruit - like tones. * History: Before it became popular in Europe, Indian shawls and Indian ink were identified by the unique patchouli odor. * Cautions: None Known.
$16.91
Nature's Alchemy 100% Pure Essential Oil Patchouli Description: Nature's Alchemy 100% Essential Oil in Patchouli (Pogostemon cablin) Nature's Alchemy are 100% natural essential oils are meticulously extracted from plants by cold pressing or steam distillation. Nature's Alchemy high-quality botanical oils are perfect for aromatherapy, baths, room fragrancing, personal fragrance, potpourri, massage oil fragrancing or anywhere you would like to have a wonderful fragrance. Nature's Alchemy has an extensive selection of fragrances to please and rejuvinate your senses. Disclaimer These statements have not been evaluated by the FDA. These products are not intended to diagnose, treat, cure, or prevent any disease.
$19.99
With earthy aromatic tones, patchouli essential oil is excellent for homemade body products and can aid in skincare. All Destination Oils are 100-percent pure, therapeutic grade essential oils. The best quality for a great price. Essential oils are incredibly concentrated and powerful so ensure safe use by properly diluting with a carrier oil. Always test for skin sensitivity prior to widespread use. Keep out of eyes, ears, or nose. Keep oils tightly closed and out of the reach of children. Do not ingest essential oils unless guided by a trained professional. The information provided on this website is only our opinion, and is not intended as medical advice or diagnosis. Statements have not been evaluated by the FDA and are not intended to diagnose, cure, treat or prevent any disease. Information on this page should not be interpreted as medical advice, meant for diagnosing illness, or for prescriptive purposes. Always discuss any essential oil use with your doctor or trained aromatherapist. Features: Material: Oils States: Iowa Botanical Name- Pogostemon cablin Country of Origin- Indonesia Extraction Method: Steam distilled Aromatic Scent: Warm earthy aroma with spicy floral undertones Perfumery Note: Base Uses: Great for homemade body products Can increase skin glow and tone, also may decrease appearance of blemishes Calming and grounding- beneficial when meditating Has been said to help those with eczema, psoriasis, and dandruff Can act as an aphrodisiac Story Behind Product: Welcome to Destination Oils. My name is Kara and I am the owner of Destination Oils, a small essential oil business located in Iowa. We want to bring great, high quality essential oils and unique aromatherapy jewelry to the online marketplace. Our oils are 100-percent pure, therapeutic grade with no fillers, preservatives, or chemicals. Just oil. The best quality for a great price.