Natures Alchemy 0221911 100 Percent Pure Essential Oil Rosemary - 0.5 fl oz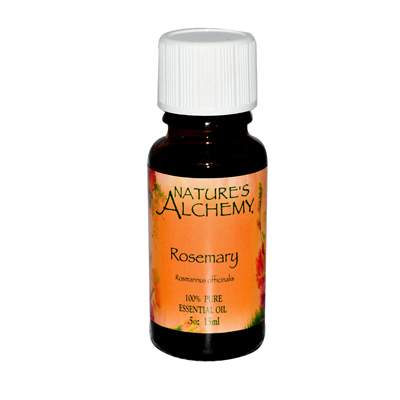 Rosmarinus Officinalis. 100% Pure. These 100% natural essential oils are meticulously extracted from plants by cold pressing or steam distillation using the same techniques developed by the medieval Persian physician Avicenna. Nature's Alchemy Oils are all aromatherapy grade. Supplement Facts: Rosmarinus officinalis (rosemary) oil. 100% pure natural essential oil. All Nature's Alchemy high-quality botanical oils are scientifically tested for purity and contain no chemical solvents, added alcohol or other extenders. Directions: Follow the guidance of your alternative health care practitioner in utilizing these fragrances. Perfect for aromatherapy, baths, room fragrancing, personal fragrance, potpourri, massage oil fragrancing or ...
Buy Now
$14.20

Related Products
£11.75
100-percent pure Rosemary, Cinnamon Cassia, and Peppermint oils take you on a sensory journey that can instantly soothe, enliven, or balance both body and mind. Packed within these pure, botanical essences, youll discover rich therapeutic properties that cannot be found elsewhere. These essential oils elevates your spirit, promotes mental clarity, or can be used as a massage oil to restores harmonic balance. Set includes: Three (3) essential oils Ingredients: 100-percent pure Rosemary, Cinnamon Cassia, and Peppermint oil We cannot accept returns on this product.
$13.95
BioFinest Rosemary Oil - 100% Pure Rosemary Essential Oil - Therapeutic Grade - Australia Premium Quality - Best For Aromatherapy, Aches & Pains, Hair & Dandruff - FREE E-Book (10ml / 0.34 fl oz)
$38.79
Rosemary Essential Oil Shampoo by The Art of Shaving for Men - 8 oz Shampoo Type: Beauty - Hair Care Scent: Original Gender: Male Age: Adult