Natures Alchemy 0221911 100 Percent Pure Essential Oil Rosemary - 0.5 fl oz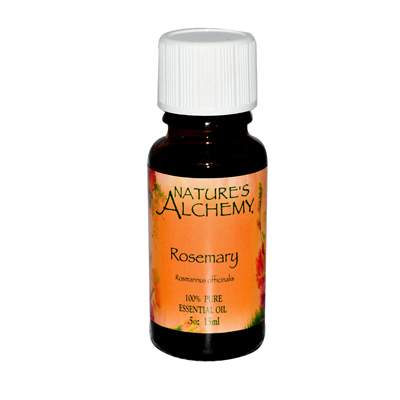 Rosmarinus Officinalis. 100% Pure. These 100% natural essential oils are meticulously extracted from plants by cold pressing or steam distillation using the same techniques developed by the medieval Persian physician Avicenna. Nature's Alchemy Oils are all aromatherapy grade. Supplement Facts: Rosmarinus officinalis (rosemary) oil. 100% pure natural essential oil. All Nature's Alchemy high-quality botanical oils are scientifically tested for purity and contain no chemical solvents, added alcohol or other extenders. Directions: Follow the guidance of your alternative health care practitioner in utilizing these fragrances. Perfect for aromatherapy, baths, room fragrancing, personal fragrance, potpourri, massage oil fragrancing or ...
Buy Now
$12.41

Related Products
$13.50
Top oil for hair growth! After applying hair growth every day for 12 weeks, one of our customers reversed the balding process! Because the leaves are used in distilling, our Rosemary essential oil contains more cineole than most competitors' rosemary oils. It is anti-catarrh, anti-multiple sclerosis (supports), anti-infectious, anti-bacterial (this chemotype said to be best used for pulmonary congestion, slow elimination, candida, chronic fatigue, staph and strap germs). Preventative for all respiratory infections, congestion, sinusitis, bronchitis, chills, colds, flu, infections (especially staph and strep), colitis, dyspepsia, sour stomach, cystitis, palpitations, arteriosclerosis, immune stimulant, nervous exhaustion and stress-related illness. For hair support, rub several drops into hair after showering. For respiratory improvement, diffuse oil and inhale deeply.
$24.56
Features100% pure therapeutic grade essential oil of Rosemary Bottles and European Black Tamper Evident Caps with orifice reducer plugs. 1 oz. come in amber glass bottles and black ribbed caps with cone liners to help prevent leakage Botanical Name : Rosemarinus Officinalis Capacity - 1 oz.- 30ml.
$9.99
Botanical Name: Rosmarinus Officinalis * Plant Part: Herb * Extraction Method: Steam Distilled * Origin:Tunisian * Description: Rosemary is an evergreen shrub with numerous branches and ash-colored scaly bark with leathery, thick leaves, which are lustrous and dark green above, and white underneath. * Color: Colorless to pale yellow liquid. * Common Uses: Rosemary French Essential Oil is best used as a facial oil for extremely dry skin. It nourishes the scalp and keeps hair looking healthy and shiny, and many users claim that it promotes hair growth, though there is not any medical evidence to support this argument. It normalizes excessive oil secretions and improves most scalp problems, particularly dandruff and seborrhea. Rosemary Oil is also helpful in treating cellulite. It also balances intense emotions and controls mood swings. It assists in managing stress and overcoming stress-related disorders and nervous exhaustion. * Consistency: Thin * Note: Top * Strength of Aroma: Strong * Blends well with: Basil, Bergamot, Cedarwood, Frankincense, Ginger,Lemon, Orange and Peppermint. * Aromatic Scent: Rosemary French Essential Oil has a fresh, strong, woody, balsamic, herbal minty scent. * History: Because it grows in proximity to the sea, it's name means Dew of the Sea. Its leaves were traditionally burned in hospitals to purify the air. Rosemary was used as incense by the ancient Romans and according to legend; Mary sheltered the baby Jesus under a rosemary bush. * Cautions: Rosemary French Essential Oil is generally non-toxic and non-sensitizing. It is not suitable for people with epilepsy or high blood pressure. Avoid in pregnancy since it is an emmenagogue.