Natures Alchemy 0221911 100 Percent Pure Essential Oil Rosemary - 0.5 fl oz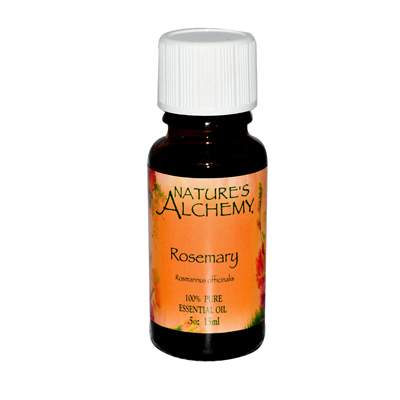 Rosmarinus Officinalis. 100% Pure. These 100% natural essential oils are meticulously extracted from plants by cold pressing or steam distillation using the same techniques developed by the medieval Persian physician Avicenna. Nature's Alchemy Oils are all aromatherapy grade. Supplement Facts: Rosmarinus officinalis (rosemary) oil. 100% pure natural essential oil. All Nature's Alchemy high-quality botanical oils are scientifically tested for purity and contain no chemical solvents, added alcohol or other extenders. Directions: Follow the guidance of your alternative health care practitioner in utilizing these fragrances. Perfect for aromatherapy, baths, room fragrancing, personal fragrance, potpourri, massage oil fragrancing or ...
Buy Now
$14.49

Related Products
$18.33
Rosemary Verbenone Essential Oil (Rosmarinus Officinalis) 100% Pure Therapeutic Grade - 10 ML
$7.61
NOW Essential Oil, Rosemary, 1 fl oz: Pure rosemary oilAroma: warm, camphoraceousBenefits: purifying, upliftingFor aromatherapy useStrong cleansing propertiesMay improve memory, soothe digestive uses and relieve muscle aches and painsPopular ingredient in many skin and hair care products For all other uses, carefully dilute with a carrier oil such as jojoba, grapeseed, olive or almond oil prior to usePlease consult an essential oil book or other professional reference source for suggested dilution ratiosNatural essential oils are highly concentrated and should be used with careCaution: keep out of reach of childrenAvoid contact with eyesMixes well with bergamot oil, lemongrass oil, peppermint oil, or thyme oilExtraction method: Steam distilled from tops of plantPurity tested/quality assuredNOW Essential oil is 1 oz in size
$12.62
100% Pure. Rosmarinus officinalis.