Natures Alchemy 0221911 100 Percent Pure Essential Oil Rosemary - 0.5 fl oz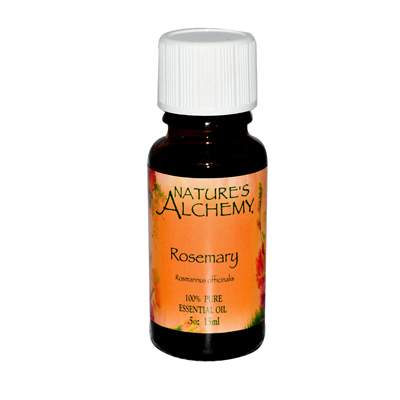 Rosmarinus Officinalis. 100% Pure. These 100% natural essential oils are meticulously extracted from plants by cold pressing or steam distillation using the same techniques developed by the medieval Persian physician Avicenna. Nature's Alchemy Oils are all aromatherapy grade. Supplement Facts: Rosmarinus officinalis (rosemary) oil. 100% pure natural essential oil. All Nature's Alchemy high-quality botanical oils are scientifically tested for purity and contain no chemical solvents added alcohol or other extenders. Directions: Follow the guidance of your alternative health care practitioner in utilizing these fragrances. Perfect for aromatherapy baths room fragrancing personal fragrance potpourri massage oil fragrancing or ...
Buy Now
$12.84

Related Products
$32.18
Aromatherapy Properties: (Uses) Corsica (organic). This chemotype of Rosemary shows how populations of a single species can differ in chemical composition. This CT is soft warm sweet and most skin-friendly. Its best known use is as a facial oil for extremely dry skin (combine with carrot seed lavender 2% in hazelnut or fractionated coconut oil). The Verbenone CT is even more effective at clearing catarrh than Rosemary Officinalis. It is less stimulating generally and especially less of a mental stimulant so it can be used in the evening. Blends well with: Basil Sweet Bergamot Cedarwood Atlas Frankincense Ginger Lemon Orange Sweet and Peppermint. Features100% Pure Essential Oil Raw Material - Rosemary Verbenone Botanical Name - Rosmarinus officinalis Therapeutic Grade Capacity - 10 ml.
$12.18
Rosemary French Pure Essential Oil (0.50 oz, ZIN: 406740) Type: Supplements Function: Maintenance & Prevention Size: 0.05 Oz. Gender: Unisex
$11.84
In addition to its mild camphoraceous, uplifting aroma, the natural compounds in rosemary oil contain strong cleansing properties, making it ideal for anyone concerned iwth immune system health.  NOW® Rosemary Oil is steam-distilled.