Silky Scents EO184-10ML 100 Percent Pure Therapeutic Grade Rosemary Verbenone Essential Oil - 10 ml.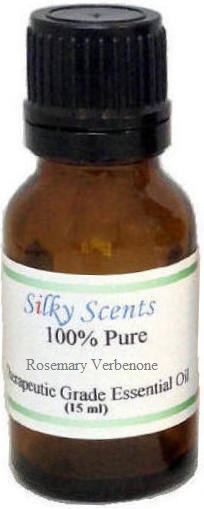 Aromatherapy Properties: (Uses) Corsica (organic). This chemotype of Rosemary shows how populations of a single species can differ in chemical composition. This CT is soft warm sweet and most skin-friendly. Its best known use is as a facial oil for extremely dry skin (combine with carrot seed lavender 2% in hazelnut or fractionated coconut oil). The Verbenone CT is even more effective at clearing catarrh than Rosemary Officinalis. It is less stimulating generally and especially less of a mental stimulant so it can be used in the evening. Blends well with: Basil Sweet Bergamot Cedarwood Atlas Frankincense Ginger Lemon ...
Buy Now
$28.73

Related Products
$24.99
10 ml bottle of each Oregano (Origanum vulgare), Rosemary (Rosmarinus officianlis) and Lemon (Citrus Limon) A great set to keep in your kitchen to diffuse when you are cooking or if you just want people to think you are. All oils in this set are also perfect for your homemade cleaning recipes. All Destination Oils are 100-percent pure, therapeutic grade essential oils. The best quality for a great price. Essential oils are incredibly concentrated and powerful so ensure safe use by properly diluting with a carrier oil. Always test for skin sensitivity prior to widespread use. Keep out of eyes, ears, or nose. Keep oils tightly closed and out of the reach of children. Do not ingest essential oils unless guided by a trained professional. The information provided on this website is only our opinion, and is not intended as medical advice or diagnosis. Statements have not been evaluated by the FDA and are not intended to diagnose, cure, treat or prevent any disease. Information on this page should not be interpreted as medical advice, meant for diagnosing illness, or for prescriptive purposes. Always discuss any essential oil use with your doctor or trained aromatherapist. Features: State: Iowa Material: 100-percent Pure Essential Oils Set includes: Oregano, Rosemary, Lemon About the Manufacturer: Welcome to Destination Oils. My name is Kara and I am the owner of Destination Oils, a small essential oil business located in Iowa. We want to bring great, high quality essential oils and unique aromatherapy jewelry to the online marketplace. Our oils are 100-percent pure, therapeutic grade with no fillers, preservatives, or chemicals. Just oil. The best quality for a great price.
$49.99
LAGUNAMOON? 150ml Mini Aroma Essential Oil Diffuser w/ 20 Essential oils: Lavender, Frankincense, Rose Peppermint, Rosemary, Sandalwood, Lemon, Eucalyptus, Vanilla, Chamomile, Jasmine, Lemongrass
$7.95
Plant Therapy Rosemary Essential Oil 10 mL (1/3 fl. oz.) 100% Pure, Undiluted, Therapeutic Grade