Silky Scents EO184-10ML 100 Percent Pure Therapeutic Grade Rosemary Verbenone Essential Oil - 10 ml.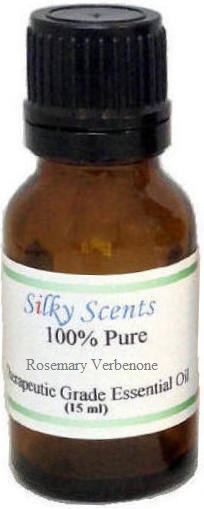 Aromatherapy Properties: (Uses) Corsica (organic). This chemotype of Rosemary shows how populations of a single species can differ in chemical composition. This CT is soft warm sweet and most skin-friendly. Its best known use is as a facial oil for extremely dry skin (combine with carrot seed lavender 2% in hazelnut or fractionated coconut oil). The Verbenone CT is even more effective at clearing catarrh than Rosemary Officinalis. It is less stimulating generally and especially less of a mental stimulant so it can be used in the evening. Blends well with: Basil Sweet Bergamot Cedarwood Atlas Frankincense Ginger Lemon ...
Buy Now
$23.27

Related Products
$15.26
100% Pure Certified USDA Organic Gluten Free NON GMO Project Verified With one of the most comprehensive herbariums in the world Nature's Answer has identified Mother Nature's unique botanical fingerprint on over 800 plant reference standards. Utilizing Advanced Botanical Fingerprint Technology these authenticated samples each serve as the standard by which all incoming raw materials are judged. Using carefully-controlled extraction techniques we capture the holistic balance of each herb and the value is passed on to you the consumer who can be assured that the product in your hand is authentic safe effective holistically balanced and of course. . . Nature's Answer. FeaturesOrganic Essential Oil Rosemary Gluten Free Yeast Free GMO Free SpecificationsCountry of Origin: USA Dimension: 5.75 H x 1.25 W x 1.25 L
$10.00
"Native to the Mediterranean, this shrubby bush reaches three to four feet high with light blue or pink flowers. Its name comes from Latin Rosmarinus, meaning ""sea dew"" because it prefers access to ample water. Ancient cultures considered rosemary to be a"
$6.50
Known for its remarkable fragrance, rosemary is a natural herb native to the Mediterranean that has been used as a natural remedy for countless conditions for centuries. Scientists have discovered that its essential oil acts as a powerful antioxidant, an antibacterial agent and an anti-inflammatory. No matter what your needs are when it comes to health, wellness and beauty, you need to choose a high quality rosemary oil if you want to get real results. CIELUNE Best Rosemary Essential Oil is truly the best choice of rosemary oil for any purpose because our formula is therapeutic grade and steam-distilled to preserve its purity. We never dilute our oil with additives or fillers, and we don't add chemical stabilizers that can irritate the skin or expose the body to toxins. Every drop you dispense from our 4-ounce bottle with the included glass dropper is pure, all-natural rosemary oil that's packed with beneficial nutrients and active complexes. The purity and potency of our formula allows us to offer a full 30-day money-back guarantee on every bottle sold, so you can add it to your cart with confidence. Enhance your appearance, promote overall well-being and improve your health with the power of all-natural rosemary oil. Choose the best essential oil available on Amazon. Order CIELUNE Best Rosemary Essential Oil today!