Organic Himalayan Sea Buckthorn Berry Oil Liquid, 1.76 oz, Seabuck Wonders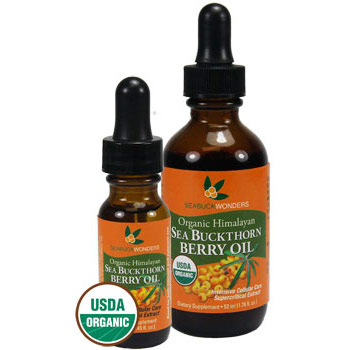 Buy Now
$22.57

Related Products
$18.79
Life-Flo Pure Sea Buckthorn Oil Organic Description: Cold-Pressed Organically Grown Nourishes Regenerates Restores Sea Buckthorn Oil is cold pressed from the entire berry-no additives or preservatives. Revered for its nourishing, regenerative, and restorative actions, helping to restore problematic skin to its natural, beautiful state. The oil is in its undiluted and concentrated form and can stain skin, surfaces and clothing. Use caution, spread evenly and dilute if necessary. Free Of Animal testing. Disclaimer These statements have not been evaluated by the FDA. These products are not intended to diagnose, treat, cure, or prevent any disease.
$27.20
Wide Spectrum Support.Our Sea Buckthorn oil has the highest concentration of Omega-7 on the market. The Sea Buckthorn Omega 7 combines berry oil and seed oil so you get all sea buckthorn can offer. Among essential fattyacids you find Omega 7, 9, 6 and 3. The Sea Buckthorn vitamins, and the contents of vitamins C, E, B1, B6 and ?-carotene are high. Combination ratio among the more than 190 bioactive elements coincides with what our body needs. This Omega 7 oil blend provides a very wide spectrum of support for good health.Sea Buckthorn is THE superior source of Omega 7 Fatty Acids (Palmitoleic Acid). This plant-based omega provides the highest concentration of Omega 7 naturally available as well as a host of vitamins and minerals, over 190 phytonutrients, supercharged antioxidants, Omega 3s, and other powerful health agents. Omega 7 alternatives from Anchovies, Macademia nuts, and other Omega 7?s don?t come close to providing the full health potential that sea buckthorn?s incredible nutritional profile offers.
$17.37
Intensive Cellular Care. A rich supply of Omega 7 (30-35%), vitamins E and A, and the presence of the legendary SOD (superoxide dismutase), among other valuable nutrients, make this product invaluable for your health and beauty routine. Omega 7 is hailed as a special nutrient that may protect, replenish, moisten and restore the skin and mucus membranes that line the digestive and urogenital tracts. The synergistic effect of the above nutrients with hundreds of others, makes berry oil a very effective beauty and age-defying product that is good for skin, gastrointestinal and urinary health, as well as hair and nails. Maximum Omega-7 for skin, hair and nail health. Cell membrane nurturing. Gastrointestinal and liver health. Dental and gum health. Healthy in?ammation response. For both internal and external use. 100% USDA Certi?ed Organic. Super Critical Extract. Kosher Certified. Available in 0.45 fl. oz. (13.3ml) and 1.76 ?. oz. (52ml).