Organic Himalayan Sea Buckthorn Berry Oil Liquid, 1.76 oz, Seabuck Wonders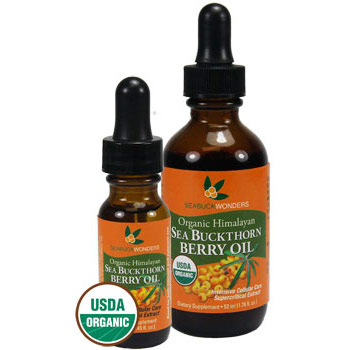 Buy Now
$22.57

Related Products
$20.95
Sea Buckthorn Seed Oil is reputed to be one of the best sources of natural antioxidants due to the high content of Vitamin C , also rich in several other vitamins, including B1, B2, K and P as well as in more than two dozen microelements. Anti-oxidants like vitamin E and beta-carotene effectively combat wrinkles, dryness, and other symptoms of dry, aged skin. This oil can also be used promote healing of burns, eczema, radiation injury ulcers and small cuts or wounds. This healing effect is due to the beta-carotene (pro-vitamin-A) that is in Sea-Buckthorn Seed oil. In addition, the UV-spectrum of the oil shows a moderate absorption in the UV-B range which makes sea-buckthorn derived products attractive for sun care cosmetics. Sea Buckthorn Seed Oil is a fantastic choice as part of a massage blend, an aromatherapy blend.
$32.97
Intensive Cellular Care.Sea Buckthorn berry oil provides a rich supply of Omega 7 (30-35%), vitamins E and A, and the presence of the legendary SOD (superoxide dismutase), among other valuable nutrients, make this seabuckthorn berry oil invaluable for your health and beauty routine. Omega 7 is hailed as a special nutrient that may protect, replenish, moisten and restore the skin and mucus membranes that line the digestive and urogenital tracts. The synergistic effect of the above nutrients with hundreds of others, makes seabuckthorn berry oil a very effective beauty and age-defying product that is good for skin, gastrointestinal and urinary health, as well as hair and nails.Sea Buckthorn is THE superior source of Omega 7 Fatty Acids (Palmitoleic Acid). This plant-based omega provides the highest concentration of Omega 7 naturally available as well as a host of vitamins and minerals, over 190 phytonutrients, supercharged antioxidants, Omega 3s, and other powerful health agents. Omega 7 alternatives from Anchovies, Macademia nuts, and other Omega 7?s don?t come close to providing the full health potential that sea buckthorn?s incredible nutritional profile offers.
$37.99
Is your face and skin dried out by winter low humidity? Russians have used Sea Buckthorn Oil for many years. If it can protect them from January in Siberia, it can moisturize and soothe your skin. By moisturizing your skin, nourishing it with antioxidants and essential fatty acids and soothing the inflammation, you can transform your complexion into a face you'll be proud to show off when you post selfies on Facebook. Sea Buckthorn is a hardy shrub that thrives in mountainous areas, originally the Himalaya Mountains. It's been used in Indian Ayurvedic medicine for thousands of years and it's mentioned in ancient Tibetan texts. Sea Buckthorn oil can be derived from both the plant's berries and its seeds. These oils share a lot of characteristics and both are beneficial. Our Sea Buckthorn oil is a mixture of both: oil from the berries and oil from the seeds. The fatty acids in the seed oil are primarily from Omega 3 and Omega 6 fatty acids. The fruit oil contains more monounsaturated and Omega 7 oils. Therefore, our Sea Buckthorn oil gives you a broad spectrum of all the benefits of the Sea Buckthorn plant. If you apply a lot of it, it can stain your skin yellow or orange. So, mix it with another oil such as olive or coconut. Sea Buckthorn Oil is light, and absorbs easily into your skin without leaving an oily residue. Ships in a dark amber glass bottle to preserve product freshness. Store in a cool, dark place. Comes with a Peace of Mind 30-day full satisfaction or your money back guarantee. Buy 2 bottles of Sea Buckthorn Oil today. One bottle for yourself, one to give to a friend.