Imperial Dragon 100% Pure Sesame Seed Oil, 5 fl oz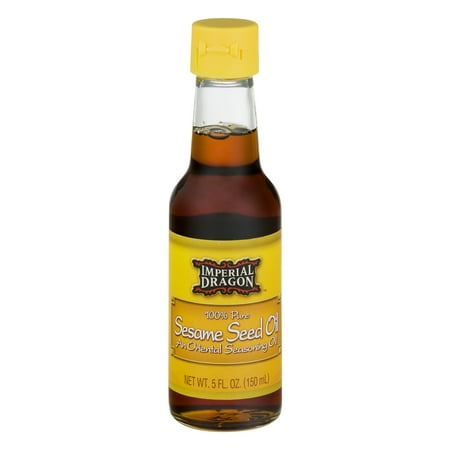 Imperial Dragonâ ¢ Sesame Seed Oil.100% pure. An oriental seasoning oil.Net wt 5 fl oz (150 ml).
Buy Now
$4.38

Related Products
$11.99
Sesame oil is a great way to maintain great skin due to its moisturizing, antibacterial and emollient properties. Condition: Dry itchy skin & dull hair in need of simple natural moisturizing. Solution: Sesame oil is easily absorbed into the skin and helps skin to retain its moisture. It may be helpful to combat against acne, eczema, inflammation, general redness and irritation of the skin. Perfect inclusion for anti aging formulas because of its Palmitoleic acid content. It may help reduce wrinkles and brighten the complexion. Vitamin E contained in sesame oil acts as excellent antioxidant and can be used as a natural sunscreen lotion. It supports healthy skin by protecting it from ultraviolet light or UVA from the sun Outer layer of skin is exposed to many toxins which may be removed with the help of Sesame oil Combine with a few drops of essential oils to make great aromatherapy massage oil or after bath oil. Moisturizing and antibacterial properties of Sesame seed oil makes it a great oil for hair care. Sesame seed oil is rich in Vitamin E which is great for nourishing hair. Regular scalp massages may bring a shine to hair and promote hair growth .Warm weekly massages supports healthy scalp by reducing dryness, itchiness and dandruff. Chemically treated hair gets damaged over time; Sesame oil may help regain the lost luster as the oil deep penetrating properties nourish the hair from within.
$23.50
Asian sesame oil is amber in color and full of flavor! Sesame oil is great for seasoning, dressings and vinaigrette! Note: the low smoking temperature of sesame oil makes it unsuitable for using alone for cooking Net.
$6.99
All our oils are fresh and bottled daily. Expiration date is at least 12 month from sale date Organic Ingredients:100% Pure Sesame Seed Unrefined Carrier Oil Botanical Name: Sesamum indicum Extraction Method: Cold-pressed of the roasted seeds Color: Light brownish to dark brown liquid Aromatic Description: Characteristic Odor Sesame Seed Oil is rich in vitamins E and B, and in minerals such as calcium, magnesium and phosphorus. It is an excellent emollient, and if used in dilution with other carrier oils, is a popular massage and aromatherapy carrier oil. The Health Benefits of Sesame Seeds Promote Healthy, Beautiful Skin - Sesame seeds are full of zinc, an essential mineral for producing collagen and giving skin more elasticity. Zinc also helps damaged tissues in the body to repair. Sesame oil is also known to sooth burns and prevent skin related disorders. Great for High-Protein Vegetarian Diet - Sesame seeds offer 4.7 grams of protein per ounce, giving them a perfect place in a high-protein vegetarian diet. Sesame Seed Oil for Oral Health - One of the most prominent benefits of sesame seeds and sesame oil revolves around removing dental plaque and boosting oral health. By engaging in an activity known as oil pulling, which involves swishing oil around in your mouth, you can boost oral health and even whiten your teeth.