1 Pair Non-skid Cotton Blends Soften Skin Moisturizing Socks Silicone Socks Orange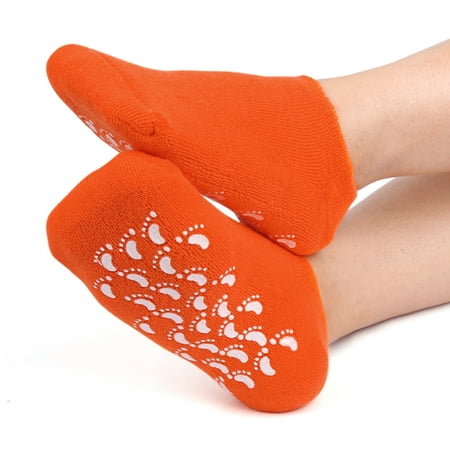 1 Pair Non-skid Cotton Blends Soften Skin Moisturizing Socks Silicone Socks OrangeColor: OrangeMaterial: Cotton Blends, Spandex, Built-in-GelSize: One SizeDimension(Nonelastic):21.5 x 10cm/ 8.5" x 3.9"(L*W)Suitable for rough and dry feet skin, heel cracked and women who stand for a long time or wear high heels during work. Formulated to help refresh your feet skin healthy and shiny, tender like a baby. Release your fatigue and comfort feet completely after daily work. Prevent or mitigate pain of heel cracked as long as you insist on using these silicone socks. Excellent moisturizing ...
Buy Now
$10.01

Related Products
$7.89
Breathe Blend is an excellent blend to help respiratory function by soothing airways and promoting clear breathing, Add 4-5 drops to a diffuser and see the difference. Some of the uses of Breathe Blend are : 1> Diffuse, inhale directly from palms, or rub on chest, throat or/and feet when seasonal and environmental threats are high. 2> Try placing few drops on your pillow, comforter, bed sheet at night OR Diffuse in room to promote clear breathing and at bedtime for a good night sleep. 3> You can place few drops on cotton swab or paper tissue or on back of your palm and sniff to support immunity or recover from cold and cough. The above statements have not been evaluated by the FDA. This information is for educational purposes only, it is not intended to treat, cure, prevent or, diagnose any disease or condition. Nor is it intended to prescribe in any way. Safety precautions : All products are for external use only. Consult a professional reference for correct dilution ratios prior to application. Avoid in pregnancy and lactation. Keep away from eye area. Keep out of reach of children.
£23.25
Wake up to subtly scented, supple and hydrated hair when you choose this Phyto Secret De Nuit intense regenerating night cream. When applied as part of your pre-bedtime beauty routine, this hydrating hair treatment provides intensive action that works to revitalize brittle and damaged hair while you sleep. The cream is silicone and paraben-free and works with all hair types. Size: 2.5-ounce Quantity: 1 Targeted area: Hairs Skin/hair type: All hair types Active ingredients: Milk Thistle Fruit Extract, Ceramides and Essential Fatty Acids, Macadamia Oil, and Black Orchid Extract Other ingredients: Water / Aqua (Constitutive Des Mati.res Premi.res), Cetearyl Alcohol, Ricinoleamidopropyltrimonium Methosulfate (D.riv. De Ricin), Butyrospermum Parkii (Shea) Butter (Beurre De Karit.), Wine Extract, Helianthus Annuus (Sunflower) Seed Extract (Tournesol), Palmitic Acid, Stearic Acid, Benzyl Alcohol, Cycnoches Cooperi (Orchid) Flower/Leaf Extract (Orchid.e), Methylisothiazolinone Phenoxyethanol, Potassium Sorbate, Citric Acid, Triticum Vulgare (Wheat) Flour Lipids (Bl.), Ethylhexylglycerin, Phosphoric Acid, Potassium Metabisulfite, and Methylchloroisothiazolinone We cannot accept returns on this product. Due to manufacturer packaging changes, product packaging may vary from image shown. Hair Type: Any Type: Hair Lotions and Creams