1 Pair Non-skid Cotton Blends Soften Skin Moisturizing Socks Silicone Socks Orange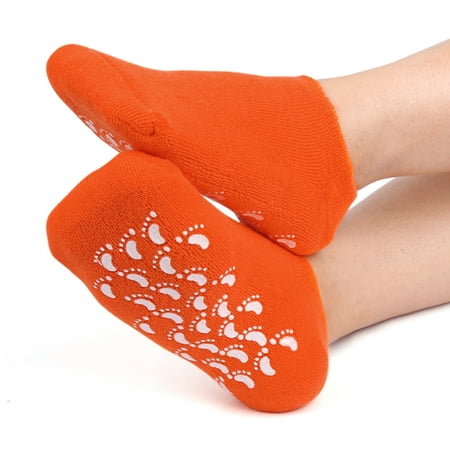 1 Pair Non-skid Cotton Blends Soften Skin Moisturizing Socks Silicone Socks OrangeColor: OrangeMaterial: Cotton Blends, Spandex, Built-in-GelSize: One SizeDimension(Nonelastic):21.5 x 10cm/ 8.5" x 3.9"(L*W)Suitable for rough and dry feet skin, heel cracked and women who stand for a long time or wear high heels during work. Formulated to help refresh your feet skin healthy and shiny, tender like a baby. Release your fatigue and comfort feet completely after daily work. Prevent or mitigate pain of heel cracked as long as you insist on using these silicone socks. Excellent moisturizing ...
Buy Now
$10.01

Related Products
$22.99
This set includes three bars of Natural Handmade Soap made with Lavender essential oil and other plant essences: Just Lavender, Lavender Mint, and Eucalyptus Bay. Known for its soothing and calming properties to reduce stress, depression, and aid in sleeping, lavender is the perfect cure for a stressful life. State: California 3-piece set includes: One (1) 4 oz. Just Lavender, One (1) 4 oz. Lavender Mint, One (1) 4 oz. Eucalyptus Bay Natural Handmade Soap Handmade, Organic, all-natural Size: 4 oz. bars Targeted area: Face and body Skin/hair type: All skin types Active ingredients: Saponified oils of olive, coconut, palm, and grapeseed oil, lavender, mint, eucalyptus, and bay laurel essential oils, ground minerals, ground herbs. This company is a small family business on the beautiful Monterey Bay located in California. Andrea Smith co-founded the company with her mother in 2001 after working for over 15 years in the non-profit sector. It was while working in local public policy to promote women's issues that she became aware of the alarming link between personal care/cosmetic products and cancer. This served as a catalyst to take her lifelong interest in gardening, herbs, and botanical healing to create skincare products that are safe, enjoyable, and gentle on the Earth. Due to the personal nature of this product we do not accept returns.
$7.99
The essential oils in the Relax synergy are some of the best for promoting a peaceful, tranquil state of mind. Try Relax after a particularly trying day at work. Suggested uses: For diffusion, massage, bodycare or bath products, or application to arms, wrists or temples. At night, place one or two drops near your bed pillow. For topical use, dilute to 3-5%. Blend of: Lavender, Marjoram, Patchouli, Mandarin, Geranium and Roman Chamomile.
$722.99
Layers: 1- Natural Rayon from Bamboo Removable Cover: This layer provides the first essential component to coolness and breathability that is needed to sleep comfortably as well as the benefits of being natural which causes less allergies and an overall healthier sleep. The cover is also removable and washable. 2- 2" Breeze Gel Memory Foam that Features Plant Based Oils and made by Open-Cell Technology. The main component of the Breeze is its Open-Cell Breeze Gel Memory Foam layer which is made with the right Density and ILD mix needed to make this pressure relieving yet very cool and breathable mattress. Also since the density is just right, this foam will act as a motion isolator to make sure this bed is couple friendly. The foam is CertiPUR-US certified which means it is made with no harmful chemicals instead it is made featuring plant based oils so the bed doesn't keep a bad odor like most mattresses in the market today and sleeps healthier. 3- 2" Open-Cell Transition Foam Featuring Plant Based Oils. This layer perfectly does what its name suggests by adding support to the layer above it so you don't sink in too much and yet add comfort to the layer below so you don't feel the firm Ventilated Based Foam. 4- 6" Ventilated Based Foam (1.8 lb) At 1.8 density, the base is very sturdy and acts as the foundation for the mattress. It is also made with Open-Cell Technology and is ventilated to be very breathable. Main features of mattress: 1- Being natural the Rayon from Bamboo Cover is very cool and breathable. 2- The Breeze layer is both cool and comfortable making this mattress ideal for hot sleepers. 2- This mattress is perfect for people with pain in areas where sleep pressure is concentrated like shoulders and hips as it has 2" Breeze Gel Memory Foam that is high quality and density. 3- This mattress features renewable materials and is Eco-friendly as it uses Aloe Vera, plants based oils and Bamboo Charcoal within its three layers. 4- The foam is made with Open-Cell Technology to make sure the mattress is breathable and wont sleep hot. Firmness: This mattress is a 5 out of 10 in firmness (with 1 being softest) so It's made with most people in mind. The mattress sinks in just enough to make sure it gives the right pressure relief without sinking too much. Mattress-in-a-Box Information: Arrives tightly packed in convenient portable box or bag Remove from packaging within 72 hours to maximize expansion Can be used the same night it is unwrapped, however allow 48 hours to fully return to its original shape After unwrapping, air for a few hours (vacuum sealing sometimes traps odors) Due to machine-cutting manufacturing processes, there may be slight variances in dimensions Once opened this product is non-returnable.