1 Pair Non-skid Cotton Blends Soften Skin Moisturizing Socks Silicone Socks Orange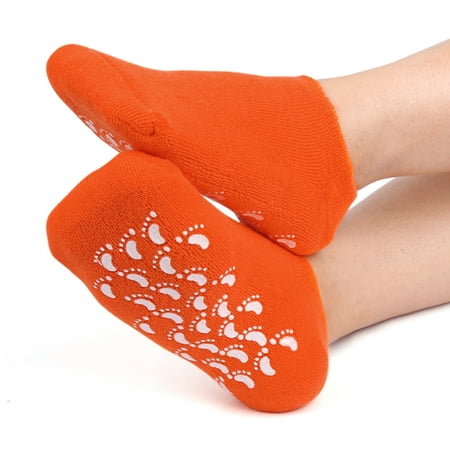 1 Pair Non-skid Cotton Blends Soften Skin Moisturizing Socks Silicone Socks OrangeColor: OrangeMaterial: Cotton Blends, Spandex, Built-in-GelSize: One SizeDimension(Nonelastic):21.5 x 10cm/ 8.5" x 3.9"(L*W)Suitable for rough and dry feet skin, heel cracked and women who stand for a long time or wear high heels during work. Formulated to help refresh your feet skin healthy and shiny, tender like a baby. Release your fatigue and comfort feet completely after daily work. Prevent or mitigate pain of heel cracked as long as you insist on using these silicone socks. Excellent moisturizing ...
Buy Now
$10.01

Related Products
$84.49
Night Cream by Botanika is an intensive treatment designed to work while you sleep. It contains precious Argan and prickly pear oils (cactus) to moisturize and restore skin. Argan leaf extract provides anti-oxidizing properties and acts to reduce the appearance of fine lines and wrinkles. Our exclusive formula is designed to revitalize, smooth and firm skin. For all skin types. Scented naturally with Geranium essential oil known for its antioxidant properties and light, fresh scent. For nighttime use. Apply before bed to clean dry skin. For external use only. Avoid eye contact. The content on this site is not intended to substitute for the advice of a qualified physician, pharmacist, or other licensed health-care professional. The products may have additional information and instructions on or inside the packaging that you should carefully read and follow. Contact your health-care provider immediately if you suspect that you have a medical problem. This product may not have been evaluated by the Food and Drug Administration and is not intended to diagnose, treat, cure, or prevent any disease or health condition. We cannot accept returns on this product.
$12.95
Does your child have trouble calming down at night and falling sleep? KidSafe Nighty Night can help your child fall asleep more quickly and stay asleep. Apply topically to your child?s chest or back of their neck about 30 minutes before bedtime at a 2% dilution using your favorite carrier oil. Add/or add 3 drops to 1/2 cup of Epsom salt and add to a warm nighttime bath. You can also diffuse this synergy during the night. We recommend diffusing for 30 minutes on and 30 minutes off if diffusing all night. Specifically formulated for children ages 2-10. This synergy contains the 100% pure, undiluted essentail oils of: Lavender, Marjoram, Mandarin, Cedarwood Atlas, Patchouli, Clary Sage, Chamomile Roman and Tansy (Blue).
$31.29
All Natural and Certified Organic Sleep Well Being is an advanced remedy to help promote deep restful sleep. It is composed of certified organic plant extracts to help calm and soothe the system. Safe and effective ingredients. It features our unique dual modality approach to well- being. It combines certified organic homeopathic medicines shown to balance the system with certified organic essential oils which are soothing and calming delivering 2 actions in one. Our natural homeopathic remedy to ease sleep disturbance treats the person as a whole providing deep systemic action. The natural medicines in this treatment deliver a calming effect to correct sleep imbalance without causing adverse reactions. Homeopathic remedies have shown to be highly successful in the treatment of sleep disorder as they can calm the system. The essential oils support the effect of the homeopathic medicines; they are very calming and work on a cellular level. It is to be applied topically to the back of the neck or upper chest before going to sleep. Results are generally experienced within minutes after application. FeaturesPromotes relaxation Deep Systemic Action IngredientsAvena Sativa 30X Coffea Cruda 30C Lavendula Vera 12C Passiflora Incarnata 30C Piper Methysticum 30C Valerina Officinalis 12C InFrench Lavandula Super Oil French Salvia Sclarea American Sesamum Indicum Oil Certified Organic. SpecificationsOrganic: Yes Gluten Free: Yes Yeast Free: Yes Wheat Free: Yes Vegan: Yes Volume: 11 ml Dimension: 3.75 H x 2.5 W x 1.13 D Weight: 0.11 lbs