Botanika Temptation Night Cream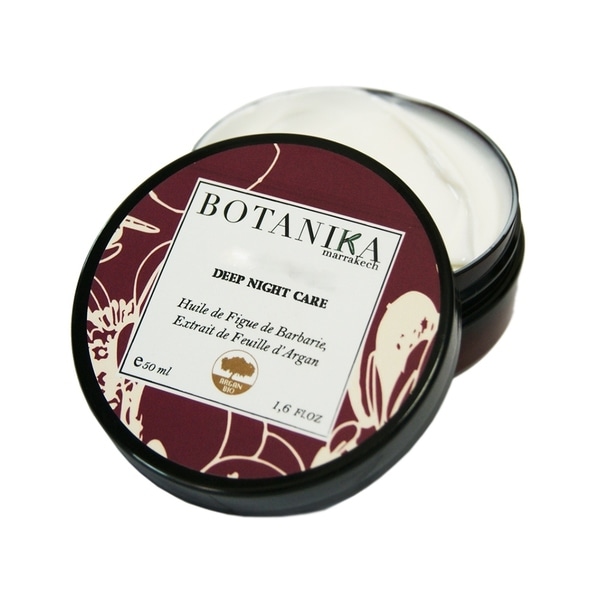 Night Cream by Botanika is an intensive treatment designed to work while you sleep. It contains precious Argan and prickly pear oils (cactus) to moisturize and restore skin. Argan leaf extract provides anti-oxidizing properties and acts to reduce the appearance of fine lines and wrinkles. Our exclusive formula is designed to revitalize, smooth and firm skin. For all skin types. Scented naturally with Geranium essential oil known for its antioxidant properties and light, fresh scent. For nighttime use. Apply before bed to clean dry skin. For external use only. Avoid eye contact. The content on this site is not ...
Buy Now
$84.49

Related Products
$31.28
The Original Swiss Aromatherapy Oil Powerful Vapors Enhance Breathing Passages Just a Few Drops is All it Takes Soothing Relief for Tired Muscles Olbas Oil originated in Basel Switzerland over 100 years ago and continues to be a European and worldwide favorite. The natural essential oils in Olbas are extracted from six medicinal herbs which have been the basis of healing in cultures around the world for centuries. These oils are carefully blended by Swiss herbalists making the Olbas formula truly unique. The synergistic combination of these six essential oils provides amazing sensations to your body at multiple levels. Olbas Oil has long been a household name that families reach for when suffering from seasonal distress and related discomforts. As an aromatic inhalant this completely natural essential oil formula delivers invigorating and soothing sensations to the nasal and bronchial areas. Olbas Oil can be dropped onto a handkerchief or into warm water for inhalation during the day. At night a drop on a tissue tucked inside a pillowcase can help stimulate and enhance your breathing passages so that you get a good night's sleep. Also well known for its use in massage Olbas Oil tends to stimulate circulation at the surface of the skin. It opens up the pores and provides a comfortable warm and cool feeling in the muscles and joints. Runners cyclists and other sports enthusiasts praise the value of Olbas Oil. Massaging with Olbas Oil helps loosen muscles and make them supple while inhaling Olbas vapors may help support endurance and performance. IngredientsEssential Oils of Peppermint Eucalyptus Cajeput Wintergreen Juniper and Clove. Essential oils of Peppermint Eucalyptus Cajeput Wintergreen Juniper and Clove Benefits of Olbas Oil InhalationOlbas Oil is a completely natural es
$10.95
Aviano Botanicals presents to you Dreamy Sleep Synergy Essential Oil blend which is great to diffuse in your diffuser at night when sleeping. The aroma of this blend is like no other you have experienced before. Experience the scent of true serenity at the end of the day while relaxing and sleeping throughout the night. Ingredients in this blend include 100% Pure, Natural & Undiluted Therapeutic Grade Essential Oils of the following: Lavender, Roman Chamomile, Clary Sage, Ylang Ylang, Mandarin, Cedarwood, Petitgrain, and Orange. Aviano Botanicals always offers 100% Guarantee or your Money Back Policy for all of its' Products!
$5.95
We've all had nights where we lay restlessly on our pillow staring at the ceiling trying to will sleep to come. No matter how exhausted we may be, we lie wide awake. Days without rest result it more stress, fatigue, lack of focus and can be damaging overall health. Sleep Ease was created with our top quality oils to enable effortless sleep so you can wake up refreshed and ready to tackle the day. Possessing a gorgeous and delicate aroma, Sleep Ease is comprised of pure essential oils that inspire calm and deep relaxation. It is comprised of a balanced mixture of Camphor, Chamomile, Coriander, Geranium, Jasmine , Lavender, Lemon, Rose, Rosewood, Palmarosa and Ylang Ylang. As always, Edens Garden essential oils are never diluted or mixed with additives. CONTAINS: Camphor (Cinnamomum camphora), Chamomile (Anthemis nobilis), Coriander (Coriandrum sativum), Geranium (Pelargonium graveolens), Jasmine (Jasminum officinale), Lavender (Lavandula angustifolia), Lemon (Citrus medica limonum), Rose (Rosa damascena), Rosewood (Aniba rosaeodora), Palmarosa (Cymbopogon martini) and Ylang Ylang (Cananga odorata)