Chamomile Roman Essential Oil 5 ml (1/6 oz) 100% Pure, Therapeutic Grade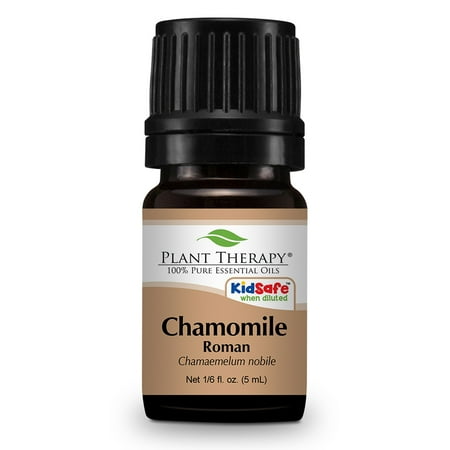 Chamomile Roman essential oil is one of the finest essential oils used to assist relaxation before bedtime. Mothers love the gentleness of this oil to help their wee ones relax and drift off to a refreshing sleep. Chamomile Roman can also be used to ease occasional over-exertion during exercise and to help soothe the normal wear and tear associated with aging joints.
Buy Now
$19.95

Related Products
$27.68
Olbas Oil has long beOlbas Oil for Colds & Flu Aches & Painsen a household name that families reach for when suffering from seasonal distress and related discomforts. As an aromatic inhalant this completely natural essential oil formula delivers invigorating and soothing sensations to the nasal and bronchial areas. Olbas Oil can be dropped onto a handkerchief or into warm water for inhalation during the day. At night a drop on a tissue tucked inside a pillowcase can help stimulate and enhance your breathing passages so that you get a good nights sleep.
$56.94
We know that your child wont only sleep on their Sopora crib mattress. If your baby spends time sleeping on it we have you covered. All Nursery Essentials are made with Harvest ultra firm high-density foam. Harvest foam was developed by foam industry leaders to deliver cleaner foam. All Harvest products utilize a blend of natural oil based and conventional polyols. Natural polyol is made from natural plant based renewable oils. This blend enables Harvest foam to perform as well as conventional foam without sacrificing comfort and helping the environment at the same time. Look at our complete line of ergonomic CertiPUR-US certified ultra firm high-density foam sleep surfaces. The Baby Safe seams will keep fluid leakage bed bugs and dust mites out keeping the inside of the pad clean. Baby Safe seams are dropped to the sides of the pad creating a seamless waterproof edge with no decorative cording or holes on the surface. This eliminates entry points for allergens bed bugs and fluid leakage. The Nursery Essentials medical grade baby soft covers are compliant to all safety standards. They are lightweight pliable and naturally enable the babys body to conform to the surface while allowing the inner construction to provide comfort and ergonomic support for which it was designed. The cover is vinyl PVC lead and phthalates free. Ultra-Fresh treated for antimicrobial protection. The baby soft covers are smooth and maintain a consistent temperature under baby. They also clean easily with a damp sponge and wont retain unpleasant odors or stains. Dimensions: Length: 32Height: 4Width: 17
$2.95
BioFinest Jasmine Essential Oil - 100% Pure Undiluted - Therapeutic Grade - Premium Quality - Best For Aromatherapy, Deep Sleep, Stretch Marks and Dry Skins (10ml/ 0.34fl.oz)