Lavender Blends Natural Handmade 3-bar Soap Trio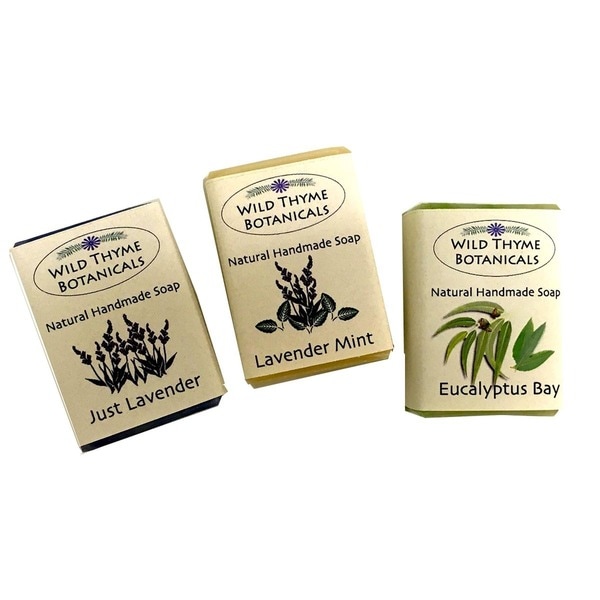 This set includes three bars of Natural Handmade Soap made with Lavender essential oil and other plant essences: Just Lavender, Lavender Mint, and Eucalyptus Bay. Known for its soothing and calming properties to reduce stress, depression, and aid in sleeping, lavender is the perfect cure for a stressful life. State: California 3-piece set includes: One (1) 4 oz. Just Lavender, One (1) 4 oz. Lavender Mint, One (1) 4 oz. Eucalyptus Bay Natural Handmade Soap Handmade, Organic, all-natural Size: 4 oz. bars Targeted area: Face and body Skin/hair type: All skin types Active ingredients: Saponified oils of ...
Buy Now
£17.81

Related Products
$38.95
The importance of a good night's sleep extends far beyond avoiding that groggy feeling throughout the day. Lack of adequate sleep can cause less-than-optimal memory, weight gain, occasional anxiety, irritability and premature aging. Despite this information, many of us are still grossly under-rested. Our Sleep blend is designed to help you fall asleep naturally, stay asleep, and wake up refreshed. Used aromatically, the warm aroma of marjoram in combination with the relaxing qualities of lavender and myrrh help calm the mind. When used as a dietary supplement, basil, vetiver, and chamomile helps support your body's natural renewal process, helping you wake up rested and renewed.* Diffuse Sleep at bedtime or simply dab a couple drops on your pillow and you'll be catching ZZZ's in no time. Key Benefits: (When taken orally as a dietary supplement) Soothes muscle tension and relieves occasional anxiety Helps you fall asleep Promotes healthy circulation and immune function? Promotes cellular support?
$9.69
Sleep Tight Synergy Blend: Blended with pure ? Bulgarian Lavender Oil (Lavandula angustifolia) ? Spanish Marjoram Oil (Thymus mastichina) ? Ylang Ylang Oil (Cananga Odorata) ? Copaiba Oil (Copaifera Officinalis) ? Roman Chamomile (Anthemis Nobilis) ? Rue Oil (Ruta Graveolens) ? Sandalwood Oil (Santalum Album) Characteristics: Great for calming the mind and body. Wonderful sleep assistance, sedative and muscle relaxant. Great when diluted and applied on the skin. Diffuse into the air to create calming and good sleep/relaxation.
$28.80
Naturopatch all natural patches provide the benefits of aromatherapy are easy to apply and leave no greasy residue. For external use only. Do not apply to broken or irritated skin. If rash occurs discontinue use. If rash persists consult your physician. All natural sleep aid. Extra virgin olive oil lavender chamomile and jasmine essential oils.