Lavender Blends Natural Handmade 3-bar Soap Trio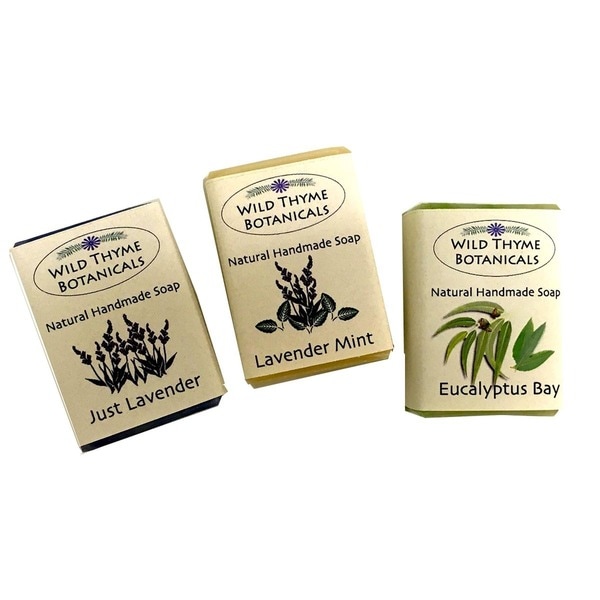 This set includes three bars of Natural Handmade Soap made with Lavender essential oil and other plant essences: Just Lavender, Lavender Mint, and Eucalyptus Bay. Known for its soothing and calming properties to reduce stress, depression, and aid in sleeping, lavender is the perfect cure for a stressful life. State: California 3-piece set includes: One (1) 4 oz. Just Lavender, One (1) 4 oz. Lavender Mint, One (1) 4 oz. Eucalyptus Bay Natural Handmade Soap Handmade, Organic, all-natural Size: 4 oz. bars Targeted area: Face and body Skin/hair type: All skin types Active ingredients: Saponified oils of ...
Buy Now
£16.00

Related Products
$7.49
100% Pure Therapeutic Grade Good Night Blend Chamomile, Clary Sage, Copaiba, French lavender, Peru Balsam, Sandalwood, Sweet Marjoram, Ylang Ylang - Comparable to DoTerra's Serenity & Young Living's Peace & Calming Blend Comes in an amber glass essential oil bottle. European Dropper Cap included. What sets Healing Solutions Essential Oils apart is superior cultivation of ingredients that are the best in the world. Combined with superior distillation and bottling care process, We GUARANTEE that our oils are aromatically superior and more effective than any other oils - if you disagree we will refund your money! Zen The Leading Aromatherapy Associations (Alliance of International Aromatherapists (AIA), International Aromatherapy and Aromatic Medicine Association, Aromatherapy Trade Council, and others) all state that essential oils should not be taken internally (regardless of purity or organic origin) unless under the guidance of a health care practitioner trained at an appropriate level . As such, all of our oils carry a label warning that the product is NOT FOR INTERNAL USE.
$17.94
Gentle Bees litsea cubeba beeswax tarts are made with 100 percent pure beeswax and pure litsea cubeba essential oil. Litsea Cubeba is a small plant found in tropical areas. Pure beeswax is healthy and produces negative ions that actually clean your air of odors pollens smoke dust dust mites viruses and other allergens and hazards - the only known fuel to do so. Beeswax candles leave your air fresher and cleaner. Beeswax candles are the only candles for people with chemical sensitivities or allergies. FeaturesImproved sleep Enhanced immune system Sense of well being Relief from hay fever and allergies Less severe asthma attacks Improved air quality Improved concentration Balancing of hormones Natural detoxification Melts in candle burner 3 times longer than soy wax Dimension - 4.25 x 1.125 x 2.875 in. Weight - 2.5 oz.
$12.95
Zzzzzzzzzzzzz. We all like the sound of that. This synergy was created to help you get the best sleep possible. It will not only help you fall asleep, but it will also help you stay asleep. USE ONLY 1 (one) drop on a cotton ball or Tissue placed near your head board of your bed, that way if it becomes too strong you can easily remove this cotton ball. You can also diffuse in your room during the night. DO NOT place a drop on any fabric as due to the high amount of sediment from the Valerian Root essential oil it may stain any fabrics. 100% pure, undiluted essential oil synergy contains Mandarin, Ylang-Ylang, Valerian, Lavender and Neroli.