Lavender Blends Natural Handmade 3-bar Soap Trio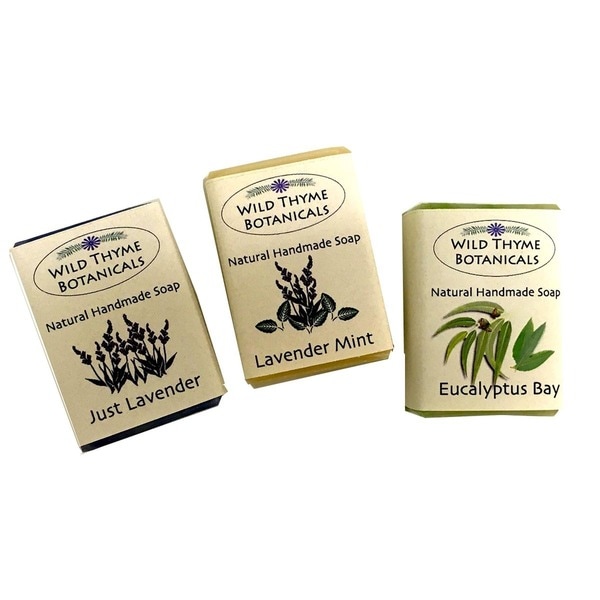 This set includes three bars of Natural Handmade Soap made with Lavender essential oil and other plant essences: Just Lavender, Lavender Mint, and Eucalyptus Bay. Known for its soothing and calming properties to reduce stress, depression, and aid in sleeping, lavender is the perfect cure for a stressful life. State: California 3-piece set includes: One (1) 4 oz. Just Lavender, One (1) 4 oz. Lavender Mint, One (1) 4 oz. Eucalyptus Bay Natural Handmade Soap Handmade, Organic, all-natural Size: 4 oz. bars Targeted area: Face and body Skin/hair type: All skin types Active ingredients: Saponified oils of ...
Buy Now
£18.58

Related Products
$21.82
air Essentials SLEEP/SNORE provides instant drug-free relief for congestion and snoring caused by nasal constriction. It fits discreetly and comfortably just inside the nose to gently open nasal passages and increase airflow 38% more than nasal strips. air Essentials SLEEP/SNORE is also infused with a calming lavender essential oil blend that is shown to help reduce congestion and promote restful sleep. Breathe better. Sleep better with air Essentials SLEEP/SNORE: Increases airflow 38% more than nasal strips Instantly relieves nasal congestion Clinically proven to reduce snoring Infused with a calming lavender essential-oil blend Drug-free and adhesive-free. No latex! Soft comfortable and discreet
$99.99
The 100-Hour* Ultrasonic Cool and Warm Mist Humidifier guards against problems caused by dry air in the home. It is ideal for use in medium and large sized rooms. Unlike other humidifiers that grow slimy mold on the water tank surface, Silver Clean Protection is embedded in the tank to fight the growth of mold and mildew on the surface of the water tank. Thanks to ultrasonic technology, it disperses a cool mist into the air, and is ultra-quiet making it ideal to have on while you sleep. This top fill humidifier has an optional aromatherapy tray so a few drops of essential oil can be added to create a relaxing atmosphere.The humidifieris equipped with a night light and 3-speed mist control. A low water indicator light lets you know when it's time to refill the water tank. PureGuardian humidifiers create a better home environment for those suffering from colds, allergies and dry skin. Note: Run time is based off of running the unit on low speed, also depends on atmospheric conditions. PureGuardian aromatherapy oils are not included and must be purchased separately. Do not add oils to the humidifier tank as they can damage the humidifier and void the warranty. Only add essential oils to the pad that is included with the unit. Additional essential oil pads are available separately.
$28.27
Olbas Oil Description: Olbas Aromatic Inhalant Therapeutic Body Massage Oil. Olbas Oil has long been a household name that families reach for at the first sign of a cold. It can be dropped onto a handkerchief or into water for inhalation during the day, at night a drop on a tissue tucked inside a pillowcase can help you to breathe easily so that you get a good night's sleep. Applied to the skin, Olbas Oil produces a feeling of warmth and a local anaesthetic action, which makes it particularly effective in relieving muscular discomfort and arthritis pain. Olbas Oil originated in Basel, Switzerland over 100 years ago, and continues to be a European and worldwide favorite. The natural essential oils in Olbas Oil are extracted from six medicinal herbs, the basis of healing in cultures around the world for centuries. This synergistic combination of six essential oils provides amazing relief on multiple levels. Disclaimer These statements have not been evaluated by the FDA. These products are not intended to diagnose, treat, cure, or prevent any disease.