Lavender Blends Natural Handmade 3-bar Soap Trio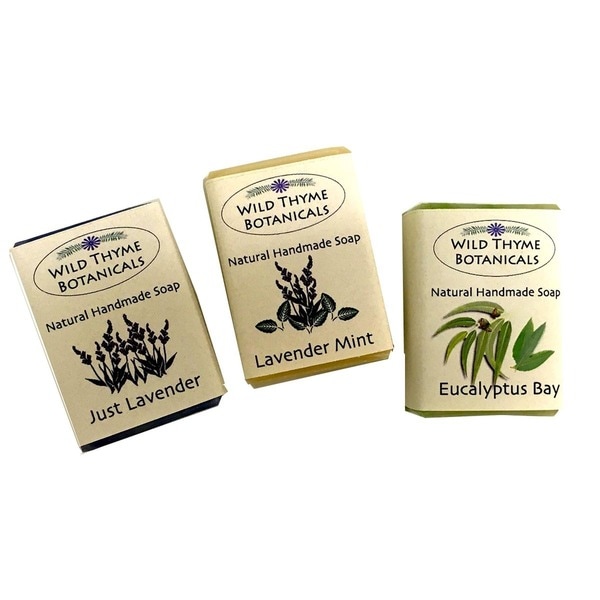 This set includes three bars of Natural Handmade Soap made with Lavender essential oil and other plant essences: Just Lavender, Lavender Mint, and Eucalyptus Bay. Known for its soothing and calming properties to reduce stress, depression, and aid in sleeping, lavender is the perfect cure for a stressful life. State: California 3-piece set includes: One (1) 4 oz. Just Lavender, One (1) 4 oz. Lavender Mint, One (1) 4 oz. Eucalyptus Bay Natural Handmade Soap Handmade, Organic, all-natural Size: 4 oz. bars Targeted area: Face and body Skin/hair type: All skin types Active ingredients: Saponified oils of ...
Buy Now
£17.01

Related Products
$10.01
1 Pair Non-skid Cotton Blends Soften Skin Moisturizing Socks Silicone Socks OrangeColor: OrangeMaterial: Cotton Blends, Spandex, Built-in-GelSize: One SizeDimension(Nonelastic):21.5 x 10cm/ 8.5" x 3.9"(L*W)Suitable for rough and dry feet skin, heel cracked and women who stand for a long time or wear high heels during work. Formulated to help refresh your feet skin healthy and shiny, tender like a baby. Release your fatigue and comfort feet completely after daily work. Prevent or mitigate pain of heel cracked as long as you insist on using these silicone socks. Excellent moisturizing socks, silicone socks for cracked heels. While wearing, the gel-socks continuously releases Vitamin E, Lavender-Essential-Oil, Jojoba-oil and olive-oil to treat, nourish, condition and soften rough skin, cracked, hard, dry skin and calluses. Moisturizing silicone socks for women as well as for men. With their many health benefits, these silicone socks will pamper your feet and hydrate them better than lotion. The fabric is nice, soft and stretches. You can experience spa at home with these spa socks whenever you want. Treat your whole feet, not just the heels. With these moisturizing socks, you will soon be able to show off your feet again, enjoy the beach and walk elegantly in open shoes. For the ultimate skin repair effectiveness, wear moisturizing socks while you sleep, 2-3 times per week. More frequent use provides greater results. Note: Only hand washing, No Iron/No Machine Washing/No Chlorine Bleaching/No Dry Cleaning. Package Includes:1 Pair x silicone Socks
$14.88
Essential Oil Roll On Remedies, Sleep: These essential oil roll-ons are the perfect antidotes to some of life's biggest challengesAromatic oils are just the thing to take the edge off or revitalize yourselfEnergize, de-stress, focus and more100 percent natural essential oil remedies contain pure essential oils and no synthetic fragrancesEssential oils are organic (Soil Association certified), ethically harvested or wild crafted from a sustainable sourceFree from parabens, SLS, SLES and phthalatesNone of these roll-ons contain mineral oil, propylene glycol, BHA or triethanlamine
$11.95
Sleep better with soothing, therapeutic Healthful restless legs cream. Massage the restless leg cream into feet and legs at bedtime to soothe symptoms. Natural ingredients include flower extracts, vitamins A and E, and essential oils to promote relaxation. 4 oz.