Lavender Blends Natural Handmade 3-bar Soap Trio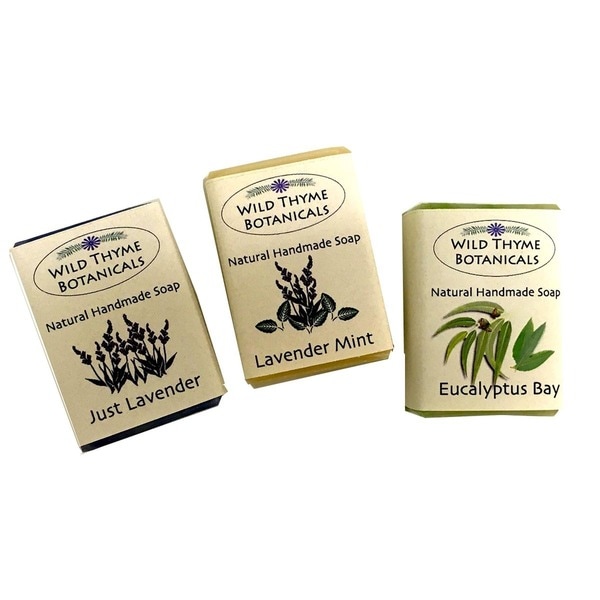 This set includes three bars of Natural Handmade Soap made with Lavender essential oil and other plant essences: Just Lavender, Lavender Mint, and Eucalyptus Bay. Known for its soothing and calming properties to reduce stress, depression, and aid in sleeping, lavender is the perfect cure for a stressful life. State: California 3-piece set includes: One (1) 4 oz. Just Lavender, One (1) 4 oz. Lavender Mint, One (1) 4 oz. Eucalyptus Bay Natural Handmade Soap Handmade, Organic, all-natural Size: 4 oz. bars Targeted area: Face and body Skin/hair type: All skin types Active ingredients: Saponified oils of ...
Buy Now
£17.19

Related Products
$12.95
Does your child have trouble calming down at night and falling sleep? KidSafe Nighty Night can help your child fall asleep more quickly and stay asleep. Apply topically to your child?s chest or back of their neck about 30 minutes before bedtime at a 2% dilution using your favorite carrier oil. Add/or add 3 drops to 1/2 cup of Epsom salt and add to a warm nighttime bath. You can also diffuse this synergy during the night. We recommend diffusing for 30 minutes on and 30 minutes off if diffusing all night. Specifically formulated for children ages 2-10. This synergy contains the 100% pure, undiluted essentail oils of: Lavender, Marjoram, Mandarin, Cedarwood Atlas, Patchouli, Clary Sage, Chamomile Roman and Tansy (Blue).
£12.93
California Baby Overtired & Cranky Massage Oil helps to balance and energize, applying on a back or foot can work wonders. This massage oil features a special non-greasy blend of food-grade quality and cold pressed oils, scented with Roman chamomile. Brand: California Baby Scent: Roman chamomile and Mandarin Ingredients: (INCI): Canola oil, linum usitatissmum seed oil (flaxseed), oenothera biennis oil (evening primrose), rosemary leaf extract, pure essential oils of Roman chamomile and mandarin extract Container Materials: Plastic Contains organic and sustainably grown ingredients Non-greasy formula leaves skin satiny Adds an extra layer of warmth A gentle rub helps baby sleep well Food-grade quality, cold pressed oils Aromatherapy essential oils are tested for purity Keeps baby's skin soft, comfortable, and smelling sweet Perfect for the delicate skin of a newborn 4.5 ounces Dimensions: 4.8 inches high x 1.9 inches wide x 1.9 inches long Safety: For external use only. Keep out of reach of children. We cannot accept returns on this product.
$18.70
FeaturesLavender oil organic 48 per case DirectionsFor aromatic & topical use Dilute with a carrier oil for topical use A great natural sleep aid IngredientsOrganic lavandula angustifolia oil 100 percent pure therapeutic-grade essential oil-usda organic SpecificationsCapacity: 15 ml Weight: 0.03 lbs