Olbas 0594648 Massage Oil - 0.32 fl oz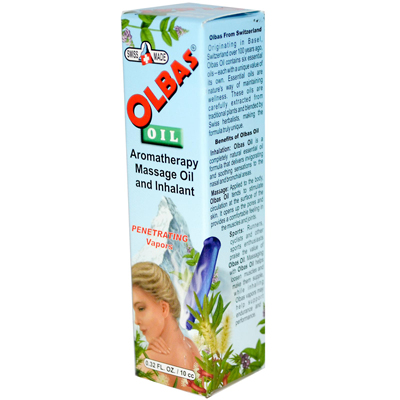 Olbas Oil Aromatherapy Massage Oil and Inhalent with Penetrating Vapors was originated in Basel Switzerland over 100 years ago and continues to be a European and worldwide favorite. The natural essential oils in Olbas are extracted from six medicinal herbs which have been the basis of healing in cultures around the world for centuries. These oils are carefully blended by Swiss herbalists making the Olbas formula truly unique. The synergistic combination of these six essential oils provides amazing sensations to your body at multiple levels. All Natural Essential Oil Formula from Switzerland. Soothes Tired Muscles. Invigorates Your Senses. Penetrating Vapors ...
Buy Now
$19.24

Related Products
£50.98
Dermalogica Sound Sleep Cocoon corrects, renews and regenerates your skin for a more beautiful complexion while you sleep. With a soothing gel-cream formula, this hydrating face cream effectively reduces the appearance of wrinkles, hyperpigmentation, free radical damage and dehydrated skin. Encapsulated French lavender essential oil soothes your senses to promote deep, restful slumber. Type: Night Cream We cannot accept returns on this product.
$4.95
Blend of Bergamot, Blood Orange, Grapefruit, Patchouli and Ylang Ylang is fruity, earthy and floral. The oils in this Synergy Blend are believed to be useful in reducing stress and its side effects. Try inhaling at work or at home to reduce stress and other stress related issues.
$80.00
This revitalizing treatment gel-cream transforms skin overnight by optimizing nighttime skin recovery. Tamarind Seed Extract creates a nourishing cocoon of comfort for softer, more hydrated skin while encapsulated, motion-activated French Lavender Essential Oil (with Sandalwood and Patchouli) work all night to promote deep, restful sleep for healthier-looking skin by morning. Other key ingredients include Persian Silk Tree Extract which reduces signs of skin fatigue and restores vitality while Wu-Zhu-Yu Extract provides visibly radiant skin by the a.m. Benefits: Visibly increases radiance by morning. Reduces signs of skin fatigue and restores vitality. Promotes deep, restful sleep for healthier-looking skin. [ 1.7 fl oz / 50 mL ] For skincare free of lanolin, SD alcohol, mineral oil, artificial colors & fragrances see the full line of Dermalogica products at BeautifiedYou.comAuthorized Dermalogica Resellers - 100% Authenticity Guaranteed