Olbas 0594648 Massage Oil - 0.32 fl oz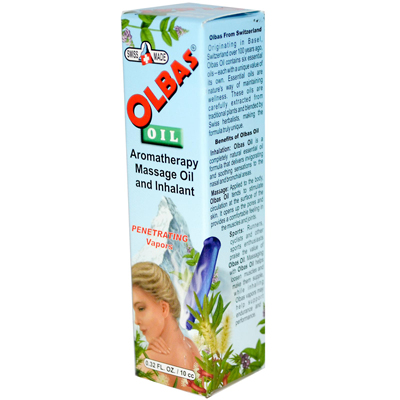 Olbas Oil Aromatherapy Massage Oil and Inhalent with Penetrating Vapors was originated in Basel Switzerland over 100 years ago and continues to be a European and worldwide favorite. The natural essential oils in Olbas are extracted from six medicinal herbs which have been the basis of healing in cultures around the world for centuries. These oils are carefully blended by Swiss herbalists making the Olbas formula truly unique. The synergistic combination of these six essential oils provides amazing sensations to your body at multiple levels. All Natural Essential Oil Formula from Switzerland. Soothes Tired Muscles. Invigorates Your Senses. Penetrating Vapors ...
Buy Now
$19.24

Related Products
$8.99
1 Pair Exfoliating Moisturizing Socks Spa Care Anti-slip Silicone Socks GreenColor: GreenMaterial: Cotton Blends, Spandex, Built-in-GelSize: One SizeDimension(Nonelastic):21.5 x 10cm/ 8.5" x 3.9"(L*W)Suitable for rough and dry feet skin, heel cracked and women who stand for a long time or wear high heels during work. Formulated to help refresh your feet skin healthy and shiny, tender like a baby. Release your fatigue and comfort feet completely after daily work. Prevent or mitigate pain of heel cracked as long as you insist on using these silicone socks. Excellent moisturizing socks, silicone socks for cracked heels. While wearing, the gel-socks continuously releases Vitamin E, Lavender-Essential-Oil, Jojoba-oil and olive-oil to treat, nourish, condition and soften rough skin, cracked, hard, dry skin and calluses. Moisturizing silicone socks for women as well as for men. With their many health benefits, these silicone socks will pamper your feet and hydrate them better than lotion. The fabric is nice, soft and stretches. You can experience spa at home with these spa socks whenever you want. Treat your whole feet, not just the heels. With these moisturizing socks, you will soon be able to show off your feet again, enjoy the beach and walk elegantly in open shoes. For the ultimate skin repair effectiveness, wear moisturizing socks while you sleep, 2-3 times per week. More frequent use provides greater results. Note: Only hand washing, No Iron/No Machine Washing/No Chlorine Bleaching/No Dry Cleaning. Package Includes: 1 Pair x silicone Socks
$27.00
Naturopatch all natural patches provide the benefits of aromatherapy are easy to apply and leave no greasy residue. For external use only. Do not apply to broken or irritated skin. If rash occurs discontinue use. If rash persists consult your physician. All natural sleep aid. Extra virgin olive oil lavender chamomile and jasmine essential oils.
$21.10
Lavender has been used and cherished for centuries for its unmistakable aroma and myriad benefits. In ancient times, the Egyptians and Romans used Lavender for bathing, relaxation, cooking, and as a perfume; it is widely used for its calming and relaxing qualities which continue to be Lavender's most notable qualities. Lavender is frequently used to reduce the appearance of skin imperfections. Add to bath water to soak away stress or apply to the temples and the back of the neck. Add a few drops of Lavender to pillows, bedding, or bottoms of feet to promote a restful night's sleep. Due to Lavender's versatile properties, it is considered the must-have oil to have on hand at all times. Add a few drops of Lavender to pillows, bedding, or bottoms of feet at bedtime. Keep a bottle of Lavender on hand to soothe occasional skin irritations. Freshen your linen closet, mattress, car, or the air by combining Lavender with water in a spray bottle. Take internally to reduce anxious feelings.* Use in cooking to soften citrus flavors and add a flavorful twist to marinades, baked goods, and desserts.