Olbas 0594648 Massage Oil - 0.32 fl oz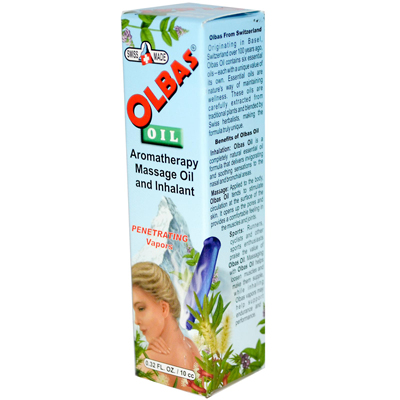 Olbas Oil Aromatherapy Massage Oil and Inhalent with Penetrating Vapors was originated in Basel Switzerland over 100 years ago and continues to be a European and worldwide favorite. The natural essential oils in Olbas are extracted from six medicinal herbs which have been the basis of healing in cultures around the world for centuries. These oils are carefully blended by Swiss herbalists making the Olbas formula truly unique. The synergistic combination of these six essential oils provides amazing sensations to your body at multiple levels. All Natural Essential Oil Formula from Switzerland. Soothes Tired Muscles. Invigorates Your Senses. Penetrating Vapors ...
Buy Now
$14.61

Related Products
$99.99
The 100-Hour* Ultrasonic Cool and Warm Mist Humidifier guards against problems caused by dry air in the home. It is ideal for use in medium and large sized rooms. Unlike other humidifiers that grow slimy mold on the water tank surface, Silver Clean Protection is embedded in the tank to fight the growth of mold and mildew on the surface of the water tank. Thanks to ultrasonic technology, it disperses a cool mist into the air, and is ultra-quiet making it ideal to have on while you sleep. This top fill humidifier has an optional aromatherapy tray so a few drops of essential oil can be added to create a relaxing atmosphere.The humidifieris equipped with a night light and 3-speed mist control. A low water indicator light lets you know when it's time to refill the water tank. PureGuardian humidifiers create a better home environment for those suffering from colds, allergies and dry skin. Note: Run time is based off of running the unit on low speed, also depends on atmospheric conditions. PureGuardian aromatherapy oils are not included and must be purchased separately. Do not add oils to the humidifier tank as they can damage the humidifier and void the warranty. Only add essential oils to the pad that is included with the unit. Additional essential oil pads are available separately.
$41.08
Aromatherapy Properties: (Uses) This high altitude oil naturally contains more effective components than for instance Valerian grown in China. Research has found that Valerian root grown at higher altitudes have higher concentrations of valeptorates one of the primary compounds responsible for this oil's therapeutic effects. Highly sedative in action. As a relaxing/sleep inducing blend it has no equal. Valerian Root has been used to combat insomnia nervousness restlessness tension agitation headaches as the result of nervous tension and panic attacks. It has also been used on muscle spasms palpitations of the heart cardiovascular spasm and neuralgia. Valerian Root is also believed to be a suitable replacement for catnip based on similar chemical components. Blends well with: Patchouli Dark Pine White Lavender 40/42 Cedarwood Atlas Mandarin Red Petitgrain and Rosemary Verbenone. History: Valerian Root is gaining in popularity as a natural alternative to commercially available sedatives. Features100% Pure Essential Oil Raw Material - Valerian Root Botanical Name - Valeriana Wallichi Therapeutic Grade Capacity - 10 ml.
$7.99
The essential oils in the Relax synergy are some of the best for promoting a peaceful, tranquil state of mind. Try Relax after a particularly trying day at work. Suggested uses: For diffusion, massage, bodycare or bath products, or application to arms, wrists or temples. At night, place one or two drops near your bed pillow. For topical use, dilute to 3-5%. Blend of: Lavender, Marjoram, Patchouli, Mandarin, Geranium and Roman Chamomile.