Olbas 0594648 Massage Oil - 0.32 fl oz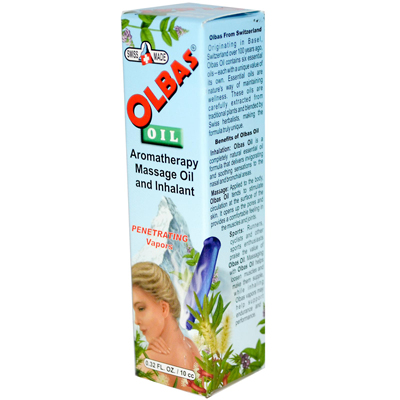 Olbas Oil Aromatherapy Massage Oil and Inhalent with Penetrating Vapors was originated in Basel Switzerland over 100 years ago and continues to be a European and worldwide favorite. The natural essential oils in Olbas are extracted from six medicinal herbs which have been the basis of healing in cultures around the world for centuries. These oils are carefully blended by Swiss herbalists making the Olbas formula truly unique. The synergistic combination of these six essential oils provides amazing sensations to your body at multiple levels. All Natural Essential Oil Formula from Switzerland. Soothes Tired Muscles. Invigorates Your Senses. Penetrating Vapors ...
Buy Now
$15.73

Related Products
$4.95
Blend of Bergamot, Blood Orange, Grapefruit, Patchouli and Ylang Ylang is fruity, earthy and floral. The oils in this Synergy Blend are believed to be useful in reducing stress and its side effects. Try inhaling at work or at home to reduce stress and other stress related issues.
$29.95
Lack Of Sleep? Introducing H-Insomnia FormulaMost insomnia treatment products contain chemicals that may be harmful to your body because most insomnia remedies do not use natural ingredients. Our product is a safe, effective alternative blended with essential oils and homeopathic ingredients under strict "Good Manufacturing Practice" guidelines.Have you tried other natural home remedies for insomnia before and nothing has worked? We have sold over 500,000 products since 2001 and have received thousands of verified 5 star reviews. Order Today, Ships Today! Order before 5pm EST and it ships today!
$24.95
Plant Therapy Sleep Aid Synergy Essential Oil Blend 30 mL (1 fl. oz.) 100% Pure, Undiluted, Therapeutic Grade