Silky Scents EO137-10ML 100 Percent Pure Therapeutic Grade Valerian Root Essential Oil - 10 ml.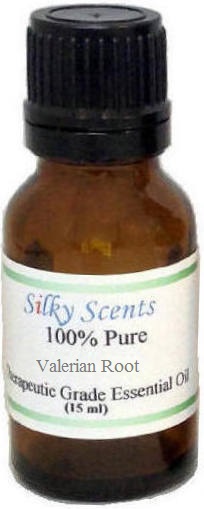 Aromatherapy Properties: (Uses) This high altitude oil naturally contains more effective components than for instance Valerian grown in China. Research has found that Valerian root grown at higher altitudes have higher concentrations of valeptorates one of the primary compounds responsible for this oil's therapeutic effects. Highly sedative in action. As a relaxing/sleep inducing blend it has no equal. Valerian Root has been used to combat insomnia nervousness restlessness tension agitation headaches as the result of nervous tension and panic attacks. It has also been used on muscle spasms palpitations of the heart cardiovascular spasm and neuralgia. Valerian Root ...
Buy Now
$41.08

Related Products
$34.36
Terry Naturally CURAMIN PM 60 count. When nighttime pain is the problem, Curamin PM is the answer! With the powerful, effective ingredients in Curamin PM, you can get a good nights sleep without morning grogginess. Powerful Ingredients for Nighttime Relief. Curcumin blended with turmeric essential oil for better absorption than plain turmeric. It delivers proven results for consistent benefits shown in 29 published studies. Boswellia uniquely standardized to contain up to 10 times the beneficial compound AKBA as unstandardized extracts, as well as having reduced levels of undesirable beta boswellic acid. DLPA helps support the effects of endorphins, the brains feel good hormones. Melatonin helps set your sleep-wake cycle, which is especially important for travelers, shift workers, or anyone with occasional sleeplessness.
£55.88
Dermalogica Sound Sleep Cocoon corrects, renews and regenerates your skin for a more beautiful complexion while you sleep. With a soothing gel-cream formula, this hydrating face cream effectively reduces the appearance of wrinkles, hyperpigmentation, free radical damage and dehydrated skin. Encapsulated French lavender essential oil soothes your senses to promote deep, restful slumber. Type: Night Cream We cannot accept returns on this product.
$14.88
Essential Oil Roll On Remedies, Sleep: These essential oil roll-ons are the perfect antidotes to some of life's biggest challengesAromatic oils are just the thing to take the edge off or revitalize yourselfEnergize, de-stress, focus and more100 percent natural essential oil remedies contain pure essential oils and no synthetic fragrancesEssential oils are organic (Soil Association certified), ethically harvested or wild crafted from a sustainable sourceFree from parabens, SLS, SLES and phthalatesNone of these roll-ons contain mineral oil, propylene glycol, BHA or triethanlamine