Silky Scents EO137-10ML 100 Percent Pure Therapeutic Grade Valerian Root Essential Oil - 10 ml.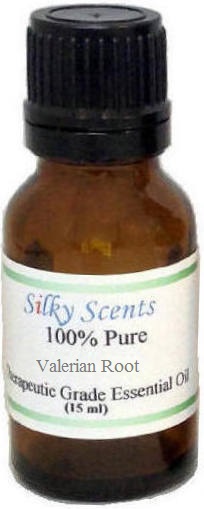 Aromatherapy Properties: (Uses) This high altitude oil naturally contains more effective components than for instance Valerian grown in China. Research has found that Valerian root grown at higher altitudes have higher concentrations of valeptorates one of the primary compounds responsible for this oil's therapeutic effects. Highly sedative in action. As a relaxing/sleep inducing blend it has no equal. Valerian Root has been used to combat insomnia nervousness restlessness tension agitation headaches as the result of nervous tension and panic attacks. It has also been used on muscle spasms palpitations of the heart cardiovascular spasm and neuralgia. Valerian Root ...
Buy Now
$24.64

Related Products
$9.69
Sleep Tight Synergy Blend: Blended with pure ? Bulgarian Lavender Oil (Lavandula angustifolia) ? Spanish Marjoram Oil (Thymus mastichina) ? Ylang Ylang Oil (Cananga Odorata) ? Copaiba Oil (Copaifera Officinalis) ? Roman Chamomile (Anthemis Nobilis) ? Rue Oil (Ruta Graveolens) ? Sandalwood Oil (Santalum Album) Characteristics: Great for calming the mind and body. Wonderful sleep assistance, sedative and muscle relaxant. Great when diluted and applied on the skin. Diffuse into the air to create calming and good sleep/relaxation.
$12.95
Does your child have trouble calming down at night and falling sleep? KidSafe Nighty Night can help your child fall asleep more quickly and stay asleep. Apply topically to your child?s chest or back of their neck about 30 minutes before bedtime at a 2% dilution using your favorite carrier oil. Add/or add 3 drops to 1/2 cup of Epsom salt and add to a warm nighttime bath. You can also diffuse this synergy during the night. We recommend diffusing for 30 minutes on and 30 minutes off if diffusing all night. Specifically formulated for children ages 2-10. This synergy contains the 100% pure, undiluted essentail oils of: Lavender, Marjoram, Mandarin, Cedarwood Atlas, Patchouli, Clary Sage, Chamomile Roman and Tansy (Blue).
$30.77
Cold Medication Oil 0.95 fl oz - Olbas Oil originated in Basel Switzerland over 100 years ago and continues to be a European and worldwide favorite. The natural essential oils in Olbas are extracted from six medicinal herbs which have been the basis of healing in cultures around the world for centuries. These oils are carefully blended by Swiss herbalists making the Olbas formula truly unique. The synergistic combination of these six essential oils provides amazing sensations to your body at multiple levels. Olbas Oil has long been a household name that families reach for when suffering from seasonal distress and related discomforts. As an aromatic inhalant this completely natural essential oil formula delivers invigorating and soothing sensations to the nasal and bronchial areas. Olbas Oil can be dropped onto a handkerchief or into warm water for inhalation during the day. At night a drop on a tissue tucked inside a pillowcase can help stimulate and enhance your breathing passages so that you get a good nights sleep. Also well known for its use in massage Olbas Oil tends to stimulate circulation at the surface of the skin. It opens up the pores and provides a comfortable warm and cool feeling in the muscles and joints. Runners cyclists and other sports enthusiasts praise the value of Olbas Oil. Massaging with Olbas Oil helps loosen muscles and make them supple while inhaling Olbas vapors may help support endurance and performance. SpecificationsSize: 0.95 fl oz Weight: 0.18 SpecificationsSize: 16 x 20 Team Name: New York Yankees Weight: 1