Silky Scents EO137-10ML 100 Percent Pure Therapeutic Grade Valerian Root Essential Oil - 10 ml.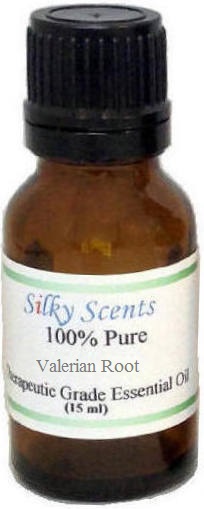 Aromatherapy Properties: (Uses) This high altitude oil naturally contains more effective components than for instance Valerian grown in China. Research has found that Valerian root grown at higher altitudes have higher concentrations of valeptorates one of the primary compounds responsible for this oil's therapeutic effects. Highly sedative in action. As a relaxing/sleep inducing blend it has no equal. Valerian Root has been used to combat insomnia nervousness restlessness tension agitation headaches as the result of nervous tension and panic attacks. It has also been used on muscle spasms palpitations of the heart cardiovascular spasm and neuralgia. Valerian Root ...
Buy Now
$26.11

Related Products
$19.99
Made from the Best Stuff on Earth We work with specialists around the world to find the perfect location and environment, letting us grow and cultivate the most nutritious plants. Then, we carefully extract them to provide you 100% pure and organic Essential Oil. Essential Cure Let the magical scents of Mother Nature soothe, cure, and revitalize. Pair it with carrier oil and absorb the benefits of Essential Oil directly through massages, or enjoy a calm aromatherapy session through oil burners and vaporizers. Wrap it Up Six popular aromas packaged in a luxurious gift box - give your loved ones the most pleasant joy. Sweeten a special occasion or use it every day to rewind and reinvigorate in the pure happiness of fragrances. Scents of Seasons Lavender: The most popular scent that recovers, relaxes, and exhilarates, produce of South Africa Lemongrass: Citrus flavored, purifies and refreshes the air, also calms and sedates Peppermint:Soothes, clears and stimulates your nerve, for when you need a clear mind Eucalyptus: Cools and clears respiratory system, a drop in massage oil effectively relieves pain Tea Tree: Known as the healer, effectively cures fungal infections and boosts skin suppleness Sweet Orange: The fruit of joy, uplift your mood with a slice of sunshine in the scent What's in the Box 1x Essential Oil - Lavender (10ml) 1x Essential Oil - Lemongrass (10ml) 1x Essential Oil - Peppermint (10ml) 1x Essential Oil - Eucalyptus (10ml) 1x Essential Oil - Tea Tree (10ml) 1x Essential Oil - Sweet Orange (10ml)
$22.95
This Top 6 Aromatherapy Essential Oils Gift Set by Aviano Botanicals is best for both beginners and advanced users alike. There are 6 distinguished and very lavish smelling essential oil blends within this set which are sure to put a smile on anyone's face! This set consists of therapeutic grade 100% natural essential oils which are cultivated and produced from throughout the world and then bottled for you and your family's pleasure and well-being. It makes a great gift to give or to keep for yourself. 100% Satisfaction Guaranteed! This set consists of 6 10ml bottles of the following blends with the following ingredients in each... ? Dreamy Sleep: Lavender, Chamomile, Clary Sage, Mandarin, Ylang Ylang, Cedarwood, Orange, Petitgrain --- Great for when about to or wanting to sleep or when sleeping. ? Tropical Island: Orange, Lemon, Grapefruit, Bergamot, Thyme, Mandarin, Clary Sage --- Take a whiff of this and you will do the happy dance as you are whisked away to smell the tropical scent of paradise. ? Romantic Paradise: Lavender, Jasmine, Ylang Ylang, Geranium, Mandarin, Palmarosa, Lime --- Have a romantic night planned? Use this to set the mood and have your senses fall into the floral and sensual scent of paradise. ? Mellow Mind: Rose, Lemon, Marjoram, Mandarin, Frankincense, Geranium --- Looking to relax, and unwind from the daily stresses of life? Set this oil in the diffuser, and enjoy this scent with a calm sense of pure bliss. ? Health Guard: Lavender, Rosemary, Lemon, Clove, Cinnamon, Eucalyptus --- Great to diffuse around the house for your family! ? Breathe Again: Peppermint, Rosemary, Spearmint, Eucalyptus, Lemon, Lavender --- Feeling a bit under the weather? Take a deep whiff of this for and experience a breath of fresh minty air!
$80.99
Bamboo Heaven is the latest in thermal technology. You will melt away discomfort in your entire body with this unique product that contains Activated Bamboo Charcoal in raw powder formwhich is highly potent in providing thermal heat. Natural heat improves your blood circulation which in turn can increase blood circulation relieve muscle soreness soothe body aches due to aging maintain joint mobility reduce stress and anxiety and provide more restful sleep. When using the Bamboo Heavene Body Mat most people feel a warm tingling sensation in stagnated areas of their body. This is because the heat is activating their blood to deliver nutrients proteins and oxygen to thoroughly balance the body and restore it to its optimum state of well being. The Bamboo Heavene Body Mat is lightweight portable and has nothing to plug in. Perfect for beds and sofas. Try it today to experience total body relief and relaxation. FeaturesBlood Circulation Achy Body due to Aging Mobility & Flexibility Range of Motion Muscle Soreness Relaxation Reduce Stress and Anxiety More Restful Sleep 100% Biodegradable Eco-Friendly Reusable Portable Lightweight Easy to Use Nothing to Plug In No Electricity Required Safe Effective & Long Lasting Fits Chairs Sofas& Beds Removable Cover for Machine Washing Ingredients:Water Pomelo Peel Extract Guava Leaf Extract Sour Orange Extract Indian Cork Flower Extract Aloeswood Extract Cloves and Citrus Essential Oils SpecificationsSize: 60 x 40