Silky Scents EO137-10ML 100 Percent Pure Therapeutic Grade Valerian Root Essential Oil - 10 ml.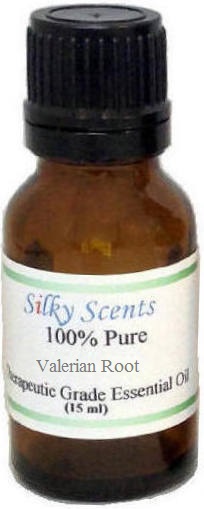 Aromatherapy Properties: (Uses) This high altitude oil naturally contains more effective components than for instance Valerian grown in China. Research has found that Valerian root grown at higher altitudes have higher concentrations of valeptorates one of the primary compounds responsible for this oil's therapeutic effects. Highly sedative in action. As a relaxing/sleep inducing blend it has no equal. Valerian Root has been used to combat insomnia nervousness restlessness tension agitation headaches as the result of nervous tension and panic attacks. It has also been used on muscle spasms palpitations of the heart cardiovascular spasm and neuralgia. Valerian Root ...
Buy Now
$24.64

Related Products
$9.99
Komega6 Rest Easy Sleep Aid Essential Oil: All naturalReady to applyPromotes a calm mood and sleepinessContains lavender oil, eucalyptus oil, Ylang Ylang oil, bergamot oilContains 4 blended carrier oils; flax seed oil, coconut oil, avocado oil, and kenaf seed oil
$7.99
The essential oils in the Relax synergy are some of the best for promoting a peaceful, tranquil state of mind. Try Relax after a particularly trying day at work. Suggested uses: For diffusion, massage, bodycare or bath products, or application to arms, wrists or temples. At night, place one or two drops near your bed pillow. For topical use, dilute to 3-5%. Blend of: Lavender, Marjoram, Patchouli, Mandarin, Geranium and Roman Chamomile.
$39.00
Essential Oxygen Brushing Rinse provides a better way to brush your teeth for a healthy and luminous smile. This amazing rinse is part toothpaste and part mouthwash. It works for all oral issues including natural teeth whitening gum pockets and receding gums tooth sensitivity bad breath tartar canker sores and toxic morning mouth. Each ingredient is high quality and all-natural. Morning Mouth Protocol While we sleep at night our bodies are in cleanse cycle and our saliva doesn't circulate. Consequently we wake up with a mouthful of bad oral bacteria and not the best breath. Rather than swallow this bacteria with your first drink of water spit it out and swish with the rinse for 30 to 60 seconds while you do other morning activities. With the rinse still in your mouth brush your teeth and tongue. Your mouth and your immune system will thank you. It Works Great forWhiter Teeth Fresher Breath Healthier Gums Tooth Sensitivity Morning Mouth Canker Sores Tartar It's Clean Free of Sodium Lauryl Sulfate Chlorine Bleach Animal Testing Pesticides Fluoride Glycerin Alcohol IngredientsPurified water 1% food grade hydrogen peroxide organic aloe vera & organic essential oils including peppermint rosemary cinnamon eucalyptus lemon & clove SpecificationsFlavor: Peppermint Organic: Yes Vegan: Yes GMO Free: Yes Volume: 16 fl oz Dimension: 2.25 H x 2.25 W x 8.25 D Weight: 0.8 lbs