Silky Scents EO137-1OZ-30ML 100 Percent Pure Therapeutic Grade Valerian Root Essential Oil - 30 ml.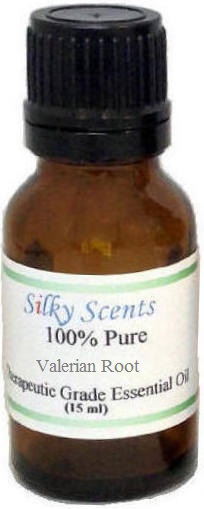 Aromatherapy Properties: (Uses) This high altitude oil naturally contains more effective components than for instance Valerian grown in China. Research has found that Valerian root grown at higher altitudes have higher concentrations of valeptorates one of the primary compounds responsible for this oil's therapeutic effects. Highly sedative in action. As a relaxing/sleep inducing blend it has no equal. Valerian Root has been used to combat insomnia nervousness restlessness tension agitation headaches as the result of nervous tension and panic attacks. It has also been used on muscle spasms palpitations of the heart cardiovascular spasm and neuralgia. Valerian Root ...
Buy Now
$50.21

Related Products
$10.95
Aviano Botanicals presents to you Dreamy Sleep Synergy Essential Oil blend which is great to diffuse in your diffuser at night when sleeping. The aroma of this blend is like no other you have experienced before. Experience the scent of true serenity at the end of the day while relaxing and sleeping throughout the night. Ingredients in this blend include 100% Pure, Natural & Undiluted Therapeutic Grade Essential Oils of the following: Lavender, Roman Chamomile, Clary Sage, Ylang Ylang, Mandarin, Cedarwood, Petitgrain, and Orange. Aviano Botanicals always offers 100% Guarantee or your Money Back Policy for all of its' Products!
$18.89
Dr.Hauschka Moor Lavender Calming Body Oil tones and fortifies your skin while imparting a sense of relaxation and comfort. The soft scent of lavender essential oil soothes your senses to help ease you into a restful night's sleep. The emollient oils make this the perfect massage oil and stress reliever. Type: Oils Size: 2.1 - 3 Oz. We cannot accept returns on this product.
$7.38
Natural Patches of Vermont - Relaxing Sleep Formula Essential Oil Patch Lavender - 1 Easy-to-Apply Patch Natural Patches of Vermont Relaxing Sleep Formula Essential Oil Patch Lavender is aromatically relaxing, calming and normalizing. In this blend, Lavender, Chamomile and Jasmine act in concert to help clear your thoughts and quiet the mind so that you fall asleep naturally. Natural Patches of Vermont Essential Oil Patches offer numerous advantages over many other