Essential Oil Blend .25oz-Stress Reliever-Green Tea Cucumber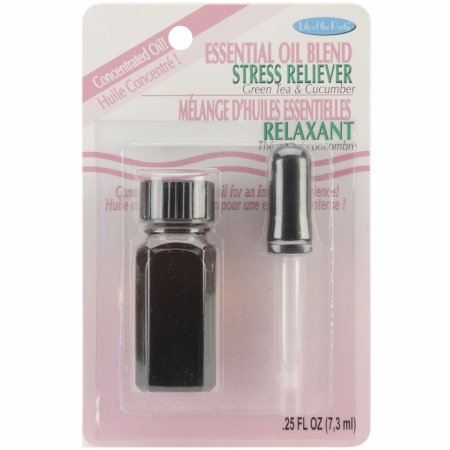 FeaturesLife of the party-Essential oil blend stress reliever-green tea cucumber. Essential Oils are known to be used to help uplift the emotions encourage relaxation and stimulate mental focus. The finest ingredients have been specially formulated to enhance your spa experience. Simply add a few drops of essential oil fragrance to melted or liquid soap base bath salt bath fizzie body scrubs or lotion. Each package contains one 0.25 oz. bottle of oil.
Buy Now
$12.53

Related Products
$8.99
Essential oils are highly concentrated liquids which are extracted from the leaves, stems, bark, roots, flowers and other plant elements. This liquid is distilled to make pure oil. Technically speaking they are not oils, but are called so because they sha
$14.95
"One deep inhale and my mind snapped out of its repetitious negative pattern..."People say "Stress Relief" acts surprisingly fast at transporting you to a more positive frame of mind.Breathe it in deeply and you're transported to an inner space that is calming and relaxing - away from the craziness as you focus on its wonderfully rich, inviting aroma At the same time organic compounds absorbed by your skin and through nasal receptors go to work to relax you systemically.You begin to feel your true and better self restored and you're increasingly capable of beginning again..."Stress Relief" is ready to roll safely onto the skin. It blends 4 powerful Essential Oils: Sweet Orange - known for its uplifting and soothing propertiesNeroli - naturally soothing due to its linalool content that relieves tensionYlang Ylang - promotes calm, reduces stress for recovery from constant demandsAtlas Cedar - associated with a calm, supporting a meditative state of mind The convenient small glass bottle with a roller-ball stopper won't leak in a purse or bag. With over 200 applications per bottle it will be calming away stress for months to come. Easily remove the roll-on stopper to use as a massage oil. Pleasantly fragrant enough to wear as a personal perfume or cologne for men or women. Add it to a bath or Spa for a relaxing atmosphere. Nutravana's 90 Day Money Back Guarantee: Try Stress Relief for 90 days. If you are not satisfied for any reason, return it, even empty, for a prompt and courteous full refund. No questions asked. Try It Now for 90 Days Risk FREE! You'll enjoy it so much it will be hard to explain why you didn't get a second one for your spouse or best friend's bad day! Consider giving it as a gift to someone who has been really irritable lately, who could certainly use less stress! Now, that's an excellent idea! Show the love!