Essential Oil Blend .25oz-Stress Reliever-Green Tea Cucumber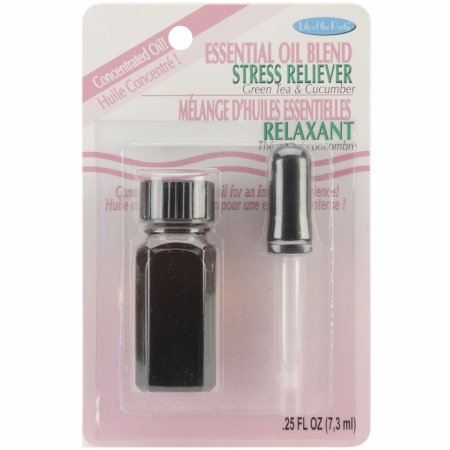 FeaturesLife of the party-Essential oil blend stress reliever-green tea cucumber. Essential Oils are known to be used to help uplift the emotions encourage relaxation and stimulate mental focus. The finest ingredients have been specially formulated to enhance your spa experience. Simply add a few drops of essential oil fragrance to melted or liquid soap base bath salt bath fizzie body scrubs or lotion. Each package contains one 0.25 oz. bottle of oil.
Buy Now
$12.69

Related Products
$19.70
The Close Your Eyes Organic Bath Salts helps to calm the mind and reducing the feeling of anxiety. This contains Egyptian Geranium essential oil and is dye free. Type: 2163 Gender: Unisex Age: Adult
$18.95
We have become so accustomed to our high-pressure lifestyle that we never stop to think about it - but now here's your chance! DeStress is a skillfully designed blend of essential oils that, when taken as a dietary supplement, is know to help reduce occasional effects of stress, anxiety, and tension. Used aromatically, the soothing floral qualities of lavender and geranium combine harmoniously with the more stimulating citrus scents of orange, lemon, lime, and grapefruit to create a blend that helps to calms the mind and promotes relaxation creating an overall sense of well-being. Add this amazing blend to your daily ritual and help reduce your stress today. Key Benefits: (When taken orally as a dietary supplement) Promotes calmness Helps reduce occasional anxiety Relaxes muscles Promotes a positive mood
$10.95
DE-STRESSING AROMATHERAPY IN A BAR OF SOAP! As you shower, watch how quickly the rich lather builds up and then breathe deeply and enjoy the wonderful aroma that will surely lift your mood and soothe your soul. Relieve daily stress and restore emotional balance. MORE THAN JUST AN AMAZING AROMA Experience a min-spa treatment every time you lather. "Stress Relief" bar soap is. enriched with Comfrey Root, a botanical that regenerates new cell growth, heals wounds and soothes skin. The result? Beautiful, well nourished skin that is super soft. TRY IT - THERE IS A BIG DIFFERENCE Please read the labels of other soaps carefully. ASUTRA only uses the purest essential oils and all natural ingredients and you can feel and smell the difference. Our moisturizing organic and natural soap recipes are meticulously developed to produce a mild, skin-nourishing soap with superior long-lasting lather. Your skin will be left feeling clean, soft and radiantly healthy. "STRESS RELIEF" SOAP BENEFITS - So gentle it can be used for complete FACE & BODY - Produces an ultra rich lather yet very gentle on your skin - Rich in antioxidants & natural moisturizers that help repair & refresh your skin giving it that healthy glow - Organic, 100% pure, vegan and safe for all skin types INCLUDES A HANDY STORAGE & TRAVEL CASE "Stress Relief" is a large, spa quality 4oz bar of soap and it will last a long time but storing it carefully will protect it, lock in freshness and make it last even longer. That's why we include a beautiful and durable CASE VALUED AT $5.99 - YOURS FREE.