Essential Oils for Stress Relief Citrus Breeze 15ml Blend by Destination Oils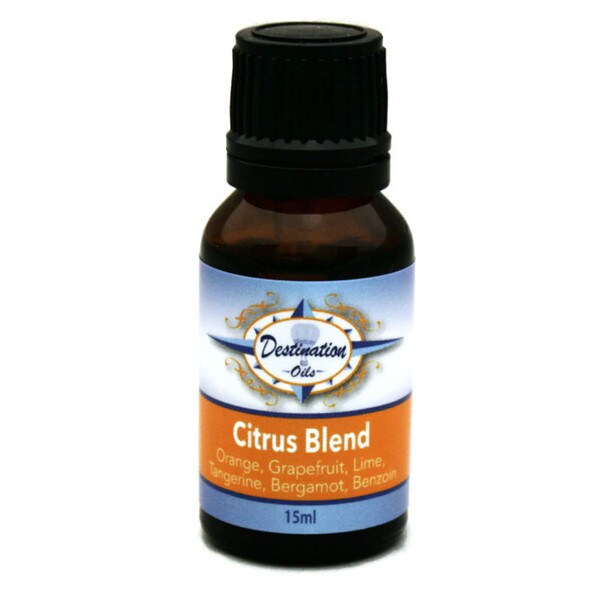 A great smelling blend of pure citrus essential oils that smells just like an Orange Creamsicle. This one is a family favorite- diffusing it will give a burst of energy and happy feelings. A great way to bring sunshine into your day. This fantastic blend contains 100-percent Orange, Grapefruit, Lime, Tangerine, Bergamot and Benzoin essential oils - not diluted with any carrier oils. All Destination Oils are 100-percent pure, therapeutic grade essential oils. Features: States: Iowa The best quality for a great price. Material: Oils Oils in this blend and their benefits: Orange: Uplifting to the emotions, decreases feelings ...
Buy Now
£13.64

Related Products
$9.95
Does your child have trouble calming down at night and falling sleep? KidSafe Nighty Night can help your child fall asleep more quickly and stay asleep. Apply topically to your child?s chest or back of their neck about 30 minutes before bedtime. Specifically formulated for children ages 2-10. This pe-diluted roll on contains the 100% pure, therapeutic grade oils of: Lavender, Marjoram, Mandarin, Cedarwood Atlas, Patchouli, Clary Sage, Chamomile Roman and Tansy (Blue) blended into a base of fractionated coconut oil.
$6.99
otanical Name: Eucalyptus globules * Plant Part: Woods and Leaves * Extraction Method: Steam Distilled * Origin: China * Description: The Eucalyptus tree is a beautiful tall evergreen that can grow up to 90 meters high (270 feet). The young trees have oval bluish-green leaves while the mature trees develop long, narrow, yellowish leaves, creamy-white flowers and a smooth, pale grey bark. * Color: Clear to pale yellow liquid. * Common Uses: Eucalyptus Globulus Essential Oil is fantastic on skin ailments such as burns, blisters, wounds, insect bites, lice and skin infections, as well as to combat the effects of colds and the flu. There is also a history of Eucalyptus essential oil being applied to sore muscles and joints. * Consistency: Thin * Note: Top * Strength of Aroma: Strong * Blends well with: Basil, Cajeput, Cedarwood, Citronella, Ginger, Lavender, Lemon, Myrtle, Frankincense, Spearmint and Tea Tree. * Aromatic Scent: Eucalyptus Globulus Essential Oil has a very herbaceous scent with soft woody undertones. * History: Eucalyptus Essential Oil has long been used in homes in Australia. In Spain, the timber of Eucalyptus was used in construction. * Cautions: Eucalyptus Oil should be used in dilution, and be avoided during pregnancy. It is considered toxic if taken internally, non-irritant and non-sensitive. Avoid if you have high blood pressure or epilepsy.
$13.95
Lavender Inhale to Calm Panic & Anxiety Formula is formulated to help you breathe deeper and stay calm during panic and anxiety attacks. Breathing alone can help overcome a panic attack. This formula, can help fight a panic attack, by bringing immediate relief from a simple breath of fresh air. It can also help with vertigo, motion sickness, sea sickness, dizzy spells and nausea. Ingredients: Cajeput, Eucalyptol, Lavender, Menthol, Peppermint, Ravensara