Aura Cacia Essenential Oil Sweet Almond Plus Blueberry Seed - 4 fl oz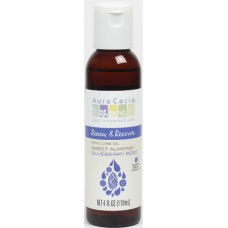 Blueberry seed oil is balanced in Omega-3 and Omega-6. Its emollient nature helps reduce flaking to maintain the smooth appearance of your skin. Use on face and neck FeaturesEssenential oil sweet almond + blueberry seed Size - 4 fz Item weight - 0.31 ...
Buy Now
$19.67

Related Products
$12.99
For skin in need of clean and natural nourishment, this 100-percent pure almond oil treatment is perfect for nourishing and reviving any skin type. Almond oil is easily absorbed and won't clog pores, promoting clear, soft, healthy skin. This all-natural skin nourishing oil is ideal for the entire body. This comprehensive natural product encompasses anti-aging moisturizers and serums, bath and body gels, shampoos and conditioners, oral care, skin care, and essential oils, all of which are formulated with the finest functional ingredients from around the world. NOW Solutions products avoid harsh chemicals and synthetic ingredients in all of our formulations, to provide a more natural product line, and the clear bottle contains UV light protectant. 100-percent pure moisturizing oil Nourishing Promotes healthy skin Expeller-pressed and hexane-free Size: 4 ounces Quantity: One (1) Targeted area: Skin Skin/hair type: Any Active ingredients: 100-percent pure almond oil We cannot accept returns on this product.
$21.26
This scentless oil is a great nutrient for softening and conditioning skin. It's especially suitable for eczema itchy dry and inflamed skin. It contains glucosides vitamins and minerals and makes a great massage oil. Use it in lotion bars lotions balms and of course soap. Ingredient Type - Fixed oil Extraction Method - Exp Pressed Capacity - 2 Fl oz.
$16.90
Bain De Terre 266751 Sweet Almond Oil Long & Healthy Shampoo - 13.5 oz