Earth Kind SA-S-SF8 2.5 oz Stay Away Spiders Repellent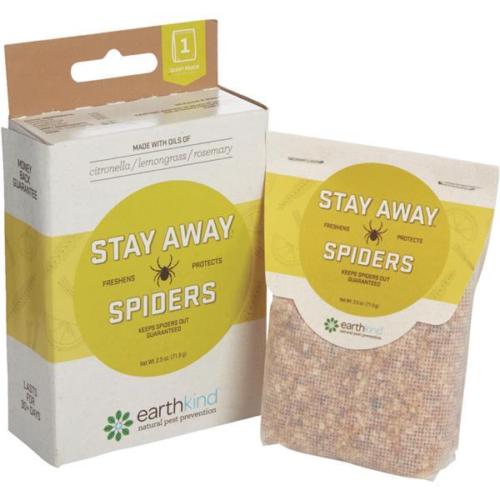 Repels spiders naturally with a formula of essential oils and plant fiber. Spiders do not like the citronella oil lemongrass oil and rosemary oil blend that is a pleasant smell to humans. Effective and safe for humans pets and the environment. No setup or messy cleanup. Patented pouch design delivers long lasting slow release of proven essential oils. Ideal for use anywhere indoors where there are spiderwebs or spiders such as basements closets or attics. Use with Stay Away pouch pod to prevent children and pets from tampering with pouch. FeaturesMade with citronella lemongrass and rosemary oils Place pouches in ...
Buy Now
$66.20

Related Products
$586.43
Peppermint has a powerful, sweet, menthol aroma which, when inhaled undiluted, can make the eyes water and the sinuses tingle. Add few drops to car dashboard to help stay alert, clear thinking and fresh. Traditionally used as an insect repellent, emollient, antiseptic, muscle relaxant. A very widely employed aromatherapy oil, try peppermint in a cooling compress across the forehead or over the back of the neck.Blends well with bergamot, geranium, lavender, marjoram, rosemary, sandalwood. Aromatherapy benefits: vitalizing, refreshing, cooling.Some traditional uses: for energy, and brighter mood, reducing pain, to help breathing, improve mental clarity and memory. Peppermint oil is non-toxic and non-irritant in low dilutions but sensitization may be a problem due to the menthol content.It can cause irritation to the skin and mucus membranes and should be kept well away from the eyes.Peppermint oil should be avoided during pregnancy and should not be used on children under seven.Peppermint oil is excellent for mental fatigue and depression; it can help for apathy, shock, headache, migraine, nervous stress, vertigo and faintness.It is useful in general respiratory disorders as well as dry coughs, sinus congestion, asthma, bronchitis, pneumonia, tuberculosis and cholera.For the digestive system Peppermint oil can be effective for colic, cramps, dyspepsia, flatulence and nausea. The 1997 Commission E on Phytotherapy and Herbal Substances of the German Federal Institute for Drugs recommends Peppermint leaves for 'Spastic complaints of the gastrointestinal tract as well as gall bladder and bile ducts.'It can relieve pain in cases of toothache, aching feet, rheumatism, neuralgia, muscular pains and painful periods.Peppermint oil can be useful for dermatitis, acne, ringworm, scabies and pruritus.It can relieve itching, sunburn and inflammation of the skin.Peppermint oil can assist in nervous disorders, the respiratory tract, for muscle aches and pains and for skin problems.In vapor therapy Peppermint oil can help with: coughs, headaches, nausea, mental tiredness and as an insect repellant..As a blended massage oil or diluted in the bath Peppermint oil can assist with: colic, cramps, back pain, inflamed bowel disorders, catarrh, colitis, circulation, constipation, coughs, diarrhea, sweaty and tired feet, flatulence, headaches, muscular pains, cramps and spasms, neuralgia, nausea, rheumatism and mental fatigue.A mouthwash with Peppermint oil added can help with: bad breath and gum infections.Peppermint oil blends particularly well with: Benzoin, Eucalyptus, Lavender, Marjoram, Lemon and Rosemary.Essential and resin oils are volatile, fragrant materials extracted from the root, bark, wood, seed, fruit, leaf or flower of a single plant. Essential oils contain the odor, taste and medicinal properties of the plant itself, but in very concentrated form, with no base oil, alcohol, water or dilutants added. Steam distillation and cold pressing are used to extract t
$15.89
Aromatherapy Properties: (Uses) It is a strong germicide a powerful antiseptic a feeble local anesthetic applied to decayed teeth and has been used with success as a stimulating expectorant in phthisis and bronchial troubles. It is effective for antiseptic arthritis bad breath bronchitis colds deodorant diarrhea emmenagogue febrifuge headaches hernias influenza insect repellent migraines moth repellent minor infections neuralgia oily skin rheumatism. Blends well with: Rose Absolute (Morocco) Lavender 40/42 Vanilla 10 Fold Clary Sage Bergamot Bay Rum (Leaf) Lavandin Allspice and Ylang Ylang I. History: The word clove comes from the Latin word clavus meaning nail since the shaft and head of the clove bud resembles a nail. Cloves and nutmeg were among the most precious of items of Europe of the 16th and 17th centuries and they were worth more than their weight in gold. 100% Pure Essential Oil Capacity - 10 ml.
$10.49
The all natural Deet-free bug repellent. Buzz Away is the most effective all-natural insect repellent available. Independent lab tests prove that Buzz Away keeps the bugs at bay for hours, and because Buzz Away is 100% Deet-free and natural, it's the best choice for your whole family. The American Academy of Pediatrics recommends against the use of Deet on children. Why risk using deet products when our effective natural repellent does the job. Made from pure, natural essential oils - cedarwood, citronella, peppermint, eucalyptus and lemongrass. Buzz Away smells terrific.