Silky Scents EO162-10ML 100 Percent Pure Therapeutic Grade Dill Weed Essential Oil - 10 ml.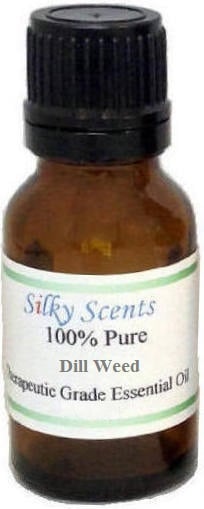 The name Dill is derived from the Norse word Dilla meaning to lull relating to the carminative properties of the herb. FeaturesDill Weed Essential Oil Blends well with - Geranium or Clary Sage. 100% Pure Essential Oil 100% Pure Therapeutic Grade Capacity - 10 ml. Aromatherapy PropertiesAs a medicinal plant dill has been used as an antispasmodic carminative stimulant and stomachic. It has also been used as a remedy for colic and insomnia and as a stimulant for lactation. It also has chemical constituents that are effective as insect repellents.
Buy Now
$22.75

Related Products
$11.45
Our proven blend of pure essential oils effectively wards off mosquitos, ticks, black flies, and more. Bug Spray Is DEET-FREE, 100% natural and extremely effective, making it your hiking, camping, and backyard essential!
$29.97
Aromatherapy Properties: (Uses)Plai is in the same plant family as Ginger but Plai possesses many different properties and has a more intense action. Rather than the classic warming effect of Ginger Plai has a cooling effect on pain and inflammation making it an excellent choice for treating injuries muscular and joint pain and conditions such as arthritis and rheumatism. one of the best essential oils for treating aches pains and inflammation. It has powerful analgesic and anti-inflammatory properties that are beneficial for injuries and muscular aches and pains. It is also useful for post-operative pain and inflammation and its powerful analgesic properties are reported to ease pain for up to 16-20 hours. Plai can help to settle digestive problems such as nausea stomach cramps flatulence constipation diarrhea and irritable bowel syndrome (IBS). Its anti-spasmodic action is also beneficial for period pains. Plai essential oil can help to stimulate the immune system and boost vitality. Its antimicrobial properties are effective in fighting infection and it can also be helpful for respiratory problems such as asthma catarrh chronic colds and flu. can help to soothe the nerves reduce anxiety and cool anger. excellent 'health supporting' oil that is used in many aromatherapy and spa products particularly for massage. It is normally diluted but can be applied directly to the skin if treating areas of pain or inflammation that are close to the surface of the skin. It can also be used as an insect repellent and to treat acne. Blends well with: Rosemary Lemongrass Lavender Russia Tea Tree Black Pepper Grapefruit White Lime Sandalwood East Indian Jasmine Absolute Orange Sweet Neroli and Petitgrain. Features100% Pure Essential Oil Raw Material - Plai Botanical Name - Zingiber Ca
$51.09
Aromatherapy Properties: (Uses) It is antidepressant antiseptic aphrodisiac deodorant and insecticide. It is said to stabilize the central nervous system and could therefore have an overall balancing effect. Helpful when feeling low overwhelmed with problems. May relieve headaches when accompanied by nausea and may also relieve jet lag. Its deodorizing action helps the body cope with excess heat and moisture. Also valuable as an insect repellent. Blends well with: Cedarwood Virginia Coriander Seed Frankincense Rose Otto (Bulgarian) Sandalwood East Indian and Vetiver. Features100% Pure Essential Oil Raw Material - Rosewood (Brazilian) Botanical Name - Aniba Roseadora Therapeutic Grade Capacity - 1 oz.(30 ml.)