Silky Scents EO162-10ML 100 Percent Pure Therapeutic Grade Dill Weed Essential Oil - 10 ml.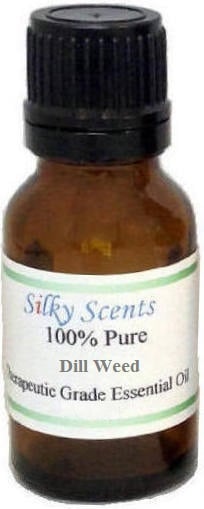 The name Dill is derived from the Norse word Dilla meaning to lull relating to the carminative properties of the herb. FeaturesDill Weed Essential Oil Blends well with - Geranium or Clary Sage. 100% Pure Essential Oil 100% Pure Therapeutic Grade Capacity - 10 ml. Aromatherapy PropertiesAs a medicinal plant dill has been used as an antispasmodic carminative stimulant and stomachic. It has also been used as a remedy for colic and insomnia and as a stimulant for lactation. It also has chemical constituents that are effective as insect repellents.
Buy Now
$22.75

Related Products
$10.49
The all natural Deet-free bug repellent. Buzz Away is the most effective all-natural insect repellent available. Independent lab tests prove that Buzz Away keeps the bugs at bay for hours, and because Buzz Away is 100% Deet-free and natural, it's the best choice for your whole family. The American Academy of Pediatrics recommends against the use of Deet on children. Why risk using deet products when our effective natural repellent does the job. Made from pure, natural essential oils - cedarwood, citronella, peppermint, eucalyptus and lemongrass. Buzz Away smells terrific.
$12.21
This oil from AzureGreen brings to you the delightful earthy fragrance of the Balsam Fir tree. While many people use it as a delightful addition to the atmosphere of a home it is also commonly used as an anointing oil for your spells and rituals particularly those that need a little aid in providing a little boost to energy and vigor. Stick incense that is strongly scented & elegantly packaged. For empowering spells of cleansing and consecration or in protective spells of warding. Perhaps most commonly known for its great ability to help repel insects or in producing perfumes and fragrances This is perhaps due to citronella's natural ability to keep away pests and annoyances. Features16 Long Burning Sticks Cruelty Free Made in USA Pack of 16 SpecificationsWeight: 0.12 lbs
$41.54
Aromatic Description: Herbaceous and floral with a distinct camphoraceous top note. Aromatherapy Properties: (Uses). Tarchonanthus camphoratus (known as Camphor Bush for its scent or Leleshwa in Kenya) is a shrub or small tree native to eastern and Southern Africa and Arabia. The Leleshwa can reach up to 6 meters in height. The twigs and younger stems are white-felted as are the undersides of the leaves. The upper leaf surface is dark olive-green. Flowers are usually present from December to May (in South Africa) with cream colored panicles on a discoid head. Male flowering heads have several flowers whilst the female has only a few. The fruit is a dense and woolly. Leleshwa is effective in treating Head lice itchy scalp dandruff disinfectant insect repellent fungal infections relaxation (relieves headaches). It is Antiseptic Skin leanser and and Eco-Friendly Disinfection. It is also an excellent addition to Foot & Leg Creams and Lotions. Blends well with: Lavender 40/42 Geranium Sandalwood East Indian Frankincense Cedarwood Atlas Ginger Clove Bud and Pine White. 100% Pure Essential Oil Capacity - 15 ml.