Silky Scents EO162-10ML 100 Percent Pure Therapeutic Grade Dill Weed Essential Oil - 10 ml.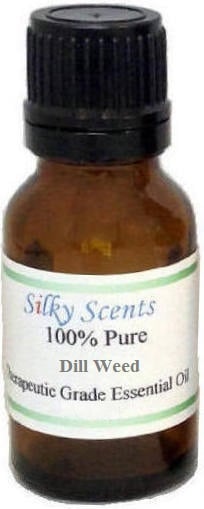 The name Dill is derived from the Norse word Dilla meaning to lull relating to the carminative properties of the herb. FeaturesDill Weed Essential Oil Blends well with - Geranium or Clary Sage. 100% Pure Essential Oil 100% Pure Therapeutic Grade Capacity - 10 ml. Aromatherapy PropertiesAs a medicinal plant dill has been used as an antispasmodic carminative stimulant and stomachic. It has also been used as a remedy for colic and insomnia and as a stimulant for lactation. It also has chemical constituents that are effective as insect repellents.
Buy Now
$22.75

Related Products
$41.49
VERSATILE TIKI TORCHES Planning an outdoor party or celebration? Accentuate any outdoor setting with these Bamboo Tiki Torches. Simply fill the metal canisters with torch oil, light a flame to the wick, and and place them on the patio table to illuminate your surroundings. These are perfect for luaus, beach or tropical themed parties, birthdays, engagements, romantic dinners and more. Place them around your pool, garden, deck or patio to create a luminous ambiance against the night sky. These tiki torches can also function as an insect repellant. Keep pesky mosquitoes and insects away by filling the canisters with an insect-repelling oil like lemon eucalyptus essential oil, citronella, or neem. Follow an ancient Maori tradition by creating boundaries around your outdoor activities with these Bamboo Tiki Torches! PRODUCT FEATURES: ? Sturdy In-Ground Design ? Natural Woven Bamboo Torch ? Metal Canister ? 6 oz Oil Capacity ? Burns for 7 Hours ? Works with most Torch Oils ? Can be Used as Mosquito / Insect Repellant ? Outdoor Use Only DURABLE BUILD Made of one piece natural bamboo shaft, our tiki torches feature sturdy in-ground design. Unlike competitor products that feature only a bamboo finish, imitation bamboo, or a combination of bamboo and another medium, we offer a 100% bamboo product for better functionality and a more authentic feel of the tropics. Made of one whole bamboo piece, it is built to last. Our tiki torch's metal canister holds up to 6 ounces of oil for a burn that lasts up to 7 hours. Simply open the canister, fill with oil, and light up the flame; no changing batteries or recharging needed!
$10.72
FeaturesDeco shield wasp yellow jacket repellent refill Lasts 5-7 days Has a pleasant scent of all natural essential oils Use with the deco shield why repellent device Item weight - 0.03 lbs.
$26.97
Lafe?s bug repellent is perfect for babies, kids, and adults alike. Bug spray is certified organic by the USDA and is citronella, DEET and chemical free. Lafe?s uses a special blend of certified organic geranium and lavender essential oils to naturally repel nasty insects while keeping your body safe from the harmful toxins and chemicals found in other bug repellents. Lafe?s baby care products are fragrance free and contain no harmful chemicals, so they?re safe for even the most sensitive baby?s skin. All Lafe?s products for babies, kids and moms are packaged in baby-safe containers. Lafe?s is the first ever certified organic baby care line packaged in special baby-safe plastic that reduces exposure to toxic endocrine disruptors found in conventional plastic. Lafe?s strives to stay chemical free and all natural, because what goes on your body, goes in your body.