Silky Scents EO46-10ML 100 Percent Pure Therapeutic Grade Brazilian Rosewood Wild Crafted Essential Oil - 10 ml.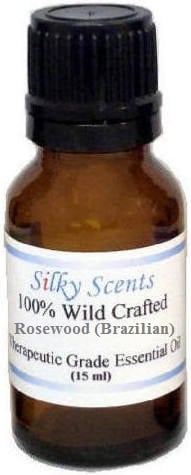 Aromatherapy Properties: (Uses) It is antidepressant antiseptic aphrodisiac deodorant and insecticide. It is said to stabilize the central nervous system and could therefore have an overall balancing effect. Helpful when feeling low overwhelmed with problems. May relieve headaches when accompanied by nausea and may also relieve jet lag. Its deodorizing action helps the body cope with excess heat and moisture. Also valuable as an insect repellent. Blends well with: Cedarwood Virginia Coriander Seed Frankincense Rose Otto (Bulgarian) Sandalwood East Indian and Vetiver. Features100% Pure Essential Oil Raw Material - Rosewood (Brazilian) Botanical Name - Aniba Roseadora Therapeutic Grade Capacity - 10 ml.
Buy Now
$32.89

Related Products
$10.49
The all natural Deet-free bug repellent. Buzz Away is the most effective all-natural insect repellent available. Independent lab tests prove that Buzz Away keeps the bugs at bay for hours, and because Buzz Away is 100% Deet-free and natural, it's the best choice for your whole family. The American Academy of Pediatrics recommends against the use of Deet on children. Why risk using deet products when our effective natural repellent does the job. Made from pure, natural essential oils - cedarwood, citronella, peppermint, eucalyptus and lemongrass. Buzz Away smells terrific.
$19.63
Bite Shield Refill Cartridges are for use with Koolatrons Bite Shield Portable. Bite Shield Portables all-natural insect repellent produces a pleasant fragrance that Biting Insects hate. The repellent cartridge contains beads made with a naturally occurring essential oil called Geraniol tested and developed by a major Florida University.
$22.95
Aromatherapy Properties: (Uses) Pennyroyal should be used with extreme caution. Its scent is herbaceous and minty. It is a well known emmenagogue; do not use during pregnancy. Has some use in menstrual difficulties often used to bring on menstruation. It's valuable in repelling insects on animals. Can be diluted either in alcohol or vinegar as a rub to kill fleas. Pennyroyal should not be used in aromatherapy treatments on humans as it is considered to be an oral toxin and uterine abortive. Many aromatherapists will not use this oil. Blends well with: Cedarwood Atlas and Peppermint. Pennyroyal also blends well with Citronella Eucalyptus Globulus Lemon and other insect repelling oils. Features100% Pure Essential Oil Raw Material - Pennyroyal Botanical Name - Mentha Pulegium Therapeutic Grade Capacity - 5 ml.