Silky Scents EO46-10ML 100 Percent Pure Therapeutic Grade Brazilian Rosewood Wild Crafted Essential Oil - 10 ml.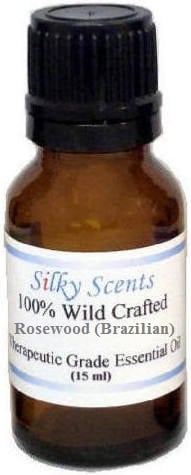 Aromatherapy Properties: (Uses) It is antidepressant antiseptic aphrodisiac deodorant and insecticide. It is said to stabilize the central nervous system and could therefore have an overall balancing effect. Helpful when feeling low overwhelmed with problems. May relieve headaches when accompanied by nausea and may also relieve jet lag. Its deodorizing action helps the body cope with excess heat and moisture. Also valuable as an insect repellent. Blends well with: Cedarwood Virginia Coriander Seed Frankincense Rose Otto (Bulgarian) Sandalwood East Indian and Vetiver. Features100% Pure Essential Oil Raw Material - Rosewood (Brazilian) Botanical Name - Aniba Roseadora Therapeutic Grade Capacity - 10 ml.
Buy Now
$32.89

Related Products
$10.72
FeaturesDeco shield wasp yellow jacket repellent refill Lasts 5-7 days Has a pleasant scent of all natural essential oils Use with the deco shield why repellent device Item weight - 0.03 lbs.
$11.45
Our proven blend of pure essential oils effectively wards off mosquitos, ticks, black flies, and more. Bug Spray Is DEET-FREE, 100% natural and extremely effective, making it your hiking, camping, and backyard essential!
$15.89
Diffuse this Cedarwood (Cedrus Atlantica) Essential Oil to help with calming and meditation, improve breathing passages, repel insects and improve dandruff. With a satisfying scent, this essential oil is just what you need. Great quality at a great price, these essential oils are incredibly concentrated and powerful to help you in multiple ways. Because of their strong concentration, ensure safe use by properly diluting with a carrier oil. Always test for skin sensitivity prior to widespread use. Keep out of eyes, ears, or nose. Keep oils tightly closed and out of the reach of children. Do not ingest essential oils unless guided by a trained professional. The information provided on this website is only our opinion and is not intended as medical advice or diagnosis. Statements have not been evaluated by the FDA and are not intended to diagnose, cure, treat or prevent any disease. Information on this page should not be interpreted as medical advice, meant for diagnosing illness or for prescriptive purposes. Always discuss any essential oil use with your doctor or trained aromatherapist. Features: States: Iowa Country of Origin: Morocco Botanical Name: Cedrus Atlantica Extraction Method: Steam Distilled Aromatic Scent: Sweet woody aroma, masculine scent Base Uses: Can be grounding and calming, great for meditation, can improve breathing passages, helps repel insects, use in sachets in closet to help keep insects away, may improve dandruff 100-percent pure, therapeutic quality Material: Oils About the Manufacturer: Welcome to Destination Oils. My name is Kara, and I am the owner of Destination Oils, a small essential oil business located in Iowa. We want to bring great, high quality essential oils and unique aromatherapy jewelry to the online marketplace. Our oils are 100-percent pure, therapeutic grade with no fillers, preservatives, or chemicals. Just oil. The best quality for a great price.