Silky Scents EO46-15ML 100 Percent Pure Therapeutic Grade Brazilian Rosewood Wild Crafted Essential Oil - 15 ml.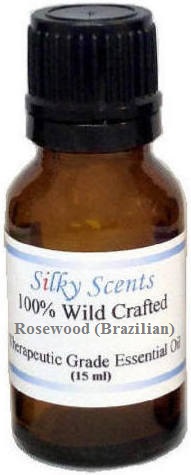 Aromatherapy Properties: (Uses) It is antidepressant antiseptic aphrodisiac deodorant and insecticide. It is said to stabilize the central nervous system and could therefore have an overall balancing effect. Helpful when feeling low overwhelmed with problems. May relieve headaches when accompanied by nausea and may also relieve jet lag. Its deodorizing action helps the body cope with excess heat and moisture. Also valuable as an insect repellent. Blends well with: Cedarwood Virginia Coriander Seed Frankincense Rose Otto (Bulgarian) Sandalwood East Indian and Vetiver. Features100% Pure Essential Oil Raw Material - Rosewood (Brazilian) Botanical Name - Aniba Roseadora Therapeutic Grade Capacity - 15 ml.
Buy Now
$31.68

Related Products
$15.34
Aromatherapy Properties: (Uses) Pennyroyal should be used with extreme caution. Its scent is herbaceous and minty. It is a well known emmenagogue; do not use during pregnancy. Has some use in menstrual difficulties often used to bring on menstruation. It's valuable in repelling insects on animals. Can be diluted either in alcohol or vinegar as a rub to kill fleas. Pennyroyal should not be used in aromatherapy treatments on humans as it is considered to be an oral toxin and uterine abortive. Many aromatherapists will not use this oil. Blends well with: Cedarwood Atlas and Peppermint. Pennyroyal also blends well with Citronella Eucalyptus Globulus Lemon and other insect repelling oils. Features100% Pure Essential Oil Raw Material - Pennyroyal Botanical Name - Mentha Pulegium Therapeutic Grade Capacity - 10 ml.
£6.53
Afraid that your baby is too sweet to bugs? Babies can now keep them at bay with new OutdoorShield Herbal Outdoor Repellent, which uses Rosemary Essential Oils to ward off unwanted company. Keeping bugs away so babies can play. 100% natural OutdoorShieldHerbal Outdoor Repellent is used to keep away insects that threaten to bite when outdoors. GMO Free Size: Net Weight: 2.5oz. (70.9g) Quantity: 1 Ea Targeted area: Newborn Infants and up Skin/hair type: Newborn Infants Skin Active ingredients: Organic Sunflower Oil, Castor Oil, Lemongrass Essential Oil, Rosemary Essential Oil, Peppermint Essential Oil, Clove Essential Oil, Citronella Essential Oil, Cedarwood Essential Oil, Lavender Essential Oil, Vitamin E We cannot accept returns on this product. Due to manufacturer packaging changes, product packaging may vary from image shown.
$26.58
Color: Clear colorless to pale yellow Viscosity: Mobile Top Note: Fresh strong rosy-citronella like Middle Note: Diffusive citronella like Dry Note: Sweet balsamic floral Aromatherapy Actions: Refreshing invigorating cooling Safety Data: Non-toxic non-irritant possible-sensitizing in some individuals. Regulatory Status: GRAS 182.20. Approved as an insect repellant by the FDA. CAUTION: IF PREGNANT SUFFERING FROM ANY MEDICAL CONDITION OR TAKING MEDICATION CONSULT A HEALTH CARE PRACTITIONER BEFORE USE. AVOID EYES AND MUCOUS MEMBRANES. DILUTE PROPERLY MAY IRRITATE SKIN NOT FOR INTERNAL USE KEEP OUT OF REACH OF CHILDREN CAUTION: IF PREGNANT SUFFERING FROM ANY MEDICAL CONDITION OR TAKING MEDICATION CONSULT A HEALTH CARE PRACTITIONER BEFORE USE. AVOID EYES AND MUCOUS MEMBRANES. DILUTE PROPERLY MAY IRRITATE SKIN NOT FOR INTERNAL USE KEEP OUT OF REACH OF CHILDREN Eucalyptus citriodora (lemon eucalyptus) oil