Silky Scents EO46-15ML 100 Percent Pure Therapeutic Grade Brazilian Rosewood Wild Crafted Essential Oil - 15 ml.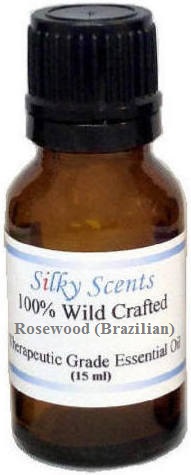 Aromatherapy Properties: (Uses) It is antidepressant antiseptic aphrodisiac deodorant and insecticide. It is said to stabilize the central nervous system and could therefore have an overall balancing effect. Helpful when feeling low overwhelmed with problems. May relieve headaches when accompanied by nausea and may also relieve jet lag. Its deodorizing action helps the body cope with excess heat and moisture. Also valuable as an insect repellent. Blends well with: Cedarwood Virginia Coriander Seed Frankincense Rose Otto (Bulgarian) Sandalwood East Indian and Vetiver. Features100% Pure Essential Oil Raw Material - Rosewood (Brazilian) Botanical Name - Aniba Roseadora Therapeutic Grade Capacity - 15 ml.
Buy Now
$31.68

Related Products
$36.15
Clove bud oil has a powerful, spicy-fruity, warm, sweet aroma. It is used in mouthwash, toothpaste, chewing gum and dental preparations. Clove oil is highly irritating to the skin and should be handled with caution. Aromatherapy benefits: warming, comforting.Clove oil is very potent oil and should be used with care. Do not use in massaging or in baths, it may irritate the skin. It must be avoided during pregnancy.Clove oil (even the fine oil extracted from the bud, rather than the leaves and twigs) can cause dermatitis and irritate the skin and mucus membranes.Clove leaf oil can be used for acne bruises, burns and cuts, keeping infection at bay. As a pain reliever it helps with toothache, mouth sores, rheumatism and arthritis.It is beneficial to the digestive system, effective against vomiting, diarrhea, flatulence, spasms and parasites, as well as bad breath.Clove oil is valuable at relieving respiratory problems, like bronchitis, asthma and tuberculosis. Their disinfecting property is useful in cases of infectious diseases.Placing a few drops of clove oil on a cotton ball and then placing the cotton ball in a linen cupboard will not only fragrance the cupboard, but may help to keep fish moths at bay.Clove oil is useful for its disinfecting properties, the relieving of pain, especially toothache, arthritis and rheumatism, and its effectiveness on the digestion system.It also has value for skin problems and as an insect repellent.In vapor therapy Clove oil can be useful for bronchitis and dizzinessClove oil can be used in a blended massage oil to assist with diarrhea, bronchitis, chills, colds, muscular numbness, spasms, rheumatism and arthritis. For toothache the outer jaw can be massage.Use a low dilution of less than 1%.Clove oil can be used distilled as a mouthwash for toothache.Clove oil blends well with: Basil, Benzoin, Cinnamon, Lavender, Ginger, Sandalwood and Clary Sage.Essential and resin oils are volatile, fragrant materials extracted from the root, bark, wood, seed, fruit, leaf or flower of a single plant. Essential oils contain the odor, taste and medicinal properties of the plant itself, but in very concentrated form, with no base oil, alcohol, water or dilutants added. Steam distillation and cold pressing are used to extract the essential oil from the plant. Starwest Essential Oils are guaranteed to be 100% pure and undiluted. The distillation process occurs either at the site where the plants are grown or at a distillery. Each oil is tested for purity and strength using the gas chromatography method. Packaged in glass amber bottles to preserve the oils, the 1/3 ounce size has a fitted dropper insert and a tamper-evident, child-proof lid. The larger items are in amber glass or PET gallon containers, depending on the product.Starwest's pure essential oils are suitable for use in aromatherapy, cosmetic preparation, healing and body care, potpourris and more. Essential oils are very potent and should always be used sparingly and in co
$4.99
Make your home smell clean and fresh with this therapeutic-grade lemon essential oil. This oil offers natural antibacterial properties, as well as being a fungicide and insect repellent. We cannot accept returns on this product.
£10.44
Diffuse this Cedarwood (Cedrus Atlantica) Essential Oil to help with calming and meditation, improve breathing passages, repel insects and improve dandruff. With a satisfying scent, this essential oil is just what you need. Great quality at a great price, these essential oils are incredibly concentrated and powerful to help you in multiple ways. Because of their strong concentration, ensure safe use by properly diluting with a carrier oil. Always test for skin sensitivity prior to widespread use. Keep out of eyes, ears, or nose. Keep oils tightly closed and out of the reach of children. Do not ingest essential oils unless guided by a trained professional. The information provided on this website is only our opinion and is not intended as medical advice or diagnosis. Statements have not been evaluated by the FDA and are not intended to diagnose, cure, treat or prevent any disease. Information on this page should not be interpreted as medical advice, meant for diagnosing illness or for prescriptive purposes. Always discuss any essential oil use with your doctor or trained aromatherapist. States: Iowa Country of Origin: Morocco Botanical Name: Cedrus Atlantica Extraction Method: Steam Distilled Aromatic Scent: Sweet woody aroma, masculine scent Base Uses: Can be grounding and calming, great for meditation, can improve breathing passages, helps repel insects, use in sachets in closet to help keep insects away, may improve dandruff 100-percent pure, therapeutic quality Material: Oils This product is part of our 'Main Street Revolution' - a partnership between Overstock.com and small businesses around the USA. What is the Main Street Revolution? Welcome to Destination Oils. My name is Kara, and I am the owner of Destination Oils, a small essential oil business located in Iowa. We want to bring great, high quality essential oils and unique aromatherapy jewelry to the online marketplace. Our oils are 100-percent pure, therapeutic grade with no fillers, preservatives, or chemicals. Just oil. The best quality for a great price.