Silky Scents EO94-10ML 100 Percent Pure Therapeutic Grade Eucalyptus Citriodora Essential Oil - 10 ml.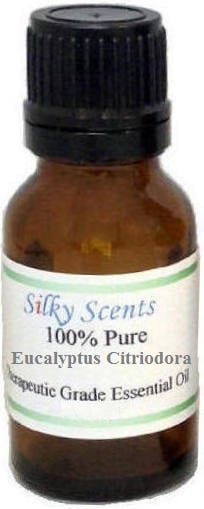 FeaturesEucalyptus Citriodora Essential Oil Blends well with - Basil Sweet Cedarwood Atlas Lemon Vetiver Peppermint and Clary Sage. 100% Pure Essential Oil 100% Pure Therapeutic Grade Capacity - 10 ml. Aromatic DescriptionThe oil has a strong fresh citronella-like odor with a sweet balsamic undertone. Commonly known as lemon scented eucalyptus. Aromatherapy PropertiesThe oil has a strong fresh citronella-like odor with a sweet balsamic undertone. Very effective insect repellent due to a higher citronellal content than citronella.
Buy Now
$15.21

Related Products
$23.04
Litsea Cubeba Pers also known as May Chang Litsea Citrata and Tropical Verbena. Despite these names it is not related to lemon verbena but belongs to the same family as the rosewood or cinnamon tree. It is antidepressant antiseptic astringent insecticide calming and sedative. Very uplifting and stimulating. It is a known tonic to the heart and respiratory system. May be helpful in cases of bronchitis and asthma. Used as an insect repellent. Also used for Acne indigestion. Blends well with May Chang/Cubeb blends well with a lot of different oils "lifting" a blend to make it appear more energetic and lively. Lavender 40/42 Neroli Ylang Ylang I Rose Absolute (Morocco) Sandalwood East Indian Frankincense Geranium Palmarosa Vetiver Fennel Sweet Tea Tree Neroli and Verbena (Vervain) Wild Crafted. Also it blends well with resinous Essential Oils and many others. At the same time it can "anchor" the citrus Essential Oils which tend to be rather fleeting. Capacity - 15 ml.
$11.45
Our proven blend of pure essential oils effectively wards off mosquitos, ticks, black flies, and more. Bug Spray Is DEET-FREE, 100% natural and extremely effective, making it your hiking, camping, and backyard essential!
$34.53
FeaturesSweet spicy balsamic and warm. Opoponax along with Myrrh has been a component of incenses perfumes insect repellents and herbal remedies since biblical times. Opoponax is known as "scented myrrh". It's an excellent fixative for blends or perfumes which use Neroli in the mix. Opoponax has muscle relaxing properties. Due to its drying action is effective against excessive mucous in the lungs. Recommended in cases of bronchitis colds sore throats and coughs. Blends well with - Patchouli Dark Orange Sweet Lemon Frankincense and Sandalwood East Indian. Capacity - 5 ml.