Silky Scents EO94-10ML 100 Percent Pure Therapeutic Grade Eucalyptus Citriodora Essential Oil - 10 ml.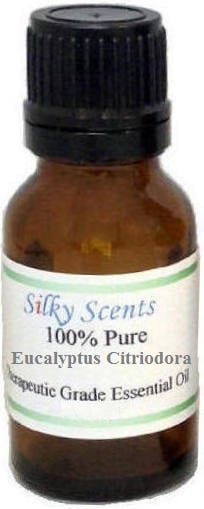 FeaturesEucalyptus Citriodora Essential Oil Blends well with - Basil Sweet Cedarwood Atlas Lemon Vetiver Peppermint and Clary Sage. 100% Pure Essential Oil 100% Pure Therapeutic Grade Capacity - 10 ml. Aromatic DescriptionThe oil has a strong fresh citronella-like odor with a sweet balsamic undertone. Commonly known as lemon scented eucalyptus. Aromatherapy PropertiesThe oil has a strong fresh citronella-like odor with a sweet balsamic undertone. Very effective insect repellent due to a higher citronellal content than citronella.
Buy Now
$15.21

Related Products
$19.95
Keep critters outside where they belong with our natural repellent. The all-natural blend of peppermint and spearmint pure essential oils safely deters small pests such as mice, squirrels, chipmunks, rodents, ants and spiders from entering your home. You'll love how it works and how it smells!
$9.68
Proven 100% effective for 2 hours and 95.8% effective for 3 hoursUses 6 naturally repelling oils at 25% total concentration (much higher than other natural repellents) DEET-freeGMO-freeNon-irritatingAllergy testedGood for children and those with sensitive skinCedar and citronella oils repel ticksSweat and water resistantWont damage clothing or equipmentAwarded Best Gear by National Geographic AdventureCruelty-free
$8.99
Badger's Anti-Bug Shake & Spray is a totally organic & natural bug spray repellent. Using pure essential oils to naturally keep bugs, mosquitoes and insects away from you and your family. Based on our effective and popular Anti-Bug Balm formula, this organic Shake &Spray bug repellent naturally repels insects with the pleasant aroma of Citronella, Rosemary, and Wintergreen essential oils. Badger Shake & Spray contains no DEET, petroleum products, or synthetic chemicals, and has been independently lab tested for efficacy - so it's safe and effective for the whole family! The sturdy, lightweight aluminum bottle is easily recyclable.