Silky Scents EO94-10ML 100 Percent Pure Therapeutic Grade Eucalyptus Citriodora Essential Oil - 10 ml.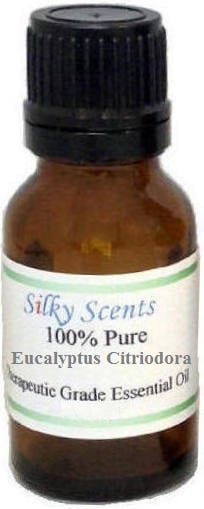 FeaturesEucalyptus Citriodora Essential Oil Blends well with - Basil Sweet Cedarwood Atlas Lemon Vetiver Peppermint and Clary Sage. 100% Pure Essential Oil 100% Pure Therapeutic Grade Capacity - 10 ml. Aromatic DescriptionThe oil has a strong fresh citronella-like odor with a sweet balsamic undertone. Commonly known as lemon scented eucalyptus. Aromatherapy PropertiesThe oil has a strong fresh citronella-like odor with a sweet balsamic undertone. Very effective insect repellent due to a higher citronellal content than citronella.
Buy Now
$15.21

Related Products
$19.18
Bite Shield Refill Cartridges are for use with Koolatrons Bite Shield Portable. Bite Shield Portables all-natural insect repellent produces a pleasant fragrance that Biting Insects hate. The repellent cartridge contains beads made with a naturally occurring essential oil called Geraniol tested and developed by a major Florida University.
$41.49
VERSATILE TIKI TORCHES Planning an outdoor party or celebration? Accentuate any outdoor setting with these Bamboo Tiki Torches. Simply fill the metal canisters with torch oil, light a flame to the wick, and and place them on the patio table to illuminate your surroundings. These are perfect for luaus, beach or tropical themed parties, birthdays, engagements, romantic dinners and more. Place them around your pool, garden, deck or patio to create a luminous ambiance against the night sky. These tiki torches can also function as an insect repellant. Keep pesky mosquitoes and insects away by filling the canisters with an insect-repelling oil like lemon eucalyptus essential oil, citronella, or neem. Follow an ancient Maori tradition by creating boundaries around your outdoor activities with these Bamboo Tiki Torches! PRODUCT FEATURES: ? Sturdy In-Ground Design ? Natural Woven Bamboo Torch ? Metal Canister ? 6 oz Oil Capacity ? Burns for 7 Hours ? Works with most Torch Oils ? Can be Used as Mosquito / Insect Repellant ? Outdoor Use Only DURABLE BUILD Made of one piece natural bamboo shaft, our tiki torches feature sturdy in-ground design. Unlike competitor products that feature only a bamboo finish, imitation bamboo, or a combination of bamboo and another medium, we offer a 100% bamboo product for better functionality and a more authentic feel of the tropics. Made of one whole bamboo piece, it is built to last. Our tiki torch's metal canister holds up to 6 ounces of oil for a burn that lasts up to 7 hours. Simply open the canister, fill with oil, and light up the flame; no changing batteries or recharging needed!
$22.97
24 OZ Ready To Use Deer & Rabbit Repellent Repels Deer Rabbits Moose & Elk Safe For People Pets & Plants No Stink Essential Oil Based Formulas Oil Based Formula Delivers Long Lasting & Rain Resistant Performance Active Ingredients: Cinnamon Oil Clove Oil Putrescent Egg Solids. FeaturesOil-based formula delivers long-lasting & rain resistant performance No stink essential oil-based formulas Safe for people pets and plants! Repels Deer Rabbits Moose & Elk RTU Deer Repellent SpecificationsCapacity: 24 oz