Silky Scents EO94-10ML 100 Percent Pure Therapeutic Grade Eucalyptus Citriodora Essential Oil - 10 ml.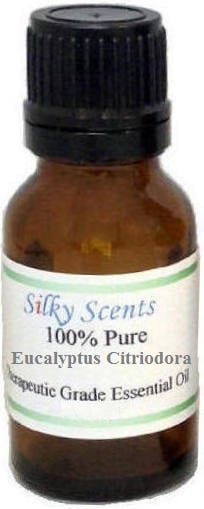 FeaturesEucalyptus Citriodora Essential Oil Blends well with - Basil Sweet Cedarwood Atlas Lemon Vetiver Peppermint and Clary Sage. 100% Pure Essential Oil 100% Pure Therapeutic Grade Capacity - 10 ml. Aromatic DescriptionThe oil has a strong fresh citronella-like odor with a sweet balsamic undertone. Commonly known as lemon scented eucalyptus. Aromatherapy PropertiesThe oil has a strong fresh citronella-like odor with a sweet balsamic undertone. Very effective insect repellent due to a higher citronellal content than citronella.
Buy Now
$14.23

Related Products
$25.15
Lemon Balm is also known by the names Balm Bee Balm Melissa Balm Mint Blue Balm Heart's Delight Cure-all Dropsy Plant Garden Balm and Sweet Balm. The word "Balm" is an abbreviation of Balsam the chief of sweet-smelling oils. The genus Melissa is widely diffused having representatives in Europe Middle Asia and North America. Lemon Balm has the ability to heal wounds ease indigestion relieve menstrual cramps fight (simplex) relax nerves soothe minor wounds & insect stings help prevent sleeplessness and even repel mosquitoes.It may be used effectively in conditions of migraine that are associated with tension neuralgia anxiety induced palpitations and/or insomnia. Lemon Balm has a tonic effect on the heart and circulatory system causing mild vasodilatation of the peripheral vessels thus acting to lower blood pressure. Blends well with Chamomile Maroc Eucalyptus Globulus Lavender French and Rose Otto (Bulgarian). Capacity - 15 ml.
$74.78
Absinthe is traditionally used as a tea, a strong decoction, a smoke or as an alcoholic extract, a liquer. Absinthe is above all a stomach medicine, being useful for indigestion, gastric pain, and lack of appetite, as well as the related problems of heartburn and flatulence, fevers, dysentery, asthma, burns, anemia. It is also said to be helpful for liver insufficiency by stimulating liver and gallbladder secretions, jaundice. Anthelmintic, choleretic, deodorant, emmenagogue, febrifuge, insect repellent, narcotic, stimulant (digestive), tonic, vermifuge. Absinthe blends well with oak moss, jasmine, orange and lavender Pure Absinthe oil is poisonous. Relatively small doses may cause nervous disorders, convulsions, insomnia, nightmares, and other symptoms. Do not take large doses. Contraindicated in pregnancy. If you are pregnant, do not use Absinthe.The 1997 Commission E on Phytotherapy and Herbal Substances of the German Federal Institute for Drugs recommends absinthe for 'Loss of appetite, dyspepsia, biliary dyskinesia. Daily dosage: 2 - 3 g of herb as water infusion. Mode of Administration: Cut herb for infusions and decoctions, herb powder, also extracts and tinctures as liquid or solid forms of medication for oral administration.'Yes, absinthe is an inebriating pipeful - its psychoactive thujones seem to bind to the same receptor as THC. Several species of Artemisia are also smoked for visionary effect by some Indian tribes. Edgar Allen Poe loved the famous alcoholic tincture, and lookit what he did. Although the oil destroys various types of worms, long-term use, due to the mildly toxic thujones, is not recommended. Ordinary Absinthe teas or tinctures, however, contain very little thujone, and are considered safe for short-term use. Absinthe herb is safe enough to be recommended by the German Commission E. This esential oil, however, is thujone-rich, and is not safe for ingestion.Also present in the plant are strong bitter agents known as absinthin and anabsinthin. These stimulate digestive function, including gall bladder function. Grieve's classic 'A Modern Herbal': 'The chief constituent is a volatile oil, of which the herb yields in distillation from 0.5 to 1.0 per cent. It is usually dark green, or sometimes blue in colour, and has a strong odour and bitter, acrid taste. The oil contains thujone (absinthol or tenacetone), thujyl alcohol (both free and combined with acetic, isovalerianic, succine and malic acids), cadinene, phellandrene and pinene. The herb also contains the bitter glucoside absinthin, absinthic acid, together with tannin, resin, starch, nitrate of potash and other salts.' 'Medicinal Action and Uses: Tonic, stomachic, febrifuge, anthelmintic.' 'A nervine tonic, particularly helpful against the falling sickness and for flatulence. It is a good remedy for enfeebled digestion and debility.''A light infusion of the tops of the plant, used fresh, is excellent for all disorders of the stomach, creating an appetite, promoting d
$12.99
Pure Citronella Essential Oil- 15mlBotanical Name: Cymbopogon winterianusCountry of Origin: ChinaExtraction Method: Steam DistilledAromatic Scent: Lemony citrus with wood tonesPerfumery Note: TopHistorical Uses / Properties: Anti-septic, Anti-spasmodic, Bactericidal, Deodorant, Diuretic, Emmenagogue, Febrifuge, Fungicidal, Insecticide, Stomachic, TonicBody Systems Supported: Skin, Immune, NervousBlends well with: Geranium, Bergamot, Lemon, Orange, Cedarwood, Pine, Lavender, Eucalyptus, Peppermint, Ylang YlangChemical type: Aldehydes, Monoterpenes, MonoterpenolsCan be used with children older than: 2 years Uses: Most popular use is as an insect repellent May improve symptoms of depression Has been used to get rid of head lice All Destination Oils are 100% pure, therapeutic grade essential oils.Natural & Pure- Essentials YOU Can Trust Essential oils are incredibly concentrated and powerful so ensure safe use by properly diluting with a carrier oil. Always test for skin sensitivity prior to widespread use. Keep out of eyes, ears, or nose. Keep oils tightly closed and out of the reach of children. Do not ingest essential oils unless guided by a trained professional.The information provided on this website is only our opinion, and is not intended as medical advice or diagnosis. Statements have not been evaluated by the FDA and are not intended to diagnose, cure, treat or prevent any disease. Information on this page should not be interpreted as medical advice, meant for diagnosing illness, or for prescriptive purposes. Always discuss any essential oil use with your doctor or trained aromatherapist. We cannot accept returns on this product.