Silky Scents EO94-10ML 100 Percent Pure Therapeutic Grade Eucalyptus Citriodora Essential Oil - 10 ml.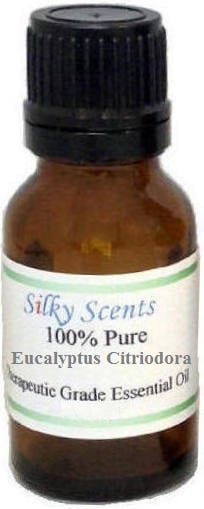 FeaturesEucalyptus Citriodora Essential Oil Blends well with - Basil Sweet Cedarwood Atlas Lemon Vetiver Peppermint and Clary Sage. 100% Pure Essential Oil 100% Pure Therapeutic Grade Capacity - 10 ml. Aromatic DescriptionThe oil has a strong fresh citronella-like odor with a sweet balsamic undertone. Commonly known as lemon scented eucalyptus. Aromatherapy PropertiesThe oil has a strong fresh citronella-like odor with a sweet balsamic undertone. Very effective insect repellent due to a higher citronellal content than citronella.
Buy Now
$14.23

Related Products
$10.52
FeaturesDeco shield wasp yellow jacket repellent refill Lasts 5-7 days Has a pleasant scent of all natural essential oils Use with the deco shield why repellent device Item weight - 0.03 lbs.
$18.80
Repels spiders naturally with a formula of essential oils and plant fiber. Spiders do not like the citronella oil lemongrass oil and rosemary oil blend that is a pleasant smell to humans. Effective and safe for humans pets and the environment. No setup or messy cleanup. Patented pouch design delivers long lasting slow release of proven essential oils. Ideal for use anywhere indoors where there are spiderwebs or spiders such as basements closets or attics. Use with Stay Away pouch pod to prevent children and pets from tampering with pouch. FeaturesMade with citronella lemongrass and rosemary oils Place pouches in basements closets and other places wanting to prevent spiders from entering Emits pleasant scent to people but offensive to spiders SpecificationsCapacity: 2.5 oz
$18.99
Diffuse this Scotch Pine Needle (Pinus Sylvestris) Essential Oil to purify the air, naturally repel insects and increase energy. It may also help clear congestion and ease coughing. With a satisfying scent, this essential oil is just what you need. Great quality at a great price, these essential oils are incredibly concentrated and powerful to help you in multiple ways. Because of their strong concentration, ensure safe use by properly diluting with a carrier oil. Always test for skin sensitivity prior to widespread use. Keep out of eyes, ears, or nose. Keep oils tightly closed and out of the reach of children. Do not ingest essential oils unless guided by a trained professional. The information provided on this website is only our opinion and is not intended as medical advice or diagnosis. Statements have not been evaluated by the FDA and are not intended to diagnose, cure, treat or prevent any disease. Information on this page should not be interpreted as medical advice, meant for diagnosing illness or for prescriptive purposes. Always discuss any essential oil use with your doctor or trained aromatherapist. States: Iowa Country of Origin: Hungary Botanical Name: Pinus Sylvestris Distillation Method: Steam Aromatic Scent: Clean, crisp woody aroma, refreshing Perfumery Note: Middle Uses: Diffuse to purify the air, naturally repels insects, can increase energy, may help clear congestion and ease coughing 100-percent pure, therapeutic quality Material: Oils This product is part of our 'Main Street Revolution' - a partnership between Overstock.com and small businesses around the USA. What is the Main Street Revolution? Welcome to Destination Oils. My name is Kara, and I am the owner of Destination Oils, a small essential oil business located in Iowa. We want to bring great, high quality essential oils and unique aromatherapy jewelry to the online marketplace. Our oils are 100-percent pure, therapeutic grade with no fillers, preservatives, or chemicals. Just oil. The best quality for a great price.