Silky Scents EO94-1OZ-30ML 100 Percent Pure Therapeutic Grade Eucalyptus Citriodora Essential Oil - 30 ml.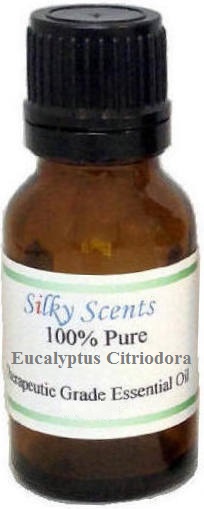 FeaturesEucalyptus Citriodora Essential Oil Blends well with - Basil Sweet Cedarwood Atlas Lemon Vetiver Peppermint and Clary Sage. 100% Pure Essential Oil 100% Pure Therapeutic Grade Capacity - 30 ml. Aromatic DescriptionThe oil has a strong fresh citronella-like odor with a sweet balsamic undertone. Commonly known as lemon scented eucalyptus. Aromatherapy PropertiesThe oil has a strong fresh citronella-like odor with a sweet balsamic undertone. Very effective insect repellent due to a higher citronellal content than citronella.
Buy Now
$33.28

Related Products
$20.74
Long-lasting and potent Buzz Away Extreme repels mosquitoes gnats blackflies and no-see-ums for up to 4-8 hours. It even provides protection from ticks for 2 hours. Features4-8 Hour Protection Repels Mosquitoes Gnats Blackflies and Ticks Sweat Proof and Waterproof Pleasant Aroma IngredientsSoybean Oil (3%) Geranium Oil (6%) Castor Oil (8%). InPurified Water Coconut Oil Glycerin Citric Acid Lecithin Sodium Bicarbonate Citric Acid Benzoic Acid. In A Blend Of Essential Oils Of Wintergreen Citronella Cedarwood Peppermint And Lemongrass (Patented Base Bite Blocker Formula). DisclaimerThese statements have not been evaluated by the FDA. These products are not intended to diagnose treat cure or prevent any disease. SpecificationsVolume: 2 fl oz Dimension: 6 H x 6 W x 6 L Weight: 0.23 lbs
$22.91
24 OZ Ready To Use Animal Repellent Repels Rabbits Skunks Groundhogs Squirrels & Other Small Herbivores Safe For People Pets & Plants No Stink Essential Oil Based Formulas Oil Based Formula Delivers Long Lasting & Rain Resistant Performance Active Ingredients: Rosemary Oil Peppermint Oil Cinnamon Oil Putrescent Egg Solids. FeaturesOil-based formula delivers long-lasting & rain resistant performance No stink essential oil-based formulas Safe for people pets and plants! Repels Deer Rabbits Moose & Elk RTU Animal Repellent SpecificationsCapacity: 24 oz
$10.49
The all natural Deet-free bug repellent. Buzz Away is the most effective all-natural insect repellent available. Independent lab tests prove that Buzz Away keeps the bugs at bay for hours, and because Buzz Away is 100% Deet-free and natural, it's the best choice for your whole family. The American Academy of Pediatrics recommends against the use of Deet on children. Why risk using deet products when our effective natural repellent does the job. Made from pure, natural essential oils - cedarwood, citronella, peppermint, eucalyptus and lemongrass. Buzz Away smells terrific.