Silky Scents EO94-1OZ-30ML 100 Percent Pure Therapeutic Grade Eucalyptus Citriodora Essential Oil - 30 ml.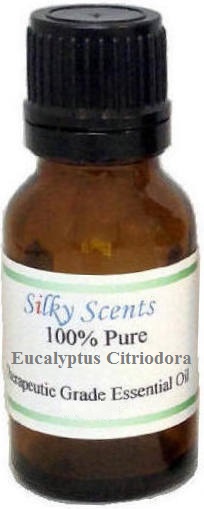 FeaturesEucalyptus Citriodora Essential Oil Blends well with - Basil Sweet Cedarwood Atlas Lemon Vetiver Peppermint and Clary Sage. 100% Pure Essential Oil 100% Pure Therapeutic Grade Capacity - 30 ml. Aromatic DescriptionThe oil has a strong fresh citronella-like odor with a sweet balsamic undertone. Commonly known as lemon scented eucalyptus. Aromatherapy PropertiesThe oil has a strong fresh citronella-like odor with a sweet balsamic undertone. Very effective insect repellent due to a higher citronellal content than citronella.
Buy Now
$33.28

Related Products
$36.27
Aromatic Description: Herbaceous and floral with a distinct camphoraceous top note. Aromatherapy Properties: (Uses). Tarchonanthus camphoratus (known as Camphor Bush for its scent or Leleshwa in Kenya) is a shrub or small tree native to eastern and Southern Africa and Arabia. The Leleshwa can reach up to 6 meters in height. The twigs and younger stems are white-felted as are the undersides of the leaves. The upper leaf surface is dark olive-green. Flowers are usually present from December to May (in South Africa) with cream colored panicles on a discoid head. Male flowering heads have several flowers whilst the female has only a few. The fruit is a dense and woolly. Leleshwa is effective in treating Head lice itchy scalp dandruff disinfectant insect repellent fungal infections relaxation (relieves headaches). It is Antiseptic Skin leanser and and Eco-Friendly Disinfection. It is also an excellent addition to Foot & Leg Creams and Lotions. Blends well with: Lavender 40/42 Geranium Sandalwood East Indian Frankincense Cedarwood Atlas Ginger Clove Bud and Pine White. 100% Pure Essential Oil Capacity - 10 ml.
$29.49
VERSATILE TIKI TORCHES Planning an outdoor party or celebration? Accentuate any outdoor setting with these Bamboo Tiki Torches. Simply fill the metal canisters with torch oil, light a flame to the wick, and and place them on the patio table to illuminate your surroundings. These are perfect for luaus, beach or tropical themed parties, birthdays, engagements, romantic dinners and more. Place them around your pool, garden, deck or patio to create a luminous ambiance against the night sky. These tiki torches can also function as an insect repellant. Keep pesky mosquitoes and insects away by filling the canisters with an insect-repelling oil like lemon eucalyptus essential oil, citronella, or neem. Follow an ancient Maori tradition by creating boundaries around your outdoor activities with these Bamboo Tiki Torches! PRODUCT FEATURES: ? Sturdy In-Ground Design ? Natural Woven Bamboo Torch ? Metal Canister ? 6 oz Oil Capacity ? Burns for 7 Hours ? Works with most Torch Oils ? Can be Used as Mosquito / Insect Repellant ? Outdoor Use Only DURABLE BUILD Made of one piece natural bamboo shaft, our tiki torches feature sturdy in-ground design. Unlike competitor products that feature only a bamboo finish, imitation bamboo, or a combination of bamboo and another medium, we offer a 100% bamboo product for better functionality and a more authentic feel of the tropics. Made of one whole bamboo piece, it is built to last. Our tiki torch's metal canister holds up to 6 ounces of oil for a burn that lasts up to 7 hours. Simply open the canister, fill with oil, and light up the flame; no changing batteries or recharging needed!
$18.99
Diffuse this Scotch Pine Needle (Pinus Sylvestris) Essential Oil to purify the air, naturally repel insects and increase energy. It may also help clear congestion and ease coughing. With a satisfying scent, this essential oil is just what you need. Great quality at a great price, these essential oils are incredibly concentrated and powerful to help you in multiple ways. Because of their strong concentration, ensure safe use by properly diluting with a carrier oil. Always test for skin sensitivity prior to widespread use. Keep out of eyes, ears, or nose. Keep oils tightly closed and out of the reach of children. Do not ingest essential oils unless guided by a trained professional. The information provided on this website is only our opinion and is not intended as medical advice or diagnosis. Statements have not been evaluated by the FDA and are not intended to diagnose, cure, treat or prevent any disease. Information on this page should not be interpreted as medical advice, meant for diagnosing illness or for prescriptive purposes. Always discuss any essential oil use with your doctor or trained aromatherapist. Features: States: Iowa Country of Origin: Hungary Botanical Name: Pinus Sylvestris Distillation Method: Steam Aromatic Scent: Clean, crisp woody aroma, refreshing Perfumery Note: Middle Uses: Diffuse to purify the air, naturally repels insects, can increase energy, may help clear congestion and ease coughing 100-percent pure, therapeutic quality Material: Oils About the Manufacturer: Welcome to Destination Oils. My name is Kara, and I am the owner of Destination Oils, a small essential oil business located in Iowa. We want to bring great, high quality essential oils and unique aromatherapy jewelry to the online marketplace. Our oils are 100-percent pure, therapeutic grade with no fillers, preservatives, or chemicals. Just oil. The best quality for a great price.