Silky Scents EO94-1OZ-30ML 100 Percent Pure Therapeutic Grade Eucalyptus Citriodora Essential Oil - 30 ml.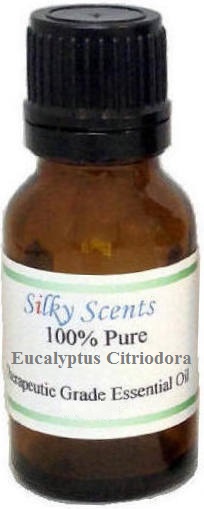 FeaturesEucalyptus Citriodora Essential Oil Blends well with - Basil Sweet Cedarwood Atlas Lemon Vetiver Peppermint and Clary Sage. 100% Pure Essential Oil 100% Pure Therapeutic Grade Capacity - 30 ml. Aromatic DescriptionThe oil has a strong fresh citronella-like odor with a sweet balsamic undertone. Commonly known as lemon scented eucalyptus. Aromatherapy PropertiesThe oil has a strong fresh citronella-like odor with a sweet balsamic undertone. Very effective insect repellent due to a higher citronellal content than citronella.
Buy Now
$33.28

Related Products
$12.17
Natural Bug Away Spray was Created with intentions to offer a Chemical Free Alternative to Repelling Biting Insects. This Spray contains Pure High Quality Essential Oils including Citronella, Eucalyptus, Lavender, Tea Tree, Lemongrass, Geranium, Clove, Patchouli in Distilled Water. No Additives. No Chemicals. No Preservatives. Insects such as Mosquitoes, Flies, Fleas, Ticks and other Insects are Naturally Repelled by these Essential Oils*. Spray onto Clothes/Body when Outdoors. Positive Feedback from Customers report that it Really Works and that they feel better about using this instead of products containing potentially harmful Chemicals.This Product is Packaged in PET plastic blue spray bottles for convenience of traveling and outdoor use. PET does not contain BPA or any estrogen-like chemicals. It is not known to leach any chemicals that are suspected of causing cancer or disrupting hormones. PET is excellent for any food-related products and Essential Oil products and is FDA, NSF, and USDA approved for direct contact. (*To learn about Therapeutic Properties, Safety, Uses and Benefits of Essential Oils please refer to Educational Books and Online Resources such as NAHA and AromaWeb for Information - Enchanted Essences makes no claims to treat or cure any Medical Condition with Essential Oils or our Products containing Essential Oils). About Enchanted Essences: Founded by a Certified Aromatherapy Practitioner in 2002 with the intentions to promote the Benefits of using Essential Oils in Convenient, Simple, and Effective ways. Our Essential Oils are extracted from plants grown free of pesticides or Organically Grown. Obtained from Environmentally Conscious Farmers/Distillers all around the World. These Quality Essential Oils are used in all of Enchanted Essences Products. Our Products are individually Handmade by a Certified Aromatherapy Practitioner. Ingredients are High Quality, Organic,No Synthetic Fragrance Oils, No Chemicals, No Preservatives or Additives.
$19.95
Keep critters outside where they belong with our natural repellent. The all-natural blend of peppermint and spearmint pure essential oils safely deters small pests such as mice, squirrels, chipmunks, rodents, ants and spiders from entering your home. You'll love how it works and how it smells!
$19.64
24 OZ Ready To Use Animal Repellent Repels Rabbits Skunks Groundhogs Squirrels & Other Small Herbivores Safe For People Pets & Plants No Stink Essential Oil Based Formulas Oil Based Formula Delivers Long Lasting & Rain Resistant Performance Active Ingredients: Rosemary Oil Peppermint Oil Cinnamon Oil Putrescent Egg Solids. FeaturesOil-based formula delivers long-lasting & rain resistant performance No stink essential oil-based formulas Safe for people pets and plants! Repels Deer Rabbits Moose & Elk RTU Animal Repellent SpecificationsCapacity: 24 oz