Silky Scents EO94-5ML 100 Percent Pure Therapeutic Grade Eucalyptus Citriodora Essential Oil - 5 ml.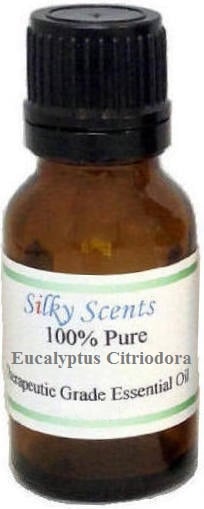 FeaturesEucalyptus Citriodora Essential Oil Blends well with - Basil Sweet Cedarwood Atlas Lemon Vetiver Peppermint and Clary Sage. 100% Pure Essential Oil 100% Pure Therapeutic Grade Capacity - 5 ml. Aromatic DescriptionThe oil has a strong fresh citronella-like odor with a sweet balsamic undertone. Commonly known as lemon scented eucalyptus. Aromatherapy PropertiesThe oil has a strong fresh citronella-like odor with a sweet balsamic undertone. Very effective insect repellent due to a higher citronellal content than citronella.
Buy Now
$11.19

Related Products
$18.93
Aromatherapy Properties: (Uses) Pennyroyal should be used with extreme caution. Its scent is herbaceous and minty. It is a well known emmenagogue; do not use during pregnancy. Has some use in menstrual difficulties often used to bring on menstruation. It's valuable in repelling insects on animals. Can be diluted either in alcohol or vinegar as a rub to kill fleas. Pennyroyal should not be used in aromatherapy treatments on humans as it is considered to be an oral toxin and uterine abortive. Many aromatherapists will not use this oil. Blends well with: Cedarwood Atlas and Peppermint. Pennyroyal also blends well with Citronella Eucalyptus Globulus Lemon and other insect repelling oils. Features100% Pure Essential Oil Raw Material - Pennyroyal Botanical Name - Mentha Pulegium Therapeutic Grade Capacity - 15 ml.
$11.85
Clove bud oil has a powerful, spicy-fruity, warm, sweet aroma. It is used in mouthwash, toothpaste, chewing gum and dental preparations. Clove oil is highly irritating to the skin and should be handled with caution. Aromatherapy benefits: warming, comforting.Clove oil is very potent oil and should be used with care. Do not use in massaging or in baths, it may irritate the skin. It must be avoided during pregnancy.Clove oil (even the fine oil extracted from the bud, rather than the leaves and twigs) can cause dermatitis and irritate the skin and mucus membranes.Clove leaf oil can be used for acne bruises, burns and cuts, keeping infection at bay. As a pain reliever it helps with toothache, mouth sores, rheumatism and arthritis.It is beneficial to the digestive system, effective against vomiting, diarrhea, flatulence, spasms and parasites, as well as bad breath.Clove oil is valuable at relieving respiratory problems, like bronchitis, asthma and tuberculosis. Their disinfecting property is useful in cases of infectious diseases.Placing a few drops of clove oil on a cotton ball and then placing the cotton ball in a linen cupboard will not only fragrance the cupboard, but may help to keep fish moths at bay.Clove oil is useful for its disinfecting properties, the relieving of pain, especially toothache, arthritis and rheumatism, and its effectiveness on the digestion system.It also has value for skin problems and as an insect repellent.In vapor therapy Clove oil can be useful for bronchitis and dizzinessClove oil can be used in a blended massage oil to assist with diarrhea, bronchitis, chills, colds, muscular numbness, spasms, rheumatism and arthritis. For toothache the outer jaw can be massage.Use a low dilution of less than 1%.Clove oil can be used distilled as a mouthwash for toothache.Clove oil blends well with: Basil, Benzoin, Cinnamon, Lavender, Ginger, Sandalwood and Clary Sage.Essential and resin oils are volatile, fragrant materials extracted from the root, bark, wood, seed, fruit, leaf or flower of a single plant. Essential oils contain the odor, taste and medicinal properties of the plant itself, but in very concentrated form, with no base oil, alcohol, water or dilutants added. Steam distillation and cold pressing are used to extract the essential oil from the plant. Starwest Essential Oils are guaranteed to be 100% pure and undiluted. The distillation process occurs either at the site where the plants are grown or at a distillery. Each oil is tested for purity and strength using the gas chromatography method. Packaged in glass amber bottles to preserve the oils, the 1/3 ounce size has a fitted dropper insert and a tamper-evident, child-proof lid. The larger items are in amber glass or PET gallon containers, depending on the product.Starwest's pure essential oils are suitable for use in aromatherapy, cosmetic preparation, healing and body care, potpourris and more. Essential oils are very potent and should always be used sparingly and in co
$6.85
A 100% natural handmade product to use topically on any itchy area. Many of the herbs used in the product are organically grown on the farm at TwinStar Herbals in Cummington, MA. The products are formulated and made by Lisa, a certified herbalist on the farm.