Silky Scents EO94-5ML 100 Percent Pure Therapeutic Grade Eucalyptus Citriodora Essential Oil - 5 ml.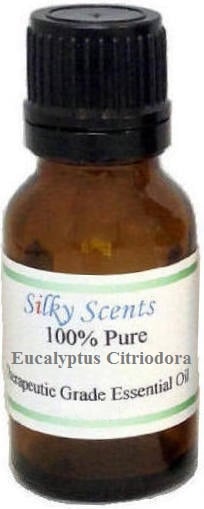 FeaturesEucalyptus Citriodora Essential Oil Blends well with - Basil Sweet Cedarwood Atlas Lemon Vetiver Peppermint and Clary Sage. 100% Pure Essential Oil 100% Pure Therapeutic Grade Capacity - 5 ml. Aromatic DescriptionThe oil has a strong fresh citronella-like odor with a sweet balsamic undertone. Commonly known as lemon scented eucalyptus. Aromatherapy PropertiesThe oil has a strong fresh citronella-like odor with a sweet balsamic undertone. Very effective insect repellent due to a higher citronellal content than citronella.
Buy Now
$11.19

Related Products
$18.80
Repels spiders naturally with a formula of essential oils and plant fiber. Spiders do not like the citronella oil lemongrass oil and rosemary oil blend that is a pleasant smell to humans. Effective and safe for humans pets and the environment. No setup or messy cleanup. Patented pouch design delivers long lasting slow release of proven essential oils. Ideal for use anywhere indoors where there are spiderwebs or spiders such as basements closets or attics. Use with Stay Away pouch pod to prevent children and pets from tampering with pouch. FeaturesMade with citronella lemongrass and rosemary oils Place pouches in basements closets and other places wanting to prevent spiders from entering Emits pleasant scent to people but offensive to spiders SpecificationsCapacity: 2.5 oz
$56.68
FeaturesSweet spicy balsamic and warm. Opoponax along with Myrrh has been a component of incenses perfumes insect repellents and herbal remedies since biblical times. Opoponax is known as "scented myrrh". It's an excellent fixative for blends or perfumes which use Neroli in the mix. Opoponax has muscle relaxing properties. Due to its drying action is effective against excessive mucous in the lungs. Recommended in cases of bronchitis colds sore throats and coughs. Blends well with - Patchouli Dark Orange Sweet Lemon Frankincense and Sandalwood East Indian. Capacity - 15 ml.
$3.56
The essence is warm, woody and slightly smoky. Not a major oil but a very interesting one. It has a very interesting note which is useful in compounding. It is not encountered much in aromatherapy but it deserves a place in the sun. It always brings back pleasant memories and a comfortable feeling, like the smell of a cedar cabin, and heirloom cedar chest or just the smell of the fresh mountain air in the texas hill country. The oil is steamed out of the dead cedarwood found on the local ranches from previous clearing operations for livestock grazing. Cedar oil makes a good insect repellant. Texas cattle fences are built with cedar posts which resist decay and pest infestation for 50 years or more. Aromatherapy benefits: centering, supportive, strengthening. Essential, absolute and resin oils are volatile, fragrant materials extracted from the root, bark, wood, seed, fruit, leaf or flower of a single plant. The plants used to produce these oils are grown on certified organic fields and are third-party certified by Quality Assurance International; no synthetic chemicals are used in growing or processing them. Steam distillation and cold pressing are used to extract the essential oil from the plant. Essential oils and absolutes are very potent and should always be used sparingly and in conjunction with a reliable reference. Essential oils contain the odor, taste and medicinal properties of the plant itself, but in very concentrated form, with no base oil, alcohol, water or dilutants added.