Silky Scents EO94-5ML 100 Percent Pure Therapeutic Grade Eucalyptus Citriodora Essential Oil - 5 ml.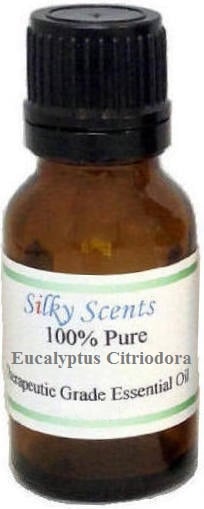 FeaturesEucalyptus Citriodora Essential Oil Blends well with - Basil Sweet Cedarwood Atlas Lemon Vetiver Peppermint and Clary Sage. 100% Pure Essential Oil 100% Pure Therapeutic Grade Capacity - 5 ml. Aromatic DescriptionThe oil has a strong fresh citronella-like odor with a sweet balsamic undertone. Commonly known as lemon scented eucalyptus. Aromatherapy PropertiesThe oil has a strong fresh citronella-like odor with a sweet balsamic undertone. Very effective insect repellent due to a higher citronellal content than citronella.
Buy Now
$12.19

Related Products
$18.99
Diffuse this Scotch Pine Needle (Pinus Sylvestris) Essential Oil to purify the air, naturally repel insects and increase energy. It may also help clear congestion and ease coughing. With a satisfying scent, this essential oil is just what you need. Great quality at a great price, these essential oils are incredibly concentrated and powerful to help you in multiple ways. Because of their strong concentration, ensure safe use by properly diluting with a carrier oil. Always test for skin sensitivity prior to widespread use. Keep out of eyes, ears, or nose. Keep oils tightly closed and out of the reach of children. Do not ingest essential oils unless guided by a trained professional. The information provided on this website is only our opinion and is not intended as medical advice or diagnosis. Statements have not been evaluated by the FDA and are not intended to diagnose, cure, treat or prevent any disease. Information on this page should not be interpreted as medical advice, meant for diagnosing illness or for prescriptive purposes. Always discuss any essential oil use with your doctor or trained aromatherapist. Features: States: Iowa Country of Origin: Hungary Botanical Name: Pinus Sylvestris Distillation Method: Steam Aromatic Scent: Clean, crisp woody aroma, refreshing Perfumery Note: Middle Uses: Diffuse to purify the air, naturally repels insects, can increase energy, may help clear congestion and ease coughing 100-percent pure, therapeutic quality Material: Oils About the Manufacturer: Welcome to Destination Oils. My name is Kara, and I am the owner of Destination Oils, a small essential oil business located in Iowa. We want to bring great, high quality essential oils and unique aromatherapy jewelry to the online marketplace. Our oils are 100-percent pure, therapeutic grade with no fillers, preservatives, or chemicals. Just oil. The best quality for a great price.
$22.91
24 OZ Ready To Use Animal Repellent Repels Rabbits Skunks Groundhogs Squirrels & Other Small Herbivores Safe For People Pets & Plants No Stink Essential Oil Based Formulas Oil Based Formula Delivers Long Lasting & Rain Resistant Performance Active Ingredients: Rosemary Oil Peppermint Oil Cinnamon Oil Putrescent Egg Solids. FeaturesOil-based formula delivers long-lasting & rain resistant performance No stink essential oil-based formulas Safe for people pets and plants! Repels Deer Rabbits Moose & Elk RTU Animal Repellent SpecificationsCapacity: 24 oz
$23.86
Litsea Cubeba Pers also known as May Chang Litsea Citrata and Tropical Verbena. Despite these names it is not related to lemon verbena but belongs to the same family as the rosewood or cinnamon tree. It is antidepressant antiseptic astringent insecticide calming and sedative. Very uplifting and stimulating. It is a known tonic to the heart and respiratory system. May be helpful in cases of bronchitis and asthma. Used as an insect repellent. Also used for Acne indigestion. Blends well with May Chang/Cubeb blends well with a lot of different oils "lifting" a blend to make it appear more energetic and lively. Lavender 40/42 Neroli Ylang Ylang I Rose Absolute (Morocco) Sandalwood East Indian Frankincense Geranium Palmarosa Vetiver Fennel Sweet Tea Tree Neroli and Verbena (Vervain) Wild Crafted. Also it blends well with resinous Essential Oils and many others. At the same time it can "anchor" the citrus Essential Oils which tend to be rather fleeting. Capacity - 10 ml.