Jason Natural Products 0349803 Vitamin E Pure Beauty Oil - 14000 IU - 1 fl oz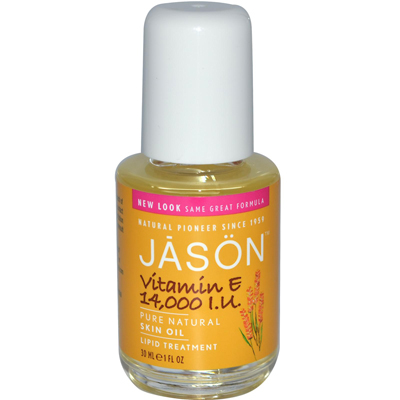 Vitamin E Oil 14000IU softens hydrates and oxygenates the skin enhances complexion facilitates the healing of scars and reduces the appearance of stretch marks wrinkles and fine lines. 14000 I.U. Vitamin E Beauty OilRich and moisture balanced to save you from common dry skin problems. Size: 1 oz. Ingredients: Pure Vitamin E Oil Sunflower Oil Rice Bran Oil and Avocado Oil. Recommendations: Use on face arms legs and body as often as necessary. Warnings: Not for internal use.
Buy Now
$16.98

Related Products
$6.89
Ingredients: Vitamin E oil (Tocopherol T-50) with NO additives. Description: T-50 Vitamin E is a golden yellow to reddish, viscous oil having a slight characteristic vegetable oil aroma. It may oxidize upon exposure to air and light, resulting in gradual darkening. It may add a tint of color to skincare formulations. Vitamin E plays a crucial role in protecting skin cells and membranes from environmental damage. This protection extends to preventing damage to the skin from UV rays, pollutants and the effects of aging. The d-alpha-tocopherol also protects against lipid peroxidation, which helps to reduce the appearance of wrinkles. This form of Vitamin E is GMO-free and gluten-free. For use in cosmetics, Vitamin E T-50 is a natural antioxidant with a full spectrum of tocopherols. Common Uses: Vitamin E added to lotions, creams, and other skin care products, as well as taken orally, plays a role in the anti-aging of skin. It helps skin look younger by reducing the appearance of fine lines and wrinkles. Also, free radicals are believed to play an important role in skin aging and therefore the antioxidant activity is quite valuable for this skin problem. Consistency: Typical and Characteristic of Carrier Oils. Cautions: Keep tightly closed in a cool, dark, dry, area as Vitamin E is subjected to oxidization. Your item(s) will be shipped the same business day or next business day of confirmation of payment if received by 3:00 pm PST. (not including weekends or holidays). When you receive your item and are pleased with our transaction, please let us know by leaving positive feedback, we will do the same for you in return. Look forward to do business with you, H&B OILS CENTER Co.