Jason Natural Products 0349803 Vitamin E Pure Beauty Oil - 14000 IU - 1 fl oz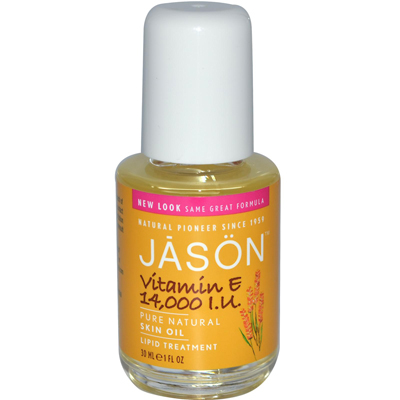 Vitamin E Oil 14000IU softens hydrates and oxygenates the skin enhances complexion facilitates the healing of scars and reduces the appearance of stretch marks wrinkles and fine lines. 14000 I.U. Vitamin E Beauty OilRich and moisture balanced to save you from common dry skin problems. Size: 1 oz. Ingredients: Pure Vitamin E Oil Sunflower Oil Rice Bran Oil and Avocado Oil. Recommendations: Use on face arms legs and body as often as necessary. Warnings: Not for internal use.
Buy Now
$15.74

Related Products
$26.97
Vitamin E is a proven commodity, a versatile antioxidant providing a multitude of advantages, scientifically proven to carry benefits. These include: Skin hydration, stretch mark and wrinkle reduction, hair strengthening, cuticle protection, and more! This Vitamin E Oil however has 2 key unique characteristics: 1) Natural vs Synthetic Synthetic Vitamin E Oil, commonly seen on the market, is derived from petroleum products while natural vitamin e is plant-based. - Significantly more potent - Bioavailable, as it is easily absorbed and used by the body - Excreted slower, as synthetic vitamin e is foreign to the body causing it to be rejected much quicker. 2) 100% Natural Sweet Almond Oil Carrier Vitamin E Oil in a completely pure form is very thick and viscous making application and absorption poor. To compensate we have used Natural Sweet Almond Oil only (no fillers) as the carrier improving the viscosity and application! The oil absorbs quickly preventing any need to worry about an oily look or feel to the skin! Sweet Almond Oil is also rich in Vitamin E making it a great complementary oil. It carries it's own set of benefits: - Strengthening hair (rich in Omega-6) - Reducing dark circles - Counter-acts extreme skin dryness. The bottle itself even has a child proof seal to keep things clean, and a light resistant bottle to reduce oxidation. It is designed to be used at any time of the day, and deliver premium results your skin will thank you for! We believe in the product and offer a 100% Money Back Guarantee! So try it today during our OPENING BLOWOUT SALE! Click ADD TO CART up top and take advantage of all it's benefits right away!
$12.59
Jason Vitamin E Pure Natural Skin Oil Maximum Strength Description: Maximum Strength New Look Same Great Formula Pure Natural Skin Oil Helps Fight Lines and Wrinkles JASON Vitamin E oil 45,000 IU is a Maximum Strength facial treatment that combines Vitamin E Oil with our exclusive blend of 7 essential natural oils, including Black Current, Evening Primrose, Macadamia Nut and Borage. Use at night to help reduce the appearance of fine lines and wrinkles. Disclaimer These statements have not been evaluated by the FDA. These products are not intended to diagnose, treat, cure, or prevent any disease.
$59.95
Best Beauty Vitamin E Oil 12Complex Serum is a combination of nature's powerhouse carrier oils, all with their own, unique, attributes and skin benefits, to create an absolutely fabulous treatment oil for all over use. Especially suited to anti-aging skin care, this beauty treatment combination of oils is the absolute best. This is a very powerful oil and it will only take a couple of drops for maximum benefit. If you aren't crazy about oils, on your skin, try adding a couple of drops to your palm and then add your favorite moisturizer, and mix them, to turn your moisturizer into a beauty treatment rather than just a moisturizer or apply to damp skin and watch the oil sink right into your thirsty skin. APPLICATIONS - Suitable for all skin types Target Anti-Aging Benefit Vitamin E, Argan Oil(Softening, Restructuring). Cranberry Seed Oil (Tightening, Conditioning). Carrot Seed Oil (Moisturizing, Protective). Borage Seed Oil (Firming, Regenerative). Rosehip Seed Oil (Scars, Tightening, Wrinkles). Sea Buckthorn Oil (Protective, Restructuring). Olive Squalane (Healing, Softening, Regenerative) Sesame Seed Oil (Protective, Restructuring). Meadowfoam Seed Oil (Moisturizing, Supportive) 100% Manufacturer Guarantee If you are not completely happy with your purchase, please contact us for a full refund. TAGs : vitamin e oil, facial oils, vitamin e serum, vitamin e for face, vitamin e oil for skin, natural vitamin e oil, vitamin e oil for scars, Anti aging, Skin Treatment, Moisturizing, Wrinkle Defence, Skin Restoration.