Carrier Oil Apricot Kernel, 4 oz, Nature's Alchemy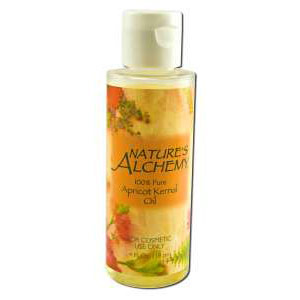 Buy Now
$6.68

Related Products
$16.99
Apricot oil, made from apricot kernels, is a light, pale-yellow liquid with a slight nutty fragrance. Benefits of Apricot Oil For the Skin ? Massages- It is easily absorbed into the skin, so it won't leave people feeling greasy afterwards. ? Protects the skin from harmful UV rays, while reversing the damage that may have already occurred. ? Removes impurities and dead skin cells. ? Moisturizer to soften and smooth the skin. ? Reduces skin irritation from dry skin. ? Helps reduce inflammation, itching and redness from eczema. ? Substitute for Hand and Foot Cream. ? Reduces wrinkles and fine lines. For the Hair ? Helps restore shine to damaged and chemically treated hair. ? Helps cure dry and flaky scalp. Our 'No Worries' Guarantee We are so confidant that you will love Renewalize® Apricot Oil, we guarantee it. Try the apricot kernel oil for yourself and if you do not see any improvements to your skin or hair after trying the entire bottle, simply contact us for a full refund.
$12.07
Wholesale price - Hobe Labs Apricot Kernel Oil Description: - - Hobe Naturals Apricot Kernel Oil - 100% Pure with Viatmin E - Nourishing Humectant for Sensitive Skin - - Apricot Kernel Oil is a light, highly unsaturated moisturizer that nourishes dry or sensitive skin. Leaves a velvety skin feel. High in natural fatty acids that act as effective humectants. Excellent for scaly or inflamed patches of skin. Free Of Synthetics, oil fillers, fragrance or coloring agents, animal testing. Disclaimer These statements have not been evaluated by the FDA. These products are not intended to diagnose, treat, cure, or prevent any disease. - Hobe Labs Apricot Kernel Oil Directions - Lightly massage Apricot Kernel Oil into skin ares requiring deep moisturization. Can also be used in a base for premium massage oils or aromatherapy products. - Ingredients: 100% pure apricot kern oil, natural vitamin E. Warnings For external use only. Store tightly sealed in a cool, dry place. - Selling Unit: Each - Pack: 1 - Size: 4 FLUID OUNCES
$8.50
Botanical Name: Prunus armeniaca Extraction Method: Cold Pressed Ingredients: 100% Pure Apricot Kernel Oil Apricot kernel oil is a light oil that is similar to almond oil but more suitable for sensitive and prematurely aged skin. Our Apricot Kernel oil is a deep gold color and carries a very slight odor. The skin absorbs it well, which ensures that its medicinal properties transfer in full. It contains rich doses of Vitamin A and contains the same number of fatty acids as almond oil. Apricot kernel oil is a common component in body care products, including soap, massage and bath oils, massage bars and bath bombs. It is also commonly used in aromatherapy and massage therapy. Suitable for food consumption and cosmetic use.