Pure & Natural Skin Care Oil, Apricot Kernel Oil, 4 fl oz from Aura Cacia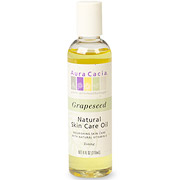 Buy Now
$3.83

Related Products
$14.50
Buy C.O. Bigelow Perfume Essential Oils - Base Oils (also called Carrier Oils) are vegetable oils that are used to dilute essential oils so that they can be applied safely to the skin. Combine these with your favorite essential oils to create a personal unique fragrance.
$13.95
The Perfect Apricot Kernel Oil For Your Skin Your search for the best Apricot Kernel oil is finally over! When you purchase from us today, here's just some of the things you can look forward to... A natural moisturizer that your skin will love. The oil is traditionally used to: ?Moisturize the skin ?Nourish the skin ?Reducing dark circles under the eye ?Moisturize the scalp ?As a massage oil Our pure Apricot Kernel oil is perfect as a moisturizer for your skin. It will easily absorb into the skin and keep it moisturized without leaving the skin oily. Used under the eye it will also help reducing dark circles and the appearance of wrinkles and fine lines under the eye. Start using a natural moisturizer your skin will love. We stand behind the quality of our Apricot Kernel oil. When you buy today you are protected by a 60-day money back guarantee. No questions asked. Why not order two bottles right away? Use it for yourself or give one bottle to a friend.
$10.99
100% Pure Moisturizing Oil Softens Fine Lines Treats Dry Hair Condition: Prematurely aged skin, irritated skin, or need for an all natural dry hair treatment. Solution: 100% Pure Apricot Oil is a rejuvenating natural oil that's ideal for softening fine lines and restoring a healthy glow to skin. Rich in essential fatty acids, this gentle oil has excellent restorative properties that promote soft, radiant hair and help to soothe irritated skin. Similar in structure and function to almond extracts, oils derived from apricot kernels will naturally nourish and moisturize your skin. NOW® Solutions is the next step in the evolution of personal care products. The comprehensive natural line encompasses anti-aging moisturizers and serums, bath and body gels, shampoos and conditioners, oral care, skin care, and essential oils, all of which are formulated with the finest functional ingredients from around the world. NOW® Solutions products avoid harsh chemicals and synthetic ingredients in all of our formulations, to provide a more natural product line.