Weleda Arnica Massage Oil 3.4 fl oz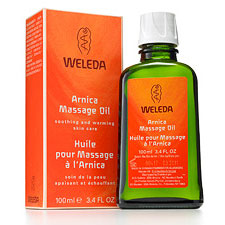 Buy Now
$22.35

Related Products
$12.99
Condition: Sore, achy muscles. Solution: Arnica Warming Relief Massage Oil captures the natural soothing essence of Arnica to provide immediate warmth and relief to tired, overworked muscles. Set in a base of antioxidant-rich Olive Oil, this deep-penetrating massage oil contains potent Arnica, in addition to a perfect collection of essential oils and other natural extracts. Arnica Warming Relief Massage Oil is perfect after a busy day or a strenuous workout, and can also be used as a daily skin softener.
$29.99
HIGH ALTITUDE ORGANICS TM Arnica Montana Oil Extract is 100% Pure and Potent. The active ingredients from Arnica Montana flowers, wild crafted in Germany, are uniquely extracted into organic Soja Hispida oil. The extraction of the Arinca is a long and costly 3-week process. Our Arnica Oil Extract is effectively used for relieving pain associated with muscle aches, sprains, and proven to soothe sore muscles. It is beneficial for treating bruises and insect bites, and for reducing inflammation. Arnica oil is used to treat swelling due to sprains and fractures. Arnica may be beneficial for treating acne, boils, cuts, scrapes and rashes, dandruff. Less than 1% of Vitamin E and Rosemary Extract are added to prevent rancidity...Enjoy... NOTE: Our Arnica Oil Extract is produced every week and comes to you fresh from production. This is NOT a Essential/Volatile oil (you will not find essential oil of Arinca on the market, as it is toxic). Out Arnica oil extract is the SAFE alternative.
$9.15
With valuable active ingredients of the arnica blossom and aroma-intensive essential pine oils, is specially suited for use after physical activities. It helps relieve joints and muscles. The whole body benefits from its revitalizing, soothing and warming effects. Additional sunflower oil moisturizes skin. Its soothing effects have earned the arnica flower a palce of high honor. It is beneficial for circulatory problems and helps relieve aches and pains after strenuous activity. Essential pine oils are stimulating. They are known to strengthen body's defences and ease tension and muscle pain.