Weleda Arnica Massage Oil Travel Size, 0.34 oz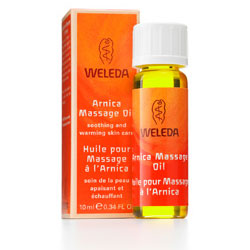 Buy Now
$2.69

Related Products
$9.60
Arnica Relief Oil eases discomfort and provides deep penetrating relief from aches and pains associated with injury, strain, arthritis, stiffness or overuse and reduces pain, swelling, bruising. Long lasting, quickly absorbing, non-staining, non-greasy, and chemical free!
$12.63
Weleda Arnica Massage Oil (98% organic) is an intensive, warming body oil that?s been a staple of massage therapists for 93 years to soothe muscle soreness and ease muscle aches caused by overuse or exercise. Wild-crafted arnica flower extract, proven to soothe sore muscles, helps ease pain and boasts a warming effect. A base of sunflower seed and olive oils nourish and hydrate skin as birch extract delivers detoxifying effects. While your skin soaks in the muscle-soothing properties, a pure, natural essential oil fragrance of lavender and rosemary helps you relax. With body and mind nourished and calm, tight, aching muscles quickly become a thing of the past.
$12.99
Condition: Sore, achy muscles. Solution: Arnica Warming Relief Massage Oil captures the natural soothing essence of Arnica to provide immediate warmth and relief to tired, overworked muscles. Set in a base of antioxidant-rich Olive Oil, this deep-penetrating massage oil contains potent Arnica, in addition to a perfect collection of essential oils and other natural extracts. Arnica Warming Relief Massage Oil is perfect after a busy day or a strenuous workout, and can also be used as a daily skin softener.