Aromatherapy Essential Oil Blend Energize .5 fl oz from Aura Cacia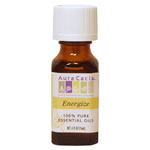 Buy Now
$7.76

Related Products
$14.95
Lavender: it is the essence of pure calmness and relaxation. This versatile oil gives off a light scent, which uplifts the spirit while transitioning moods to the ultimate state of calmness. Sweet orange: promotes positive attitudes and induces relaxation for a calm spirit. Eucalyptus: naturally anti-inflammatory, refreshing scent, peppermint: calming aroma will liven up the mind, body, and soul. Tea tree: antiseptic properties, invigorating and refreshing scent. Lemongrass: a great herb for inducing relaxation and balance for the mind.
$13.95
Nourish Your Skin, Energize and Cleanse with Majestic Pure Potent Lemon Essential Oi. Lemon oil is one of the most famous oils to have on hand and can be used for multiple household benefits. Lemon oil has a powerful, fresh and purifying citrus scent that is energizing and uplifting. It has wonderful antiseptic cleansing and cooling properties. Use in air freshener or diffuse Lemon Oil to clear cigarette smoke and other unpleasant aroma. Diffusing lemon essential oil in the air can also help lift mood. Lemon oil benefits skin by deeply nourishing it and it's a natural Disinfectant. Pure Lemon oil is concentrated and other than aromatherapy use, dilution with the the carrier oil such as Jojoba, fractionated coconut oil, grapeseed or almond oil is recommended. Also, dilute before using on sensitive areas such as the face, neck etc. Lemon oil is also used in Laundry to remove smell, to clean greasy hands and in wood and silver polish. Majestic Pure Lemon essential oil is 5X in strength. It is Cold Pressed extracted from the rinds of lemon. it is 100% Natural and Pure Lemon oil. Our lemon oil is the Jewel of Essential Oils. Click the Button at the Top of this Page to Buy with Confidence
$7.99
100% Therapeutic Grade The Leading Aromatherapy Associations (Alliance of International Aromatherapists (AIA), International Aromatherapy and Aromatic Medicine Association, Aromatherapy Trade Council, and others) all state that essential oils should not be taken internally (regardless of purity or organic origin) unless under the guidance of a health care practitioner trained at an appropriate level . As such, all of our oils carry a label warning that the product is NOT FOR INTERNAL USE.