EDF22 In this House We Do - Essential Oil Diffuser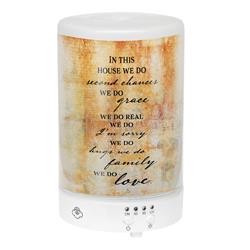 In this house we do second chances we do grace we do real we do im sorry we do hugs we do family we do love essential oil diffuser. Diffuser is made from frosted glass. Extremely quite, no heat or vibration allowing for deep relaxation. Safe and easy to use. Continuous mist - lasts up to 8 hourse. LED light with 8 different colors it can also be used with essential oils. Ul approved. Automatic shut-off timer or until water runs out. Add water up to fill line inside diffuser. Add oil. Oils are not included with this diffuser. Never ...
Buy Now
$41.99

Related Products
$19.95
Calily Eternity Ultrasonic Essential Oil Diffuser Aromatherapy with Relaxing & Soothing Multi-Color LED Light - Perfect for Home, Office, Spa, Etc. SOOTHING & RELAXING - The Calily Eternity Oil Diffuser utilizes non-heat ultrasonic waves which does not compromise the flavor-impact compounds and the natural healing properties of the oils. The Calily Eternity Aromatherapy Oil Diffuser emits a steady mist of soothing soft swirls, filling the air with your desired essential oil. Can also be used without oil as a humidifier. ELEGANT DESIGN & WHISPER QUIET OPERATION - Contemporarily designed with a modern and elegant honeycomb resembling look. Designed to be extremely quiet and pleasant; absolutely no noise, heat or vibration. Perfect for use at night and during the day. Great for bedrooms, bathrooms, massage rooms, spas, etc. Can be placed on your nightstand, on the desk in the office, etc. SAFE & EASY TO USE - The Calily Eternity Aromatherapy Oil Diffuser is cool to the touch and features an auto shut-off switch for when the tank is empty. / Very easy to use; featuring a one-button-operation switch, just fill with warm tap water and add a few drops of your favorite essential oil. / LOW MAINTENANCE: No need for filters or distilled water. RELAXING & THERAPEUTIC MOOD ENHANCING LED LIGHT - Features a LED soothing mood enhancing light; calmly and softly changing from one color to the next; adding an inspiring and mesmerizing inner calmness.
$29.82
NOW Solutions Real Bamboo Ultrasonic Oil Diffuser unites aromatherapy with modern scientific innovation to create an essential oil diffuser that's the perfect complement to your home or office. This attractive diffuser is BPA-free and utilizes high-frequency ultrasonic electrical vibrations to create an ultra-fine mist. This diffusion method doesn't utilize heat, which maintains essential oil integrity and holistic properties.