Wood Grain Essential Oil Aroma Diffuser Whisper Quiet Cool Mist Ultrasonic Humidifier (Brown - Combination - Auto Shut Off)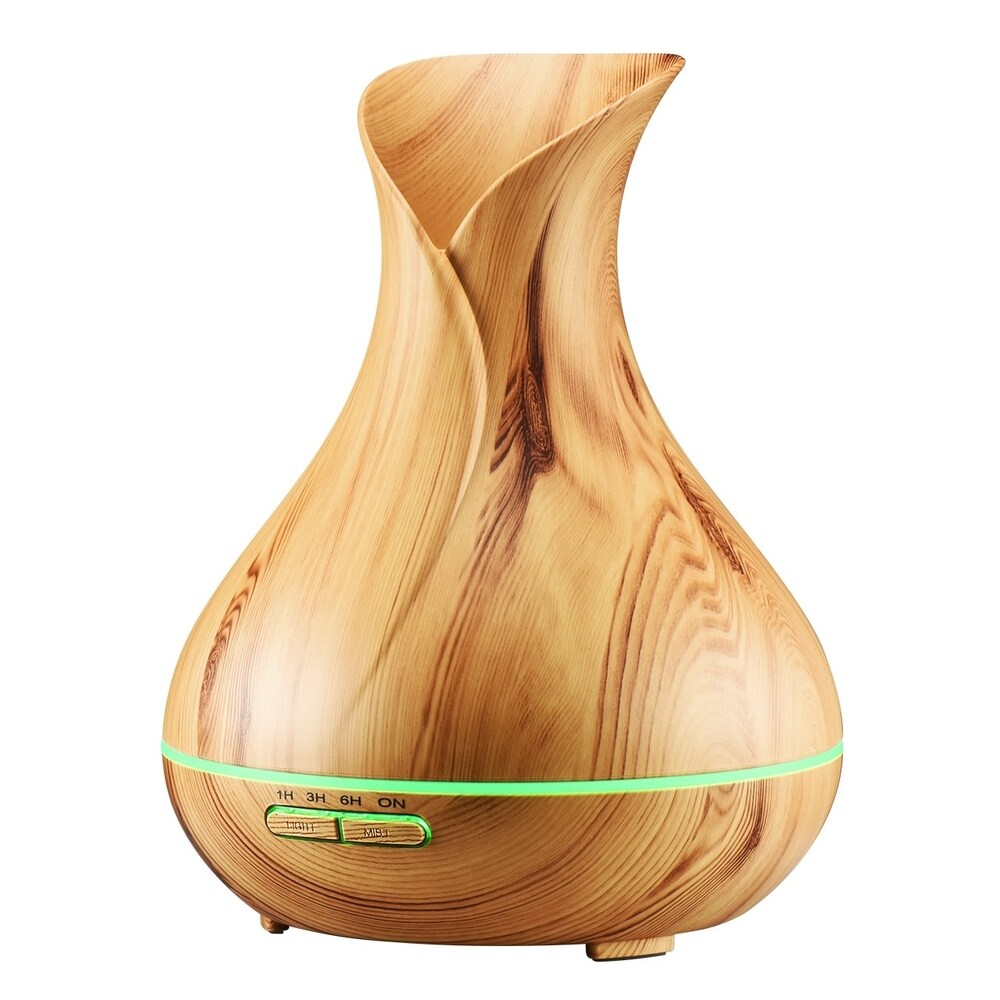 Wood Grain Essential Oil Aroma Diffuser Whisper Quiet Cool Mist Ultrasonic Humidifier (Brown - Combination - Auto Shut Off). Description 1. Classic Design for Natural Lifestyle. Coated with wood grain finish, our aroma diffuser not only serves as a decorative piece, but also fills your space with wonderful fragrance by simply adding drops of your favorite essential oil into it. Perfect for home, office, living room, bedroom, yoga room, aroma spa and etc. 2. 7-Color Adjustable LED Light. The ultrasonic essential oil diffuser has 7-color LED light that can be either cycled through or set to one fixed color to ...
Buy Now
$63.99

Related Products
$43.99
Note: The power adapter is packed in the water tank, please lift up the diffuser cap to find it. InnoGear 200ml New Plastic Wood Grain Aroma Diffuser is in gorgeous design. It fits in with any decor.The color changing lights make it beautiful in low light rooms. Most of all, this stylish cool mist humidifier adds moisture to your air to eliminate dryness and help with your dry chapped skin, chapped lips and dry sinuses. Add a drop of your favorite essential oil to give your room a fresh, clean scent. Notices: Please add water below the Max line. Oil is not included in the package Press the mist button for 2 seconds to switch between the strong and weak mist Do not press the "MIST" button when the tank is empty.If there is no water but press the "MIST"button,the diffuser will be burned out. Specifications: Weight: 14.5 oz Dimesion: 6.6(D)*6.6(D)*3.12(H) Material: Upper parts PP Capacity of water tank: About 200ml Noise Level: less than 25 dB Input Power: AC 100-240V 50/60HZ Most advanced ultrasonic technology: 2.4MHz Material: Upper parts PP, ABS, PC Package Contents: 1 x Aroma Diffuser 1 x Wall Charger 1 x User Manual
$39.99
What you really need to know is this - You Get a LIFETIME WARRANTY on your purchase. Something happens to your diffuser - we got your back - No ifs.. No ands..and certainly No buts! Sound Good? Yes?So..When your cool Amazon box arrives at your doorstep, the first thing I want you to do, is take it inside, rip it open (and depending on how much tape they used..you may need a kitchen knife!) and take out your new AromaSoft Essential Oil Diffuser.Now, after making sure you have the diffuser, power cord, and handy dandy fill cup taken out of the box, head into the kitchen and grab yourself some water from your faucet. Yes..use the new, cute little fill cup thingie! Now grab a bottle of your favorite essential oil and lets get diffusing! Take off the top of your diffuser (a simple twist)..add the water...a few drops of your oil..put the top back on and decide where you want to plug it in. Any wall outlet will do. Now press the "Mist" button..and start smiling! Uh huh..Instant diffusion! What you have just read..is what our customers experience when they use our Aromasoft essential diffuser for the first time. We make no bones about it..it's small..that's what we wanted..a diffuser that can be taken from room to room easily and a diffuser that's also easy to take on the go! But most importantly...it's Powerful! And don't just take my word for it...take a minute or two and read the reviews. So..if you've made it down this far, all you need to do now is order! Oh..and maybe order 2..one for you...and one to give as a gift to your very best friend!
$49.95
"Lull" by Quooz provides more than a conventional mist. Depending on the essential oils you use, it can uplift your spirits, assist in relaxation, or ward off infections. "Lull" utilizes the most advanced and effective method of diffusing essential oils, using ultrasonic aromatherapy technology. It doesn't use heat, so the essential oil integrity is maintained. "Lull" is a healthy and safe alternative to synthetic room fresheners and scented candles. Just fill with tap water and add a few drops of your favorite oil. The room will soon be filled with the goodness of your choice. The diffuser will also emit a cool mist and moisturize the air around it, relieving dry cough, sinus, and cold and flu symptoms. This elegant diffuser has a soothing light that can be turned on to your preferred brightness or turned off completely. The light can also be set to "breathing mode"- fading gradually and brightening again. The changing light is programmed at comfortable frequency to vividly simulate human deep breath, providing therapeutic function of relaxing the nervous system. ?The unit switches off automatically when the water runs low ?High capacity- can operate up to 8-10 hours ? Low energy use ?No condensation ? Easy to clean & long- lasting ? Perfect for enjoying the benefits of essential oils or for using just with water ?Creates a soothing, calming atmosphere while beautifying and moisturizing your skin ?Stylish & compact design, shaping a spring flower bud before bloom ?Great for every room in your home, office, hotel- just about anywhere. So, open your senses to the beauty of aromatherapy - a true retreat for the body, mind and soul. Included in the gift box: Lull diffuser A/C adapter User manual