1553 Parrot Bath Spray, Case Of 12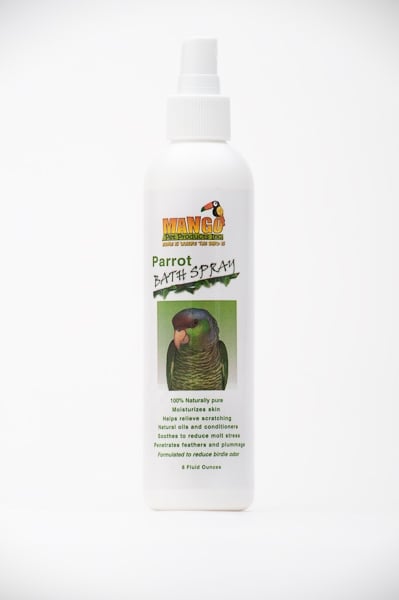 Parrot Bath Spray is the " ahhh. I feel good" bath spray. This soothing formula is our heaviest, non-irritating, hypoallergenic blend of aloe, sweet anise and omega oils. The Parrot Spray has been formulated to penetrate the oily base skin and feathers of parrots. Helps reduce skin irritations and inflammations in parrots. Encourages natural preening while helping to wash away dead skin cells that cause the itches. All meant to compliment bath time! It's no wonder that our daily use spray is preferred by African Greys, Parrots & Cockatoos! We don't add additional skin clogging oil derivatives like other ...
Buy Now
$86.20

Related Products
$6.58
Botanical Name: Melaleuca alternifolia * Plant Part: Leaves * Extraction Method: Steam Distilled * Origin: Australia * Description: The Tea Tree is a small tree or shrub with needle-like leaves. It can grow up to 20 feet in height and thrives in marshy areas. The Tea Tree is very robust; it is ready for cutting only two years after its' previous harvest. * Color: Colorless to pale yellow clear liquid. * Common Uses: Tea Tree Essential Oil is best known as a very powerful immune stimulant. It can help to fight all three categories of infectious organisms (bacteria, fungi, and viruses), and there is evidence that Tea Tree Oil massages prior to an operation may help to fortify the body and reduce post-operative shock. Tea Tree Oil can help with colds, measles, sinusitis and viral infections. For skin and hair, Tea Tree has been used to combat acne, oily skin, head lice and dandruff. As essential oils have become more accepted by the public, the use of Tea Tree has increased significantly. This can be readily evidenced by the commercial products now using Tea Tree Essential Oil. * Consistency: Thin * Note: Middle * Strength of Aroma: Medium * Blends well with: Cinnamon Bark, Clary Sage, Clove Bud, Geranium, Lavender, Lemon, Myrrh, Nutmeg, Rosewood, Rosemary and Thyme. * Aromatic Scent: Tee Tree Essential Oil has a fresh, antiseptic and medicinal scent. It also has characteristic mint and spice back-notes. * History: The aboriginal people of Australia have long used Tea tree oil; similarly, Tea tree has a long history of use within the field of aromatherapy. In World War Two, the producers and the cutters of Tea Tree were exempt from military service until enough essential oil had been accumulated. The oil was a highly valued product as it was issued to each soldier and sailor as part of their kit in order to treat tropical infections and infected wounds. * Cautions: Tea Tree Essential Oil may cause dermal sensitization in some people. Do not take internally.
$20.68
Designed specifically to control men's oily skin, this volcanic clay body wash extracts and absorbs dirt, oil, and grime from deep within pores. Mineral rich volcanic clay detoxifies skin from everyday pollutants while lightly exfoliating. Botanical extracts of aloe, rosemary, and watercress leaves skin feeling soft and smooth. Essential oils of sage refresh. Designed for all skin types, including sensitive. We strive to use as many naturally derived and plant-based ingredients as possible, while still delivering exceptional performance. No parabens. No phthalates. No dyes. No GMOs. And never tested on animals. IngredientsActivated charcoal, aloe barbadensis, aloe vera, arctium majus, burdock, citrus grandis, clary sage, cocoamidopropyl betaine, decyl glucoside, dimethicone copolyol, extract, fragrance, ginger, glycerin, glyceryl distearate, grapefruit, hydrolyzed glycine soja, kaolin, lauryl glucoside, leaf extract, leaf juice extract, leaf oil, mentha piperita, mentha spicata, nasturtium officinale, oil, peppermint, polylactic acid, polyquatemium-10, polyquaternium-7 salicylic acid, protein, root extract, root oil, rosemary, rosmarinus officina SpecificationsCapacity: 16.9 fl oz Country of Origin: USA Weight: 1.18 lbs
$22.79
Handmade Hidden Treasure Large Bath Bomb (Khaleesi Bomb). Discover a surprise ring in every handmade Hidden Treasures bath bomb. After all the stresses of the day, what you really need is to relax. Each of the unique fragrance blends evokes feelings of a relaxing day at the spa with special salt and oil infusions for silky-soft skin. Features: Made in California Set includes 1 large bath bomb with a hidden treasure Antibacterial For body, face, and hands Good for normal, sensitive, combination, and oily skin All-natural anti-oxidant ingredients with moisturizer and oils 8 ounces Active ingredients: Sodium bicarbonate, magnesium sulfate (Epsom salt), Kaolin Clay, Citric acid, essential oil, Pink Himalayan salt and rose and lavender petals How it works: Place bath bomb in your tub for a luxuriously relaxing bath experience. Relax with fragrance blend evokes feelings of a relaxing day at the spa. Find the floating surprise and open it to discover what lies inside. Bath Bombs: 'Khaleesi Bomb (Mother of Dragons)': Unleash the Khaleesi in You. And turn your bath into a mystical journey with sparkling jasmine combined with clary sage and ylang-ylang. Formulated with Lava Black Sea Salt to restore vitality and to feel instantly refreshed and ready to take on the world. 'Bed of Roses': Gorgeous, fresh essence aroma of fresh cut roses. 'Lavender Chamomile': A soothing blend of lavender, chamomile blossoms, and sandalwood. 'Flower Bomb': Turn your bath into the ultimate spa experience with Fresh Floral with citrus and vanilla musk. 'Sex on the Beach Bomb': A juicy blend of orange, cherry, peach, pineapple and vanilla. We cannot accept returns on this product.