Organic Himalayan Sea Buckthorn Berry Oil Liquid, 1.76 oz, Seabuck Wonders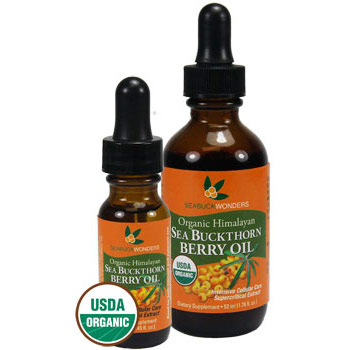 Buy Now
$22.57

Related Products
$12.97
Weleda Sea Buckthorn Body Oil (99% organic) is a replenishing, full-body treatment packed with antioxidants and nutrients to restore skin to radiant health. Sea buckthorn berry and seed oil is packed with essential fatty acids that replenish vital moisture, while pro-vitamin A and vitamin E soften and protect from sun damage. Organic sesame seed oil delivers an additional antioxidant punch, absorbing easily to provide lavish moisture and protect from free radical damage. The aroma of sun-drenched essential oils from mandarins, oranges and grapefruits revitalizes your senses. Fast absorbing and non-greasy, Sea Buckthorn Body Oil is a citrus-y, skin-loving body treatment that makes every day a sunny day for your soft, radiant skin.
$15.97
Dietary SupplementIntensive Cellular CareSupercritical ExtractGood for both internal and external useKosher certifiedVeganNon-GMOGluten free
$33.00
Ko & Humble Organic Sea Buckthorn Seed Oil is a superior anti-oxidant rich treatment oil. It has proven qualities which help improve the appearance of damaged skin. High in essential fatty acids and anti-oxidants, it is an excellent anti-ager. The oil is suitable for all skin types. It is especially nourishing for dry skin and those seeking natural improvements in damaged or problem skin, particularly relating to dryness, redness or signs of aging. Sea Buckthorn Seed oil is recorded as being used in the Himalayas, China, Siberia and Tibet over a thousand years ago. Research has now substantiated traditional claims that the oil has beneficial properties when applied topically. The properties are thought to arise from the balance of omega 3 and 6 obtained from the high proportions of linoleic and alpha-linoleic acids. Selected from organically certified growers with fair labor practices. Produced in small batches. Bottled and safety tested in the USA. Certified Cruelty Free by the Leaping Bunny Program. Company supports women's organizations worldwide.