Organic Himalayan Sea Buckthorn Berry Oil Liquid, 1.76 oz, Seabuck Wonders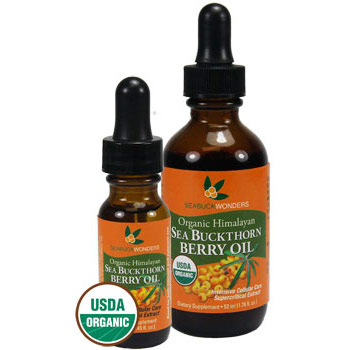 Buy Now
$22.57

Related Products
$12.97
Weleda Sea Buckthorn Body Oil (99% organic) is a replenishing, full-body treatment packed with antioxidants and nutrients to restore skin to radiant health. Sea buckthorn berry and seed oil is packed with essential fatty acids that replenish vital moisture, while pro-vitamin A and vitamin E soften and protect from sun damage. Organic sesame seed oil delivers an additional antioxidant punch, absorbing easily to provide lavish moisture and protect from free radical damage. The aroma of sun-drenched essential oils from mandarins, oranges and grapefruits revitalizes your senses. Fast absorbing and non-greasy, Sea Buckthorn Body Oil is a citrus-y, skin-loving body treatment that makes every day a sunny day for your soft, radiant skin.
$15.97
Dietary SupplementIntensive Cellular CareSupercritical ExtractGood for both internal and external useKosher certifiedVeganNon-GMOGluten free
$37.99
Is your face and skin dried out by winter low humidity? Russians have used Sea Buckthorn Oil for many years. If it can protect them from January in Siberia, it can moisturize and soothe your skin. By moisturizing your skin, nourishing it with antioxidants and essential fatty acids and soothing the inflammation, you can transform your complexion into a face you'll be proud to show off when you post selfies on Facebook. Sea Buckthorn is a hardy shrub that thrives in mountainous areas, originally the Himalaya Mountains. It's been used in Indian Ayurvedic medicine for thousands of years and it's mentioned in ancient Tibetan texts. Sea Buckthorn oil can be derived from both the plant's berries and its seeds. These oils share a lot of characteristics and both are beneficial. Our Sea Buckthorn oil is a mixture of both: oil from the berries and oil from the seeds. The fatty acids in the seed oil are primarily from Omega 3 and Omega 6 fatty acids. The fruit oil contains more monounsaturated and Omega 7 oils. Therefore, our Sea Buckthorn oil gives you a broad spectrum of all the benefits of the Sea Buckthorn plant. If you apply a lot of it, it can stain your skin yellow or orange. So, mix it with another oil such as olive or coconut. Sea Buckthorn Oil is light, and absorbs easily into your skin without leaving an oily residue. Ships in a dark amber glass bottle to preserve product freshness. Store in a cool, dark place. Comes with a Peace of Mind 30-day full satisfaction or your money back guarantee. Buy 2 bottles of Sea Buckthorn Oil today. One bottle for yourself, one to give to a friend.