Organic Himalayan Sea Buckthorn Berry Oil Liquid, 1.76 oz, Seabuck Wonders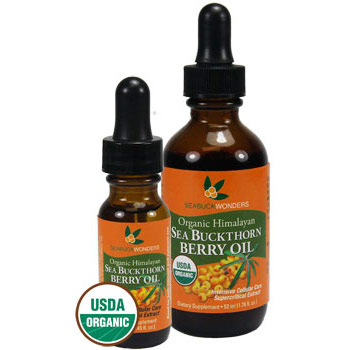 Buy Now
$22.57

Related Products
$33.00
Ko & Humble Organic Sea Buckthorn Seed Oil is a superior anti-oxidant rich treatment oil. It has proven qualities which help improve the appearance of damaged skin. High in essential fatty acids and anti-oxidants, it is an excellent anti-ager. The oil is suitable for all skin types. It is especially nourishing for dry skin and those seeking natural improvements in damaged or problem skin, particularly relating to dryness, redness or signs of aging. Sea Buckthorn Seed oil is recorded as being used in the Himalayas, China, Siberia and Tibet over a thousand years ago. Research has now substantiated traditional claims that the oil has beneficial properties when applied topically. The properties are thought to arise from the balance of omega 3 and 6 obtained from the high proportions of linoleic and alpha-linoleic acids. Selected from organically certified growers with fair labor practices. Produced in small batches. Bottled and safety tested in the USA. Certified Cruelty Free by the Leaping Bunny Program. Company supports women's organizations worldwide.
$34.97
100% OrganicCertified Organic by QAIConsidered as Dietary SupplementGluten FreePeptic, Duodenal Health, Skin Care, Cardiotonic & Pro-Natural HealingUSDA OrganicVegan
$27.20
Wide Spectrum Support.Our Sea Buckthorn oil has the highest concentration of Omega-7 on the market. The Sea Buckthorn Omega 7 combines berry oil and seed oil so you get all sea buckthorn can offer. Among essential fattyacids you find Omega 7, 9, 6 and 3. The Sea Buckthorn vitamins, and the contents of vitamins C, E, B1, B6 and ?-carotene are high. Combination ratio among the more than 190 bioactive elements coincides with what our body needs. This Omega 7 oil blend provides a very wide spectrum of support for good health.Sea Buckthorn is THE superior source of Omega 7 Fatty Acids (Palmitoleic Acid). This plant-based omega provides the highest concentration of Omega 7 naturally available as well as a host of vitamins and minerals, over 190 phytonutrients, supercharged antioxidants, Omega 3s, and other powerful health agents. Omega 7 alternatives from Anchovies, Macademia nuts, and other Omega 7?s don?t come close to providing the full health potential that sea buckthorn?s incredible nutritional profile offers.